Looking for ways to make money with a clothespin? Here are 13 Clothespin crafts to sell for profit in 2022.
Clothespins are so inexpensive, easy to find, and versatile that they make the perfect craft material for people who want to make a little extra cash.
And clothespin crafts are not just for kids; there are lots of adults who love clothespins too!
In this blog post, we will share 13 of our favorite clothespin projects you can start making today for your craft business.
These clothespin creations are ideal for selling goods at craft fairs, farmer's markets, and online at marketplaces like Etsy.
Not only are these clothespin crafts unique and eye-catching, but they are also very affordable to make.
This website contains affiliate links which means we may earn commissions if you purchase through them (no extra cost to you). You can read our policies here.
Related posts on easy crafts to sell like clothespin: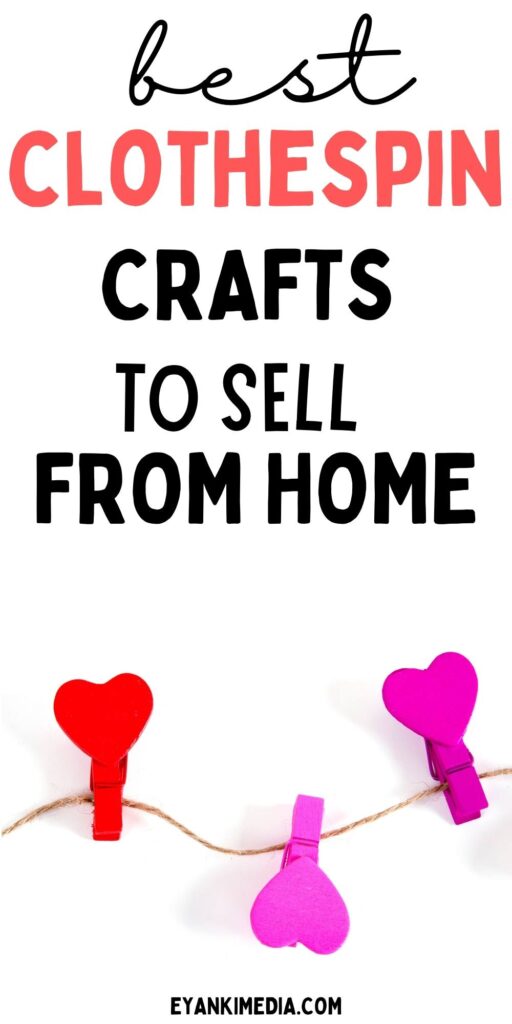 Clothespin Crafts To Sell
 I'm sharing my favorite clothespin craft ideas that are easy to DIY and budget-friendly.
1. Simple Painted clothespin
One of the easy craft ideas to sell clothespins is painting them in different colors.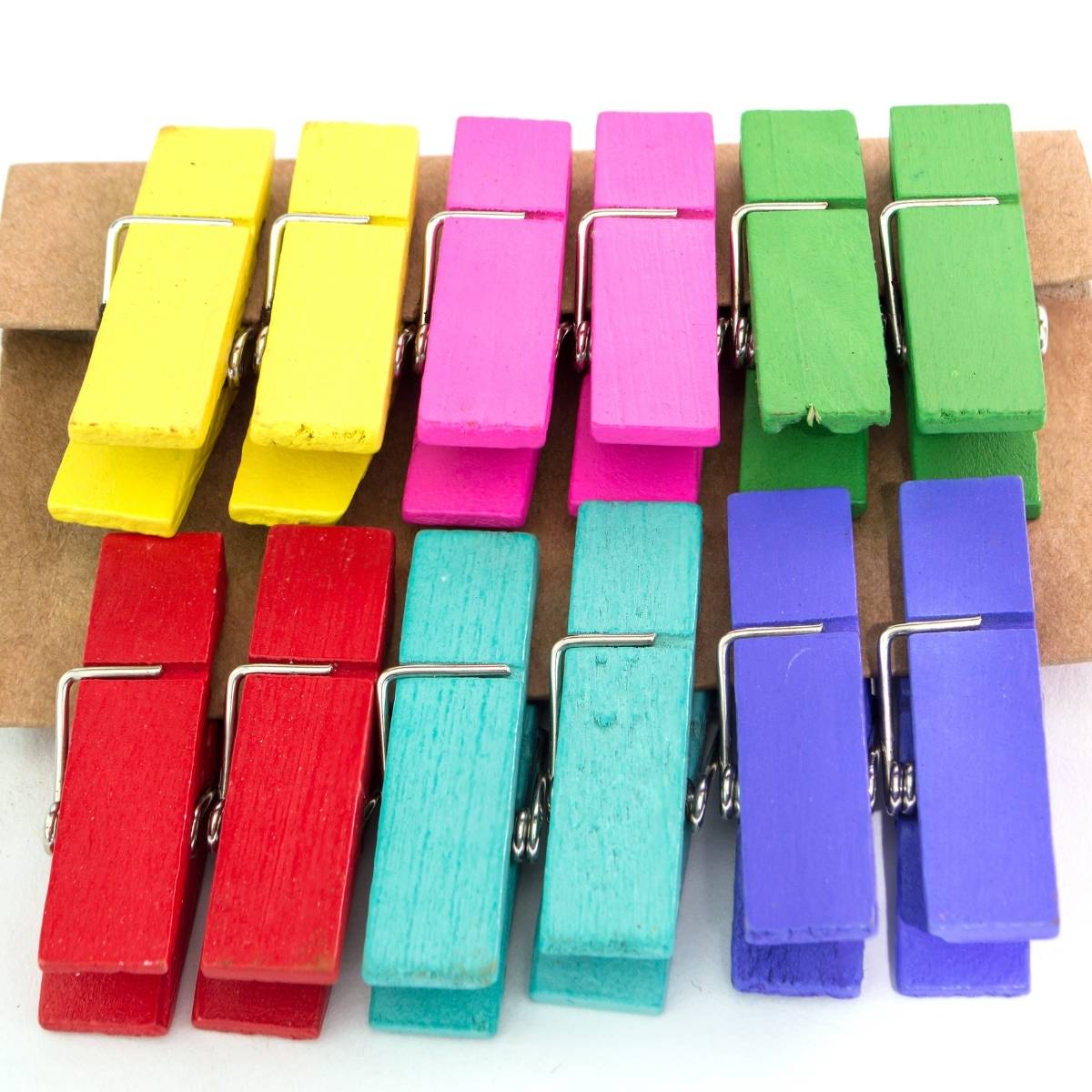 You may sell different size clothespins as a craft supply to other crafters if you color them with acrylic paint, spray paint, or chalk paint. 
To keep the colors on the clothespins for a long time, apply a coat of sealer after they're finished and you're good to go.
Felling more creative? Hand paint them in pretty floral patterns. These hand painted clothespins look extremely gorgeous and sell pretty well!
2. Set of the Glittered clothespin
Another super easy clothespin idea to sell: Add some sparkle to clothespins by adding a layer of glue and then rolling them in glitter.
You can use any color or combination of colors, but make sure to seal the glitter, so it doesn't come off.
You can also use this Mod podge, it works both as a glue and sealer.

These clothespins are perfect to use as picture hangers, paper clips, or even to add a little sparkle to a gift bag.
Related posts: You know you can make and sell glittered pinecones as well! Check these ideas on pinecone crafts to sell.
3. Decoupage Clothespins 
Here is another neat and easy clothespins crafts idea that sells well.
Use scrapbook paper or special decoupage paper or any-other pretty paper to decoupage the clothespins with a Modpodge.
Or you can use some pretty napkins to decoupage a clothespin using this napkin decoupage glue. 
To give them a more appealing look, consider adding some coarse glitter and sealing with a sealer. 
These clothespins are used as gift tags, paper clips, hang kids' artwork, or even magnets.
4. Clothespin Magnets
Magnets are always popular items to make and sell since they are both useful and attractive. 
Think about using them as fridge magnets, gifts for students, or holding papers on a bulletin board.
To make clothespin magnets, decorate your clothespins as you like using the methods above and glue small magnets at the back.

Bonus: Add glitters to the first half of your clothespin and write a quote, name, or any wording using a paint pen on the other clothespin half for making some amazing personalized clothespins.
5. Printable Bugs Clothespin Puppets
A fun clothespin project to sell for kids!
These are digital downloads with clothespin bugs designs that buyers can print and make clothespin puppets for kids. 
These clothespin bugs are perfect for entertaining kids at birthday parties, as party favors, or as a no-tv activity for kids.
6. Christmas Ornaments
Christmas ornaments have always been one of the best-selling crafts on Christmas, and clothespin ornaments are a unique addition to them.
These are easy to make and are perfect to sell at craft fairs or give as gifts to friends and families.
Some popular clothespin ornament designs include snowflakes, snowmen, reindeer, Santas, elves, and more.
7. Clothespin Christmas DIY craft kids
Craft kits are becoming increasingly popular as no-toy gifts for kids or engaging them in their free time.
From snowflake ornaments to Santa ornaments or even a reindeer with pom-poms, you can create kits with supplies and instructions to make clothespin Christmas crafts to sell.
You could even add a clothespin wreath kit to this list.
8. Clothespin Clock To Sell
Feeling more creative? Try a handmade clock with a clothespin! Such a unique and attractive clothespin craft to sell.
To make this clothespin clock, you will need clothespins, a wooden circle, a hot glue gun, and a battery-operated clock kit.
You can decorate the clothespins with paint, glitter, or other embellishments of your choice.
9. Clothespin Wreath
Talking about clothespin crafts, these wreaths make great handmade gifts and can be made for any season or holiday.

Color your clothespins according to the theme, hand them on a wire wreath frame, add some related embellishments, and you have a beautiful clothespin wreath to sell.
10. Personalized Clothespin
Personalization is always a great idea to add value to any craft, and clothespins are no different.
You can personalize clothespins with names, initials, quotes, or any short text.

Some of the best personalization techniques include hand painting, heat transfer vinyl using Cricut, or laser engraving.
Making clothespins as wedding name tags and place-card holders are some of the most popular clothing projects to sell.
Related posts: Cricut craft ideas to sell
11. Heart Mini Clothespin Photo Pegs/Mini Heart Pegs 
Heart photo pegs are clothespins with a heart shape element of the top. These heart could be made of wood, crystal stones, felt or thick scrapbook/ cardstock paper.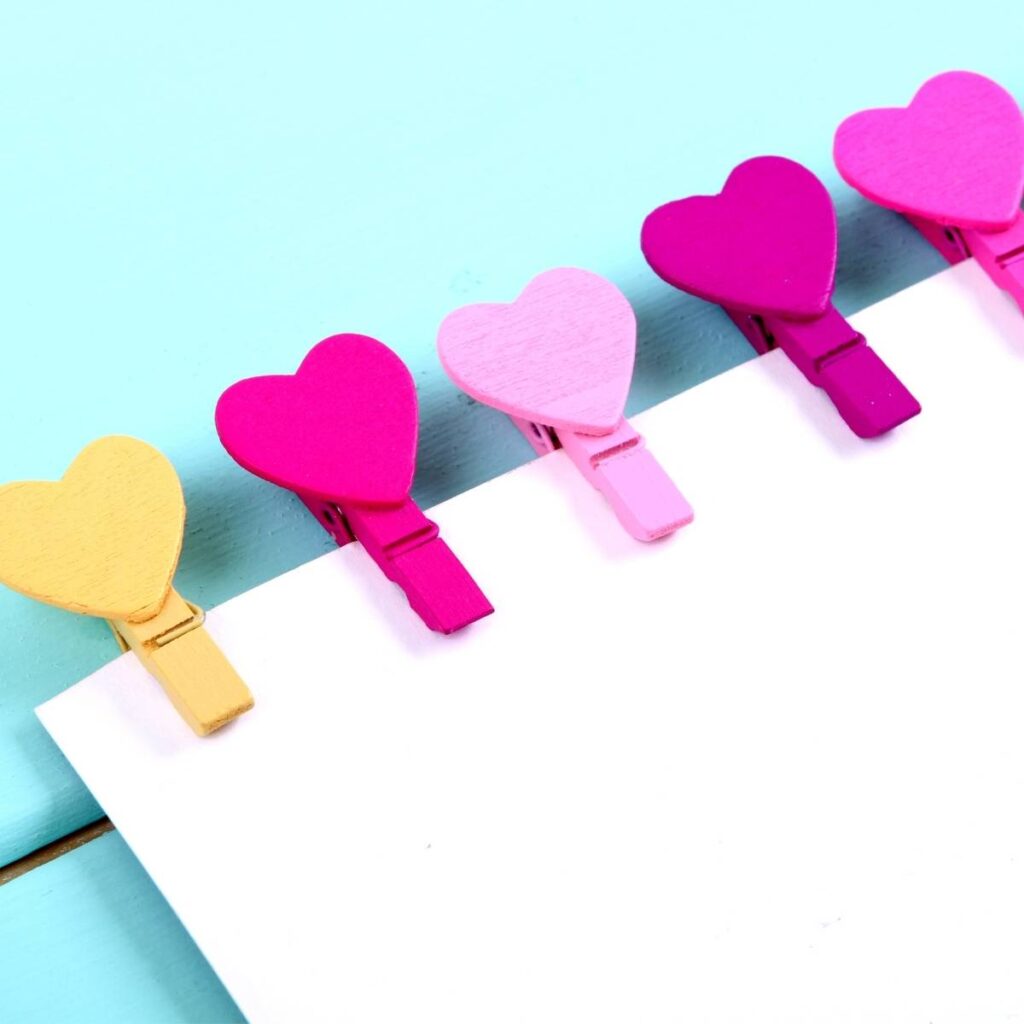 Pretty popular selling idea, and their use includes scrapbooking, picture holders, artwork displays, bunting, and even magnets.
Here are some amazing ideas for your inspiration.
12. Clothespin Photo Display Frames
Another way to get clothespins to sell is by turning them into clothespin photo display frames.
These frames are quite a popular way to display photos, notes, cards, and more.
13. Kids Art Display Clothespin Clothesline
It may sound like a crazy simple idea to sell but let me tell you- it sells like hotcakes!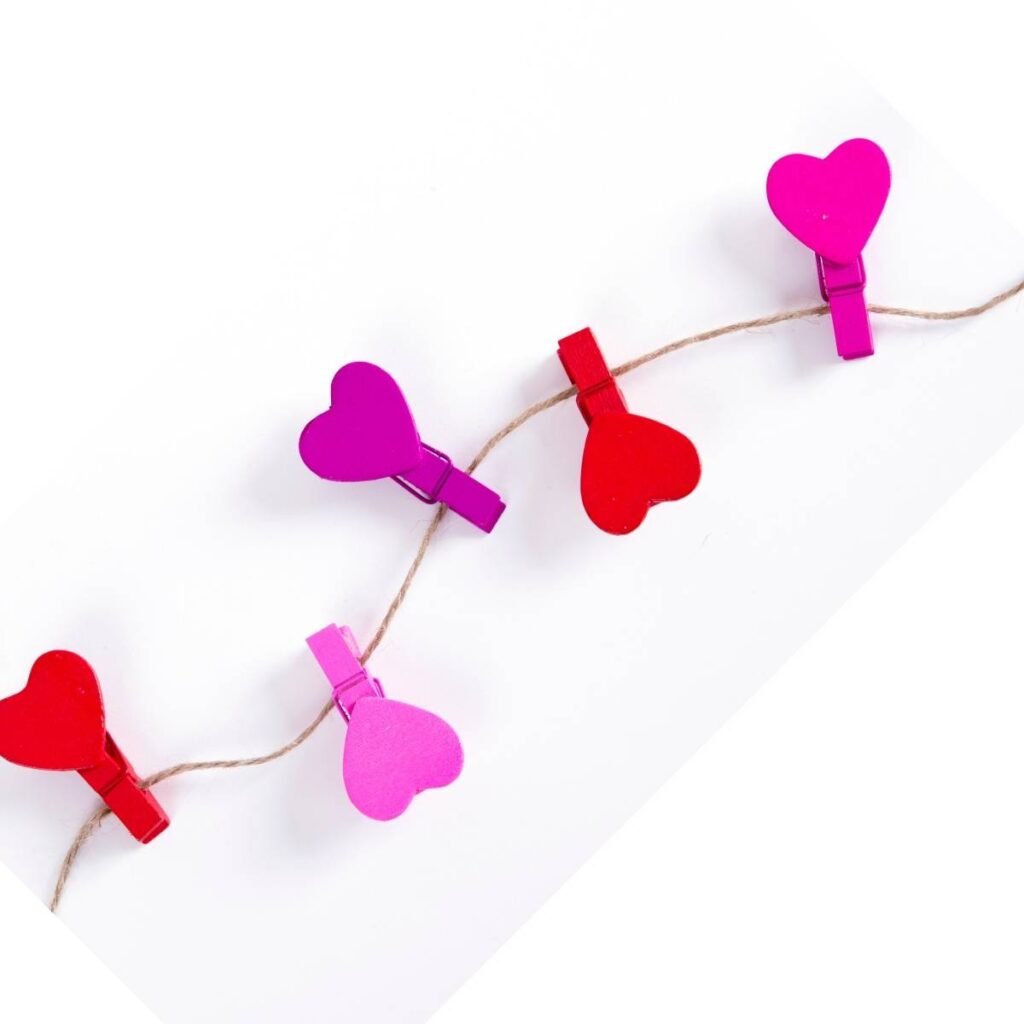 As a parent myself, I can tell you that clothespin clotheslines are a total life-saver when it comes to displaying your kids' art.
One of the easy Etsy shop ideas to sell and make money on Etsy.
All you need is twine, some wooden pegs, a no drill mounting tape or a Command kit, and that's it.
Where To Sell Clothespin Crafts?
Etsy 
Etsy is a great platform to sell your handmade crafts as it has a ready-made audience of people who are looking for unique and one-of-a-kind items.
While starting your Etsy shop is free, Etsy charges listing fees and transaction fees for selling on its platform.
To start with, you can grab my free starting Etsy shop checklist and 40 free listings for new sellers.
Need some more inspiration: Check these best selling items on Etsy
Local In-person
Another good way to make quick bucks with your clothespin craft is by selling them at local craft fairs, bazaars, flea markets, farmer's markets, or pop-up shops.
The only downside to selling at craft fairs is that you might have to pay for a stall rental, which can be quite pricey depending on the location and popularity of the event since clothespin crafts are low-ticket items.
They may sell well as they are not so expensive, but you will have to move a lot of stock to make a good return on your investment.
Facebook Marketplace/Groups
Selling on Facebook Marketplace or in local buy/sell/trade groups is another option to offload clothespin crafts.
When it comes to selling your home in your local area, the Facebook marketplace is a well-known option.
The best part about selling Facebook is that it's free to list items, and there are no selling fees.
You can post a photo of your clothespin craft with a description and price, and people in your local area can message you if they are interested in purchasing.
It could be a great option if you want to avoid the hassle (and expense) of setting up at a craft fair.
Important Stuff On Selling Clothespin Crafts
Selling clothespins as a craft can be a great way to make some extra income on the side with your crafting hobby.
But make sure you know the difference between a hobby and business income, as you might have to pay taxes on your earnings.
If you're selling clothespin crafts to make a profit, consider the cost of materials, time spent making the craft, as well as any overhead costs like stall rental fees.
✅ Always keep a track of your inventory and expenses so you can stay on top of your business.
Freshbooks is a great accounting software for small businesses and offers a free 30-day trial or upto 70% off for new business owner.
✅ For branding, Canva is a great (and free!) online tool to easily create good logos, social media graphics, and all other marketing.
✅ It goes without saying to take good quality photos of your clothespin crafts, as this will make them more likely to sell.
A clean background with good lighting goes a long way. This photo booth is amazing and has the best value for the money. I highly recommend it if you take a lot of product photos.
✅ If you are selling online, offer free shipping. The free shipping is like a cherry on top and encourages people to buy a product.
Shipping Easy is a great tool to print shipping labels at discount prices. It's free to start (depending on your sales volume).
✅ Last but not least, don't forget to have fun and enjoy the process!
I hope this gives you some ideas on clothespin crafts to sell and where to sell them. 
If you have any questions, please leave a comment below, and I'll be happy to help! Have you ever sold clothespin crafts?
Share in the comments below! Happy crafting!
More Ideas You Might Like