Are you looking for some creative Cricut Christmas ideas to sell this year?
Cricut crafts are a great way to make extra money during the holiday season. This blog post is for those hobby crafters who want to sell their DIY Cricut Christmas crafts in 2022.
In this post, I will show you some popular Cricut projects to sell that can be completed with your Cricut machine and sold at craft fairs, Etsy, or any marketplace.
These Cricut projects to sell include everything from Christmas wrapping paper to gift bags, personalized gifts, and lots more! Not only these are hot selling ideas, these Cricut crafts would also work as gifts for your friends and family members.
So, if you're ready, let's check how to make money with your Cricut this Christmas season.
This website contains affiliate links which means we may earn commissions if you purchase through them (no extra cost to you). You can read our policies here.
What Can I Make With My Cricut For Christmas To Sell?
Although the internet is full of Cricut craft ideas to sell, always remember that customization is the key to a profitable Cricut business.
There are lots of Cricut crafts that you can make to sell over the holidays or occasions like Valentine's day in 2023.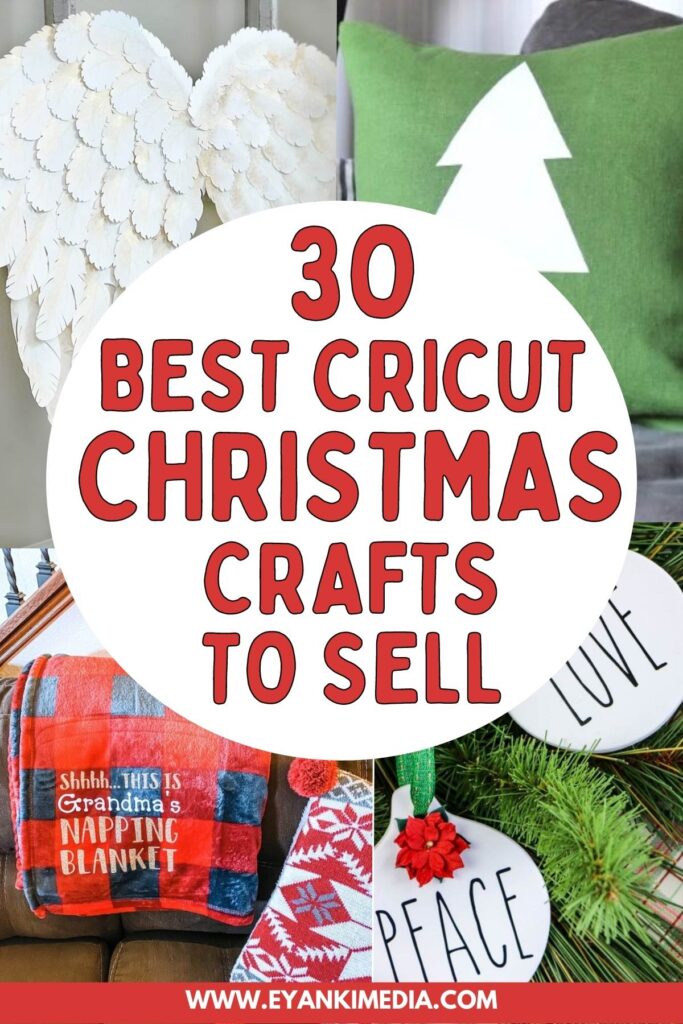 Creative Fabrica is my go to resource for Cricut SVG files. I LOVE their daily free gifts which come with a commercial license.
Here is the latest bundle 3D Christmas SVG Bundle free for a limited time.
🏮HOT ITEM TO SELL: Christmas light color changing Cups
If you are looking for 2022 trending idea to sell, here is the one: Color changing libby cups (see it on Etsy) with adhesive vinyl.
This vinyl changes from white to colored and looks amazing on cups like these.
I saw an Instagram reel some days back and absolutely looked it. I was not able to find a tutorial but here are two best selling SVGs you can use (with full commercial license) and one with limited commercial license.
Cricut Christmas ornaments To sell
Cricut ornaments are one of the most popular Cricut Christmas crafts to sell.
You can design and personalize your Cricut ornaments to sell with any text you like, such as "Santa loves me," or customize it with the name or pictures of the customers. 
From customizing clear plastic ornament balls to ceramic blank ornaments or wooden slices, there are a variety of Christmas ornament ideas to choose from.
Here are some Cricut Christmas ornaments to get you started:
1. Quick and Easy Acrylic Cricut Ornaments By Leap of Faith Crafting
Acrylic keychains are the most common and easy Christmas ornaments to sell.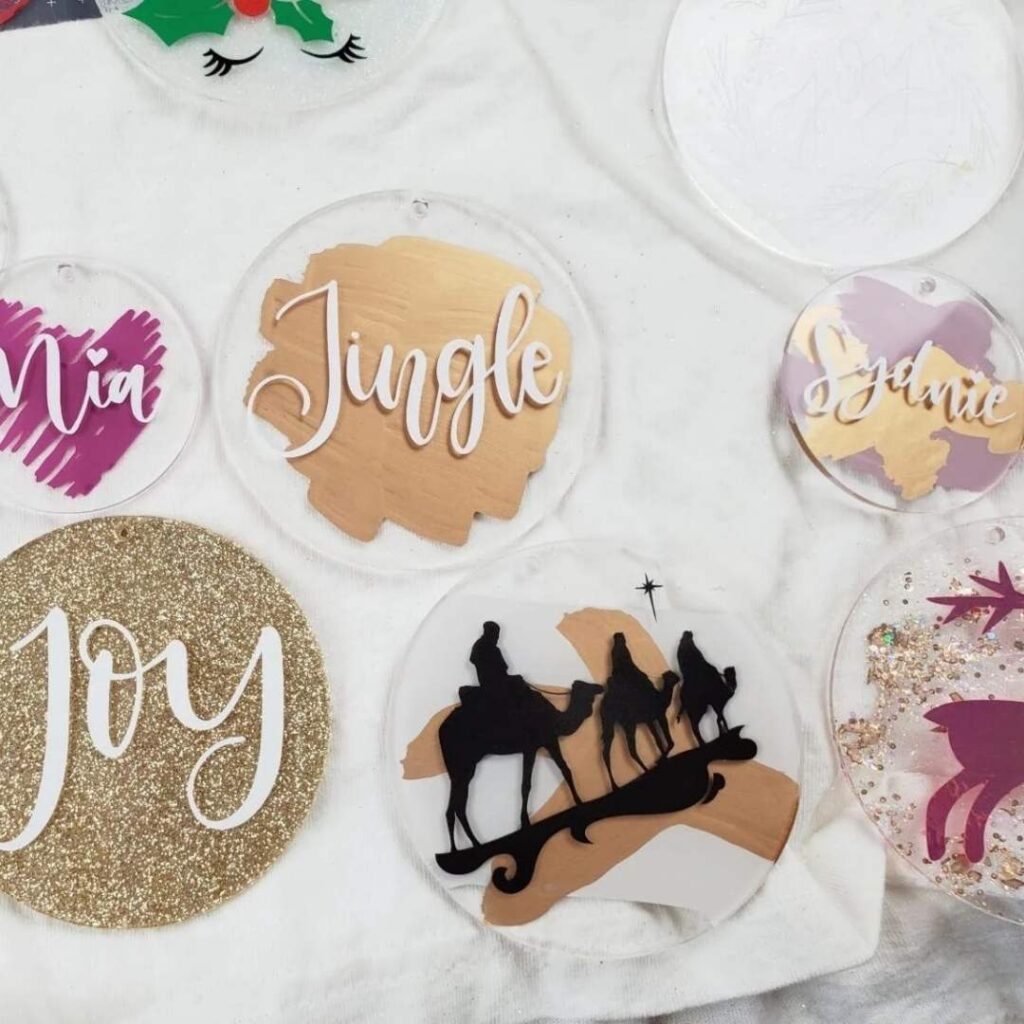 Use acrylic rounds and paint at the back or add a paint brush stroke cut file at the back of your round. Decorate your round with Christmas quotes or custom names with a Christmasy font using choice of adhesive vinyl.
2. DIY Vinyl Christmas Ornaments By Julie Measures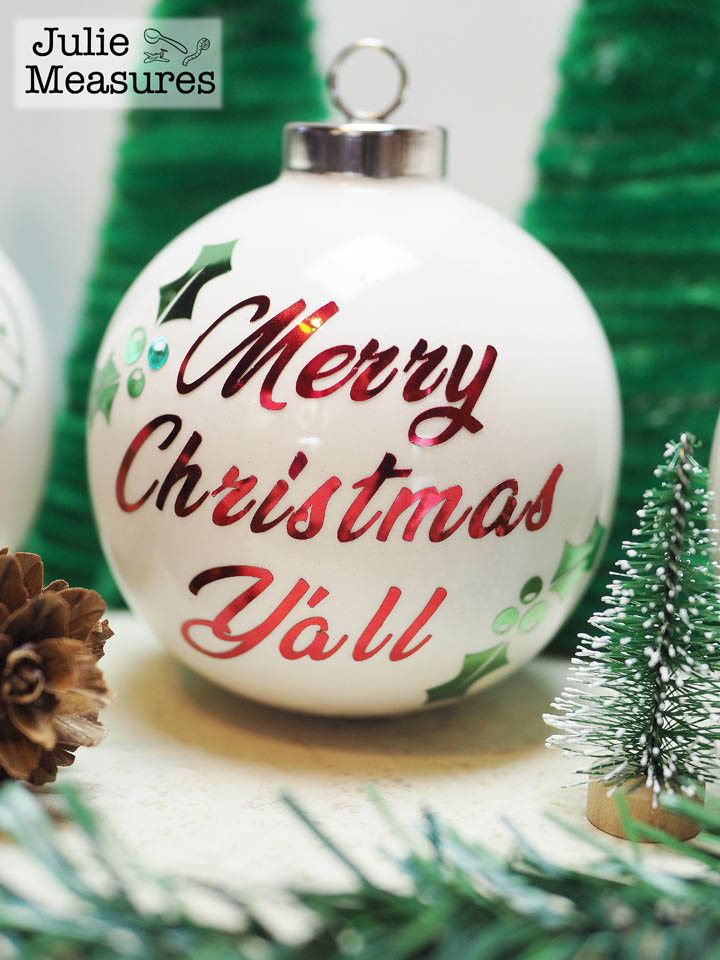 These are some of the amazing Cricut ornaments you can make and customize on different types of media.
If you are looking for more Christmas Ornaments to sell (Cricut or non Cricut), check my post on Easy Christmas Ornaments to make and sell.
Cricut Christmas Decoration Ideas To sell
You can create Christmas decorations with any design or pictures you want and then resell them with a good profit margin.
The Cricut machine cuts out the shapes perfectly every time, so there is no need to cut by hand. Cricut Christmas decoration ideas to sell are great Cricut business ideas.
Custom Holiday Pillows With Cricut
With the Cricut, you can create personalized cushions with your favorite SVG files and text for sale. You can use images from the design space and add your text.
These pillows make great gifts, especially if they have some kind of personalization on them. You can add famous Christmas quotes and sayings or tweak them a little to make a special message.
7. DIY Christmas Tree Holiday Pillow By Today's Creative Life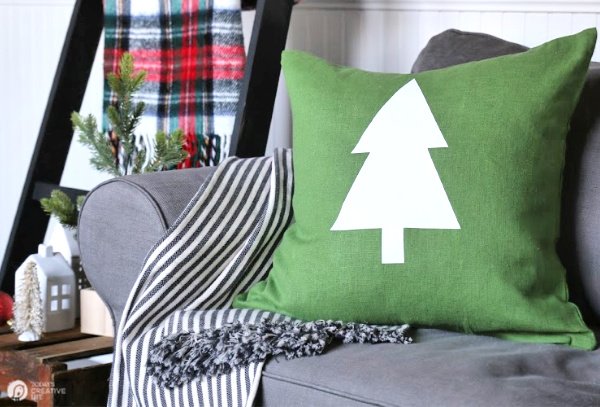 8. Personalized Gift Pillow for Grandpa with the Cricut Maker By Sustain My Craft Habit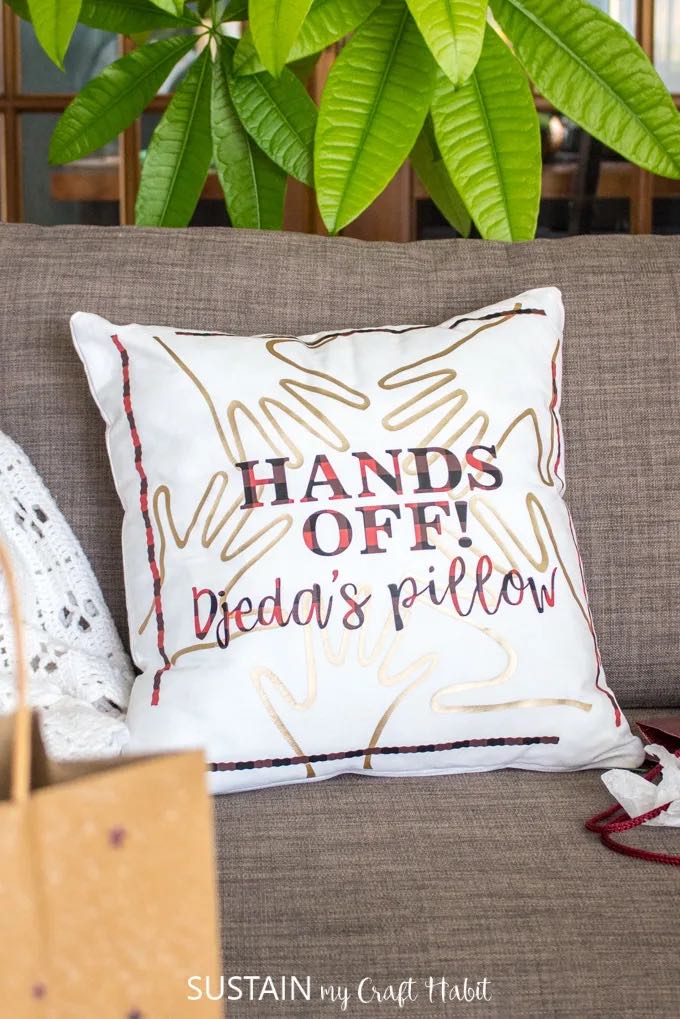 9. Christmas Antlers Pillow for Kids on Creative Fabrica
Holiday Garlands With Cricut
The Cricut Maker is a perfect solution for selling festive-themed garlands. Create a lighthearted string of seasonal themes with the Cricut to set the mood.
It may span an entire room, a railing, or simply an entryway.
10. DIY Christmas Truck Garland Banner By Dollar Crafter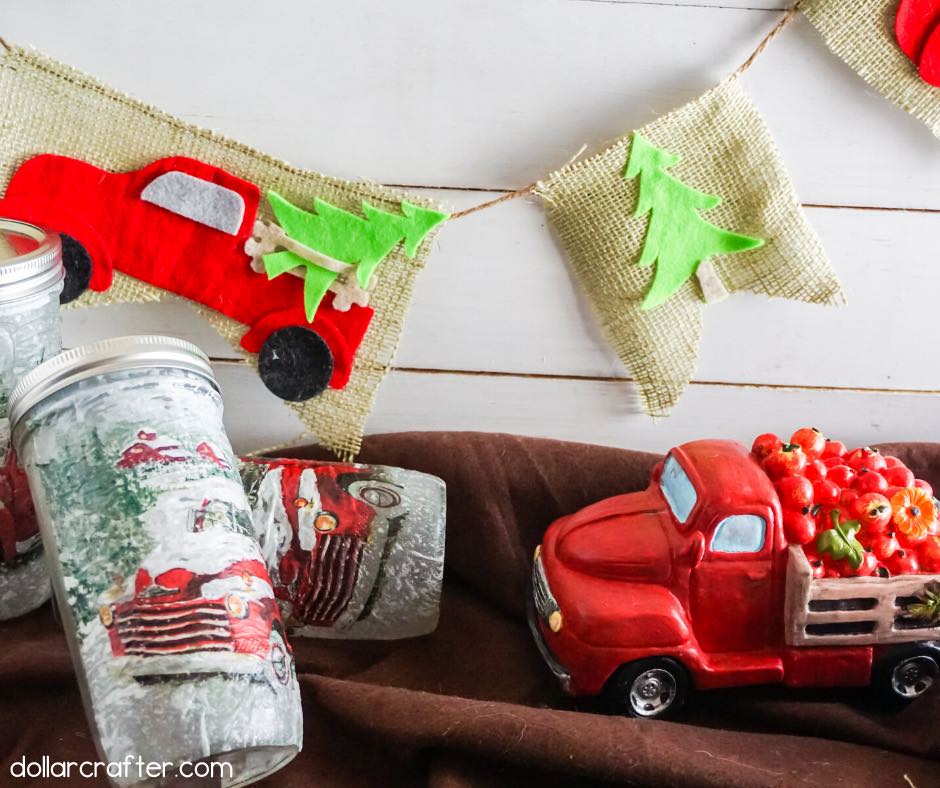 Cricut Christmas Wreath
Cricut Christmas wreaths are yet another wonderful Cricut craft idea to sell which you can design easily with Cricut design space.
Crafting beautiful flowers and accents for a lovely Christmas wreath has never been so easier.
12 Wooden Christmas Sign with Cricut Maker By The Kingston Home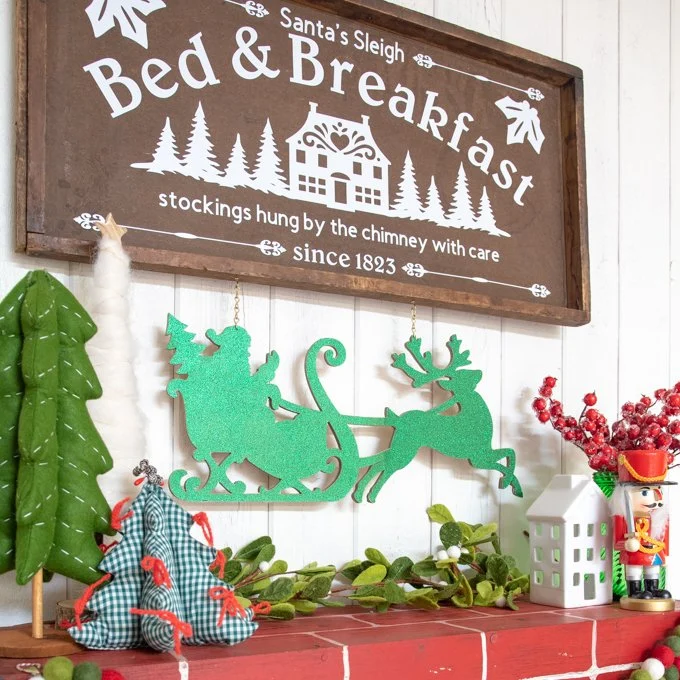 Front Porch Holiday Signs
People love to dress their front porch with holiday signs to welcome their guests and that's why they get so popular during the holiday season.
You can make a single side porch design or make a reversible one to go around the year.
16. Personalized Christmas Countdown Sign With Cricut By Ameroonie Designs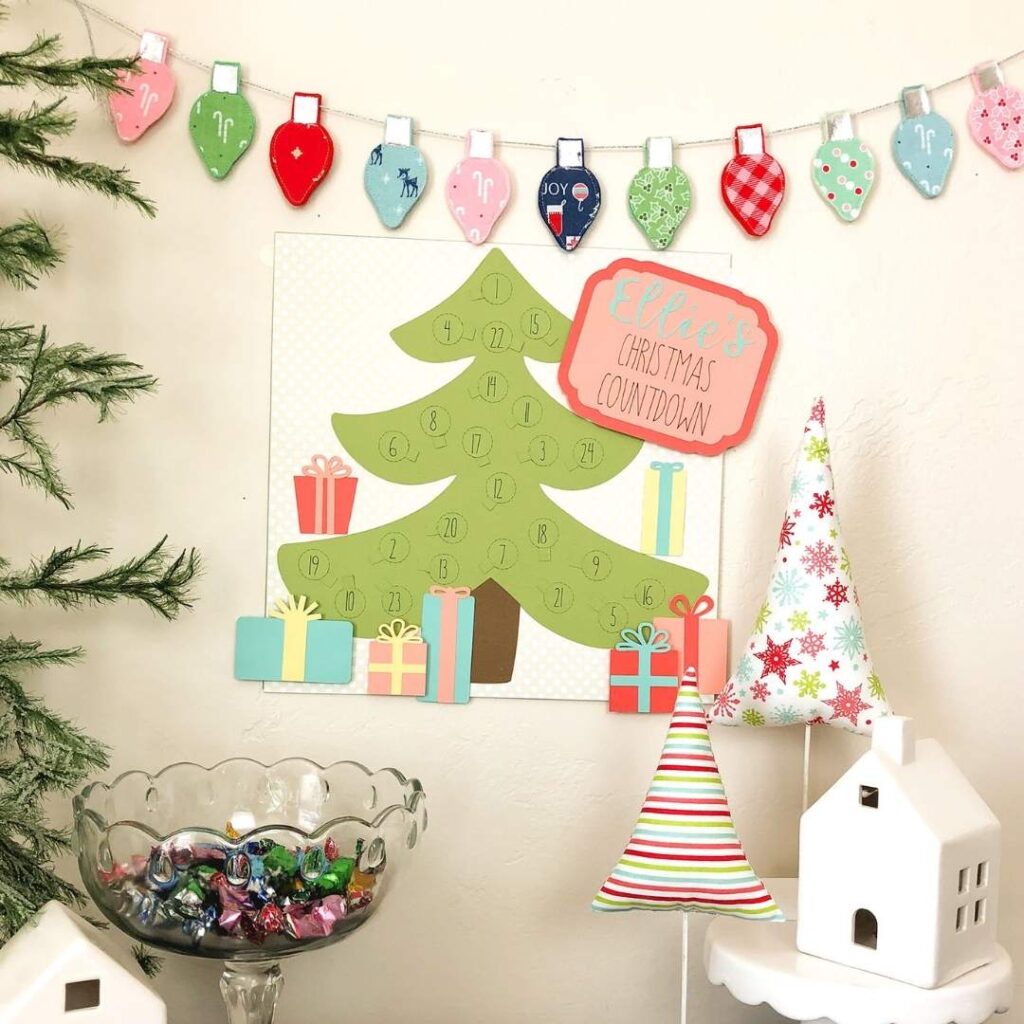 Mason jar Christmas crafts with Cricut
Mason jars are a crafter's best friend. They can be used for so many purposes – from storing holiday treats to making candles, and there's no limit to what you can do with them.
You can use your Cricut machine to create adorable DIY projects with these pack of mason jars and sell them at the craft fairs in your area.
Christmas Clothes with cricut
There are several options for customizing tees and other accessories with the use of EasyPress.
You can make and sell personalized t-shirts, onesies, sweaters to sell to families on the lookout looking for gift ideas or like wearing matching apparel with their family over the holidays.
Again, Creative Fabrica is definitely go to place for SVG's and PNG's for iron on vinyl or sublimation.  They both have a ton of good options that you can use for designing t shirts, and these bundles cost are not at all expensive.
Cricut Christmas Mug Ideas – Custom Tumblers & Cups
Coffee mugs and cute tumblers are holiday staple Cricut crafts to sell that will be popular for this holiday season too.
Cute but simple, these Cricut projects to sell can be created in just a few minutes with your new Cricut mug press so definitely consider adding these Cricut ideas to your list.
Creative Cricut DIY Holiday Gift Wrapping
If Cricut can assist you in designing customizable and memorable presents to sell, why not go the extra mile with Creative gift wrapping?
With Cricut, there is no limit to what can be created.
Holiday Gift Boxes
Holiday Gift Bags
26. Santa gift sac personalized with a child's name is one cute Cricut Craft that is sure to be loved by the kids.
Even if you don't offer customization, Cricut design space can help you create an elegant-looking reusable Christmas theme bag that can be completed in just a few steps.
If you are still in doubt about what to create this holiday season, add this Cricut craft idea to your list of Cricut projects you can make and sell this year.

Here is one tutorial on how to make personalized gift sacs with Cricut.
Cricut Made Christmas Gift Ideas to Sell
More Cricut Christmas Ideas to Sell
32. Christmas Tree Advent Calendar By Jennifer Maker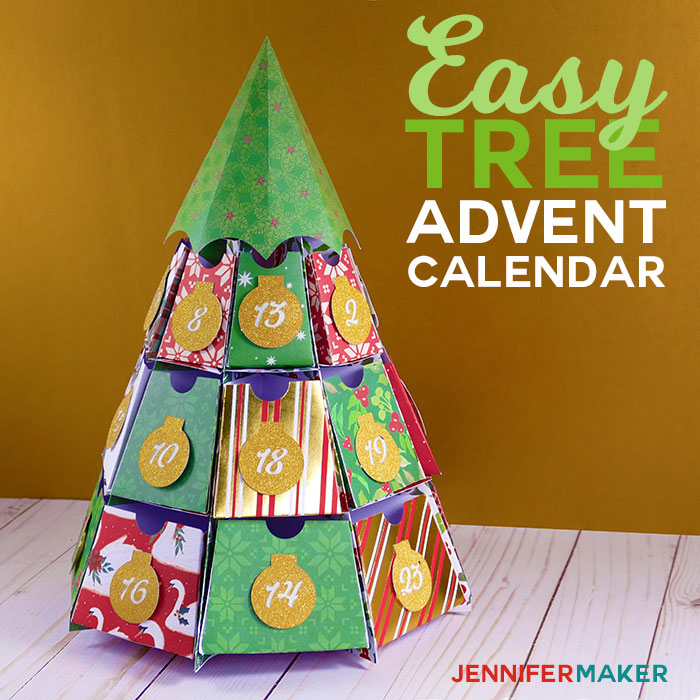 33. Cricut Christmas Stockings By Polka Dot Chair
These Christmas Stockings are undoubtedly very cute and so easy to make with Cricut.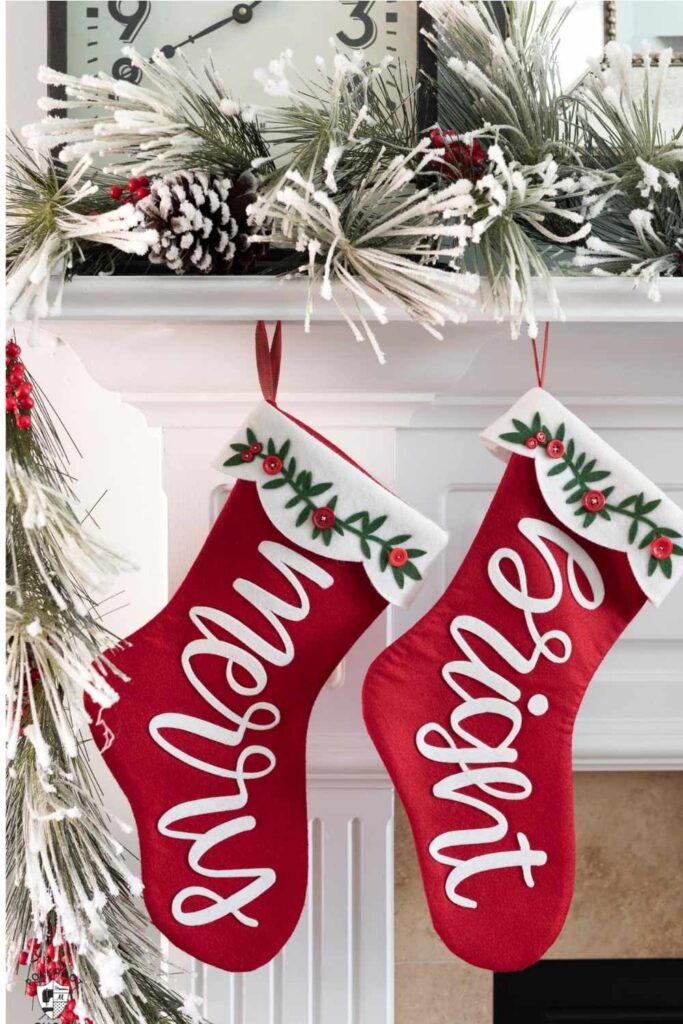 Digital Christmas Products You Can Make And Sell For Cricut Users
34. If you are good at drawing, graphic designing, or have any other artistic skill, you can also make digital downloadable Christmas Cricut digital files to sell to Cricut crafters.
Crafters who want to create any of the projects listed (or similar) above need design files in the form of SVG files for their Cricut. Cricut files are among the best-selling digital downloads on Etsy.

Just have a look at Etsy, there are so many shops selling these files for profit. And the best part is that these are digital downloads that you create once and sell for years for passive income.
Here are some of the digital Cricut Christmas ideas to sell:
35. Christmas Graphics and design patterns for Cricut like ornaments, door hangers, cups, Chocolate Lollipop Holder, etc.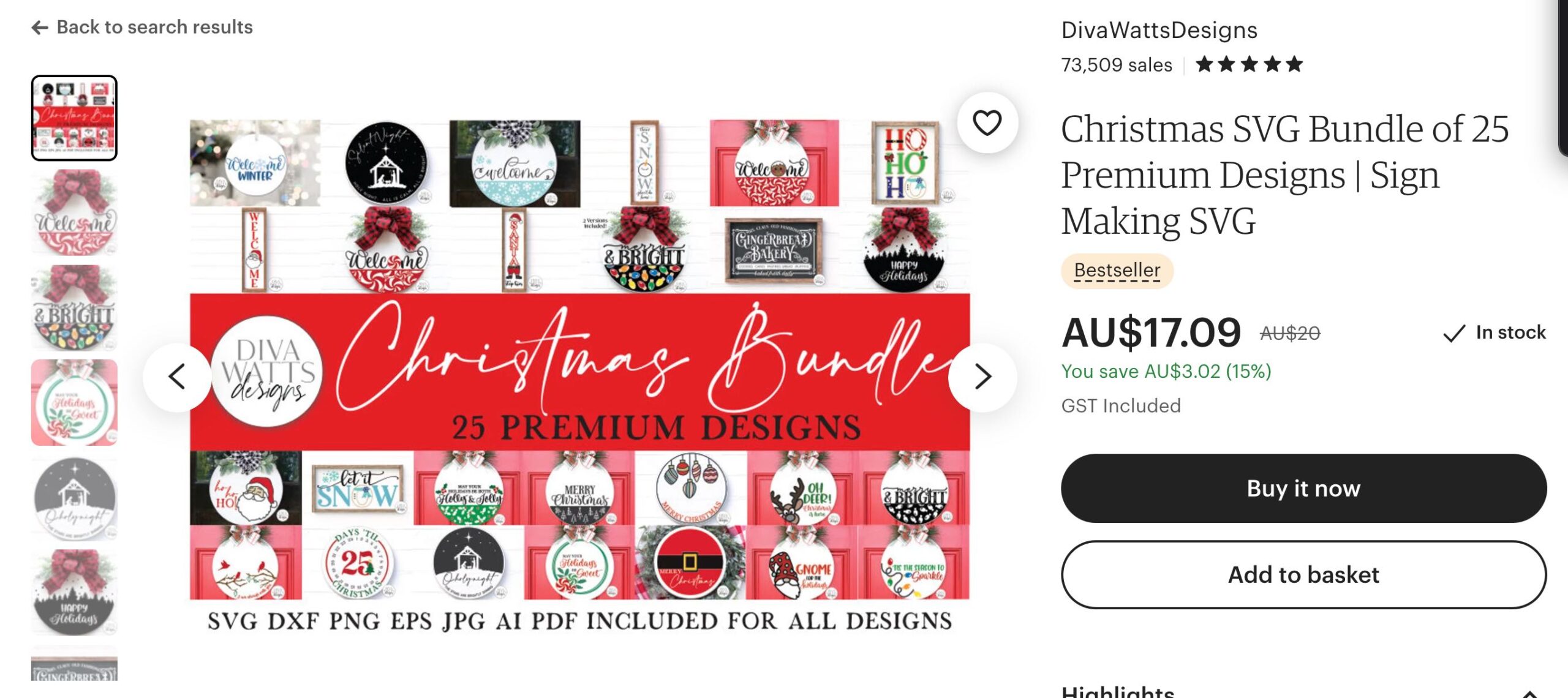 36. Christmas Phrases And Quotes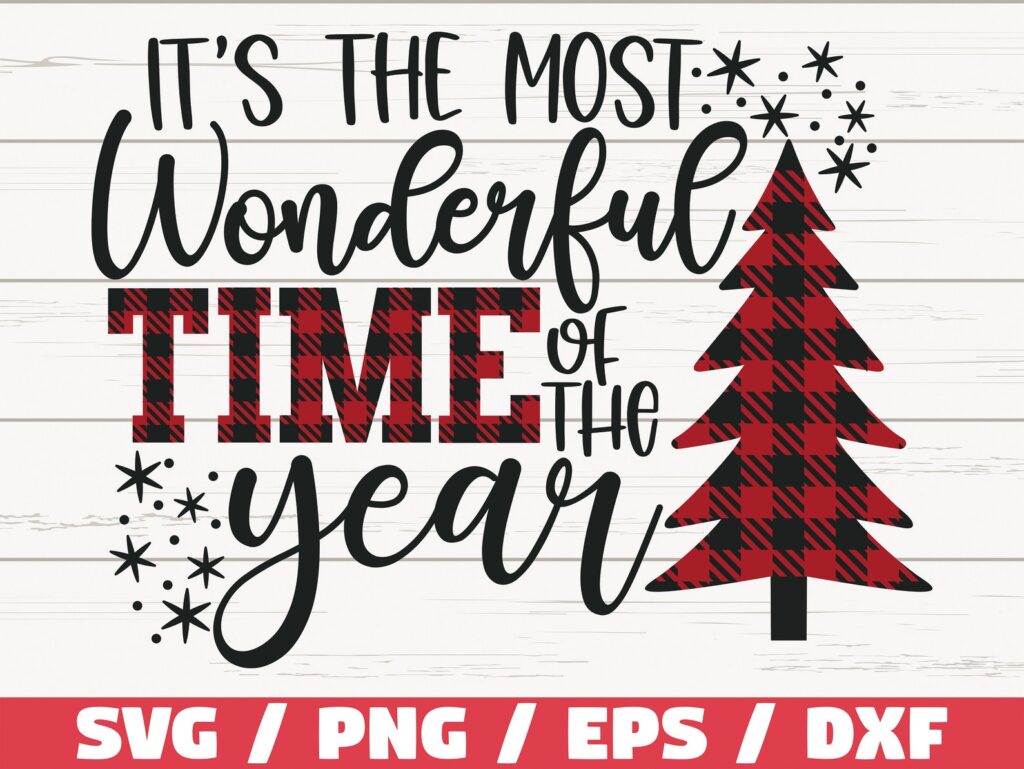 37. Cricut Christmas Fonts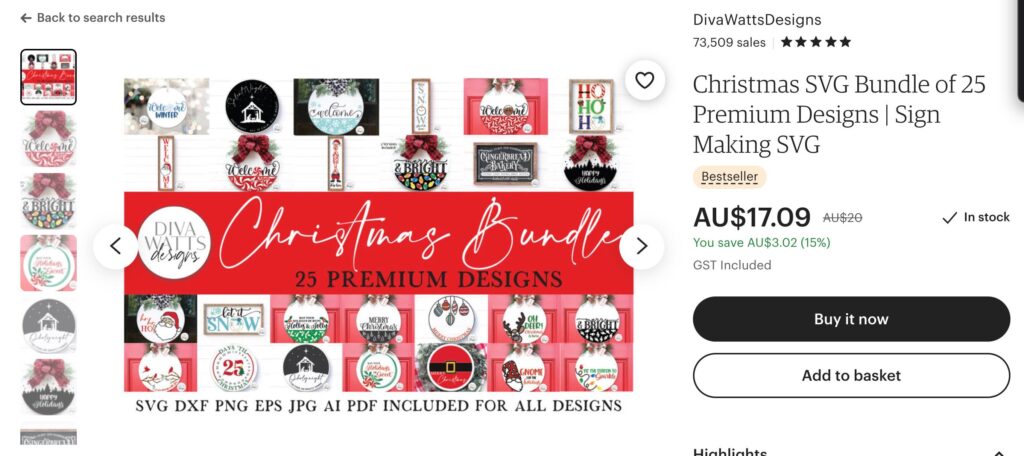 38. DIY Santa Candy Cane Earrings By Amy Romeu
These faux leather earrings are absolutely gorgeous, and she has many jewelry-making tutorials you may want to check out.
Ready To Make Your Best selling Cricut Christmas Crafts To Sell?
Cricut is one of the best machines available for making customized products.
As I mentioned at the start of this post – customization is the key to Cricut, and so is for you to stand out from the rest of the crowd. You can easily scale your Cricut hobby into a profitable side hustle as the market is HUGE.
According to a recent report, the personalized gifts market is expected to grow annually at the rate of 5.83% and will have an estimated value of 38.66 billion dollars by 2027.
So it's better to put your Cricut to work!
I hope that my blog post on Cricut Christmas ideas to sell has inspired you to explore the possibilities of Cricut and sparked your creativity to create amazing Cricut holiday crafts.
More DIY Christmas Crafts to Sell
More DIY money making Crafts Ideas