This free Christmas budget worksheet and related Christmas budget printables are all you need to manage your holiday expenses.
The holiday season is here, and for many families, it means spending more time together.
One of the most important things to do during this time is to keep track of your finances to make sure you don't overspend.
This way you can enjoy your time with family and friends without worrying about how much money is left in the bank.
To keep the fun going and help you track your holiday expenses, I have created a Free Christmas Budget Spreadsheet and some Free Christmas Budgeting Printables for you to download.
Why do you need to budget and track your Christmas Holiday expenses?
Because it is easy to get carried away, spend money you don't have, and go over your budget when shopping for gifts or entertaining guests.
With a little planning ahead of time, you can avoid these pitfalls by setting yourself up for success from the very start.
If you are still not convinced, then I have this data for you:
According to a survey by The Motley Fool, 21.5 percent of Americans go into debt because of Christmas.
If you are reading this, then I am sure you don't want to be the one who falls into this category.
I am not saying that you should give up on the magic of Christmas and all the joy and cheer it brings to families and friends, but rather, I want you to enjoy your holiday season without going broke in the process.
And the best way to avoid going into debt during Christmas time is by having a budget set for your expected expenses, tracking all of your purchases throughout the holiday season, and avoiding unnecessary spending by setting up rules that you can follow consistently over time.
Free Christmas Budget Worksheet Templates
If you are a tech-loving person and like keeping track of everything on an excel spreadsheet, this is the Google sheet for you to download.
I love Google sheets (or Google docs) as they have an autosave feature. Believe me; this autosave feature is a lifesaver for my blog as I always forget to hit the save button.
What's included in this Christmas Budget Spreadsheet Package?
This Christmas Budget Spreadsheet has 3-types of different holiday budgeting worksheets:
Christmas budget worksheet for gifts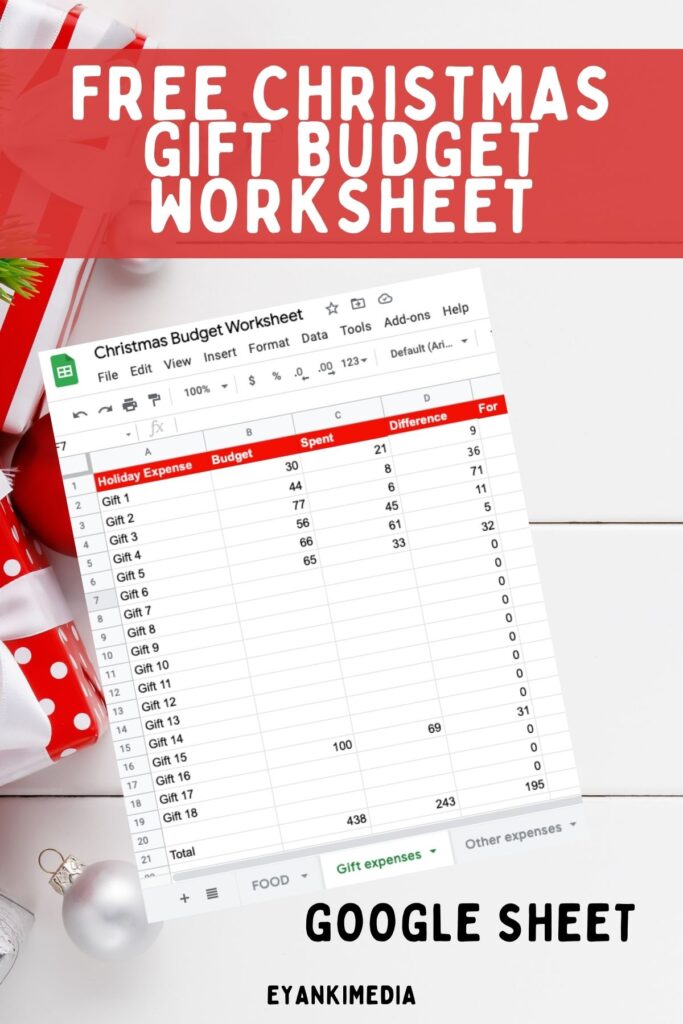 Christmas food/grocery budget worksheet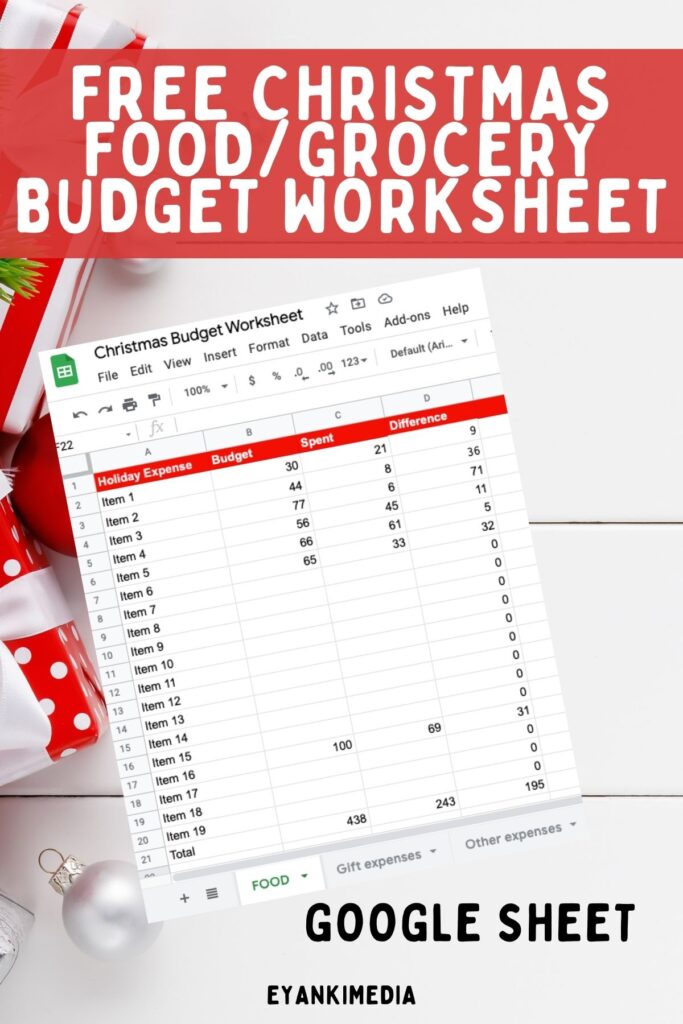 Christmas budget worksheet for other expenses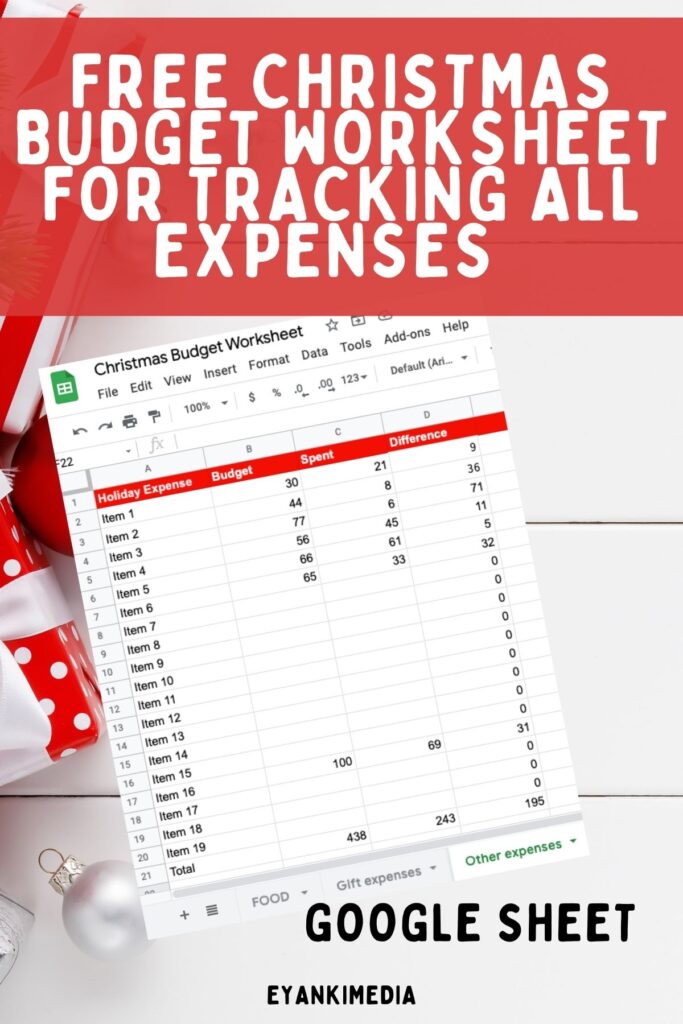 The best part of these sheets is that they auto-calculate your balance once you enter your budget amounts and expenses.
As an example, I have put in a few random numbers for my budget and expenses. Once you are ready, you can delete these numbers and enter your own.
Free Christmas Budget Planner Printables
For those who are old school like me and prefer to use a printable form of a budget planner, I have these cute Holiday themed Christmas Budget Planner Printables.
I love how they turned up – so festive, colorful, and Christmasy.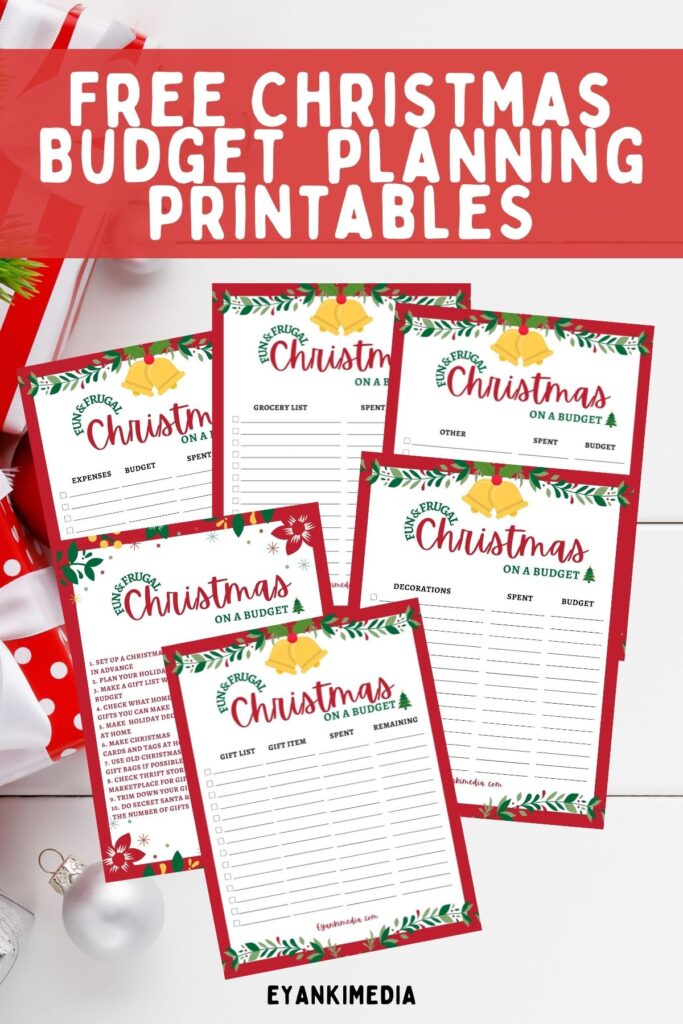 What's included in this Christmas Budget Planner Printable Package?
It includes 5-pages for you to download. You can print any or all of them as per your requirements. 
Christmas gift list and budget printable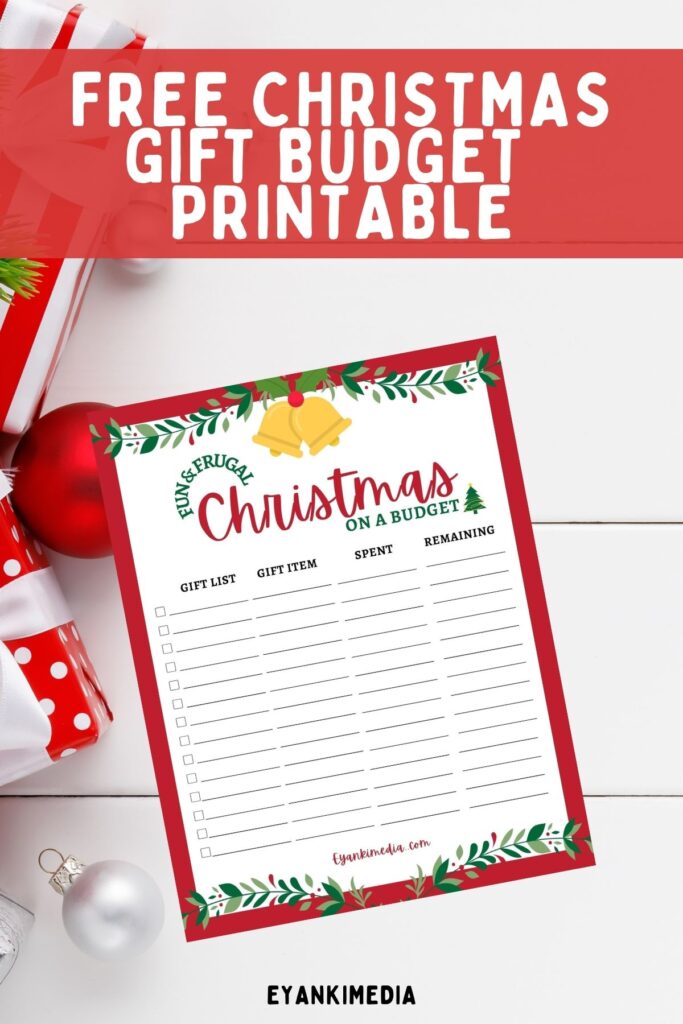 Christmas grocery budget printable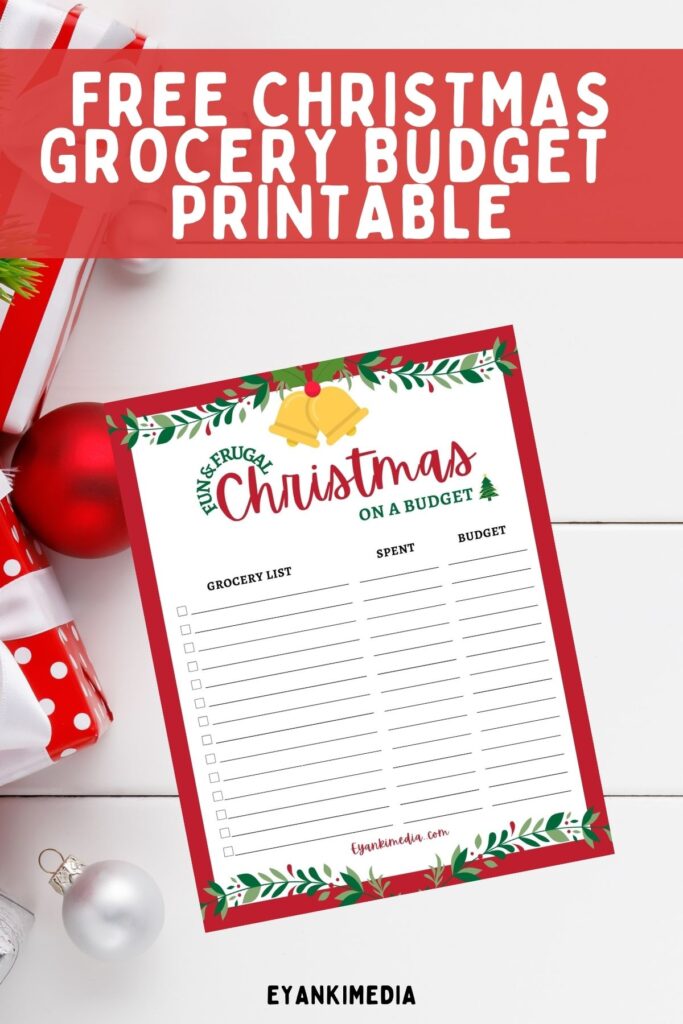 Christmas decorations budget printable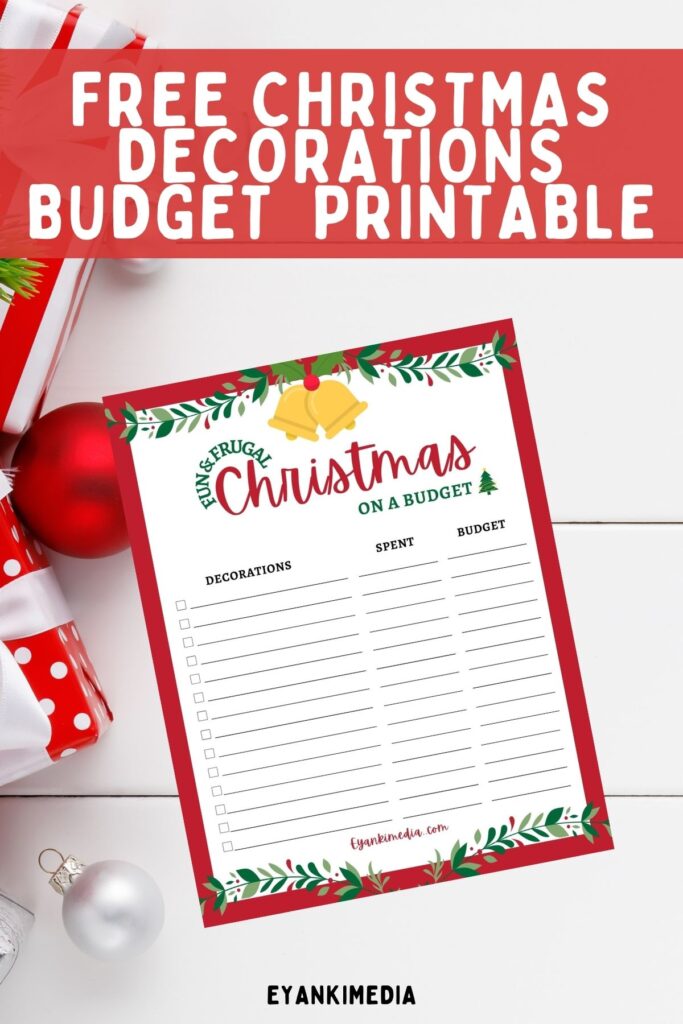 Christmas budget planner printables to track miscellaneous small expenses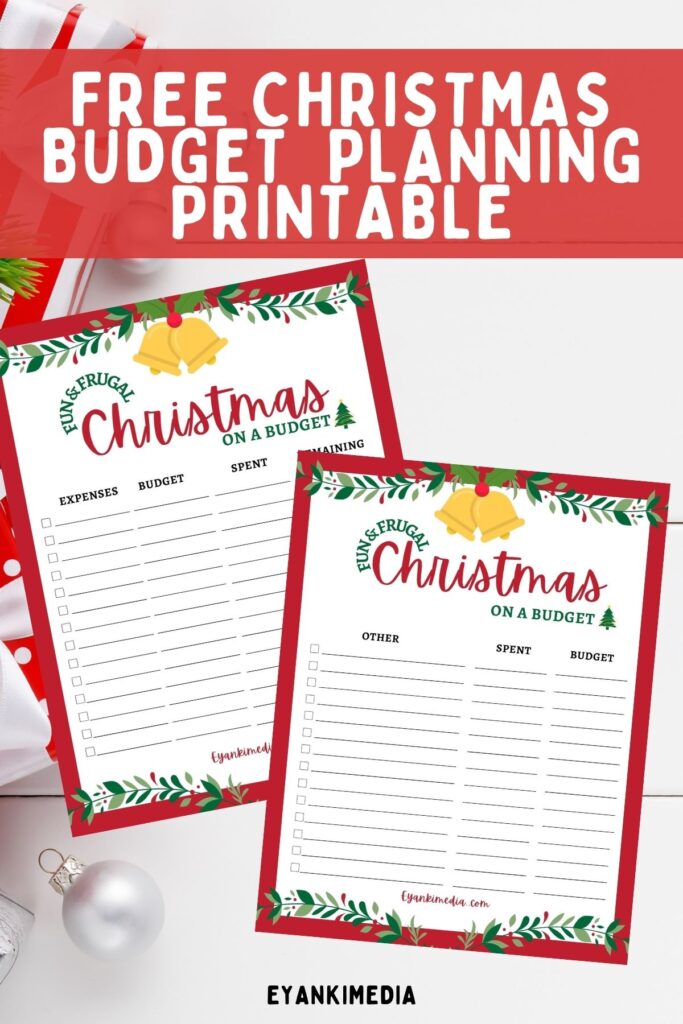 Bonus Free Christmas tips for fun and frugal Christmas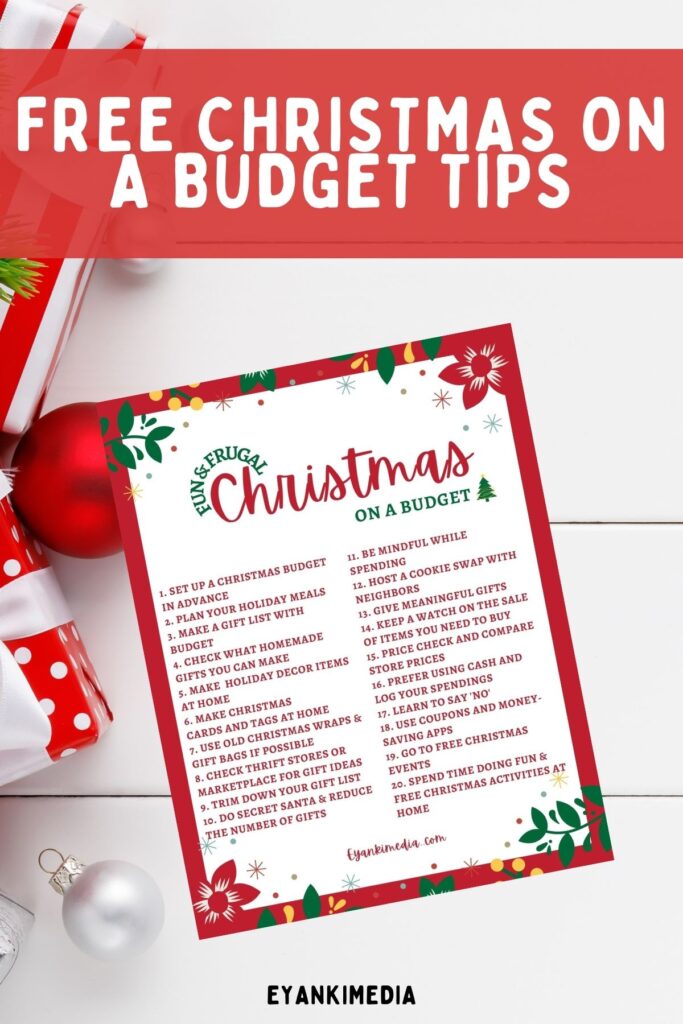 How to Download Free Christmas Budget Worksheet and Printables?
To get these free worksheets and Christmas budget printables, enter the information below. You will receive an email with a link to download these files.
These are free printables with no strings attached. Just enter your email below, click subscribe and download away. You can unsubscribe at any time.
Download Your Christmas Budget Spreadsheet and Free Printables!
Is there anything else you do to keep track of your Christmas spending? If that's the case, please let me know because I'd be happy to add it here for everyone's benefit.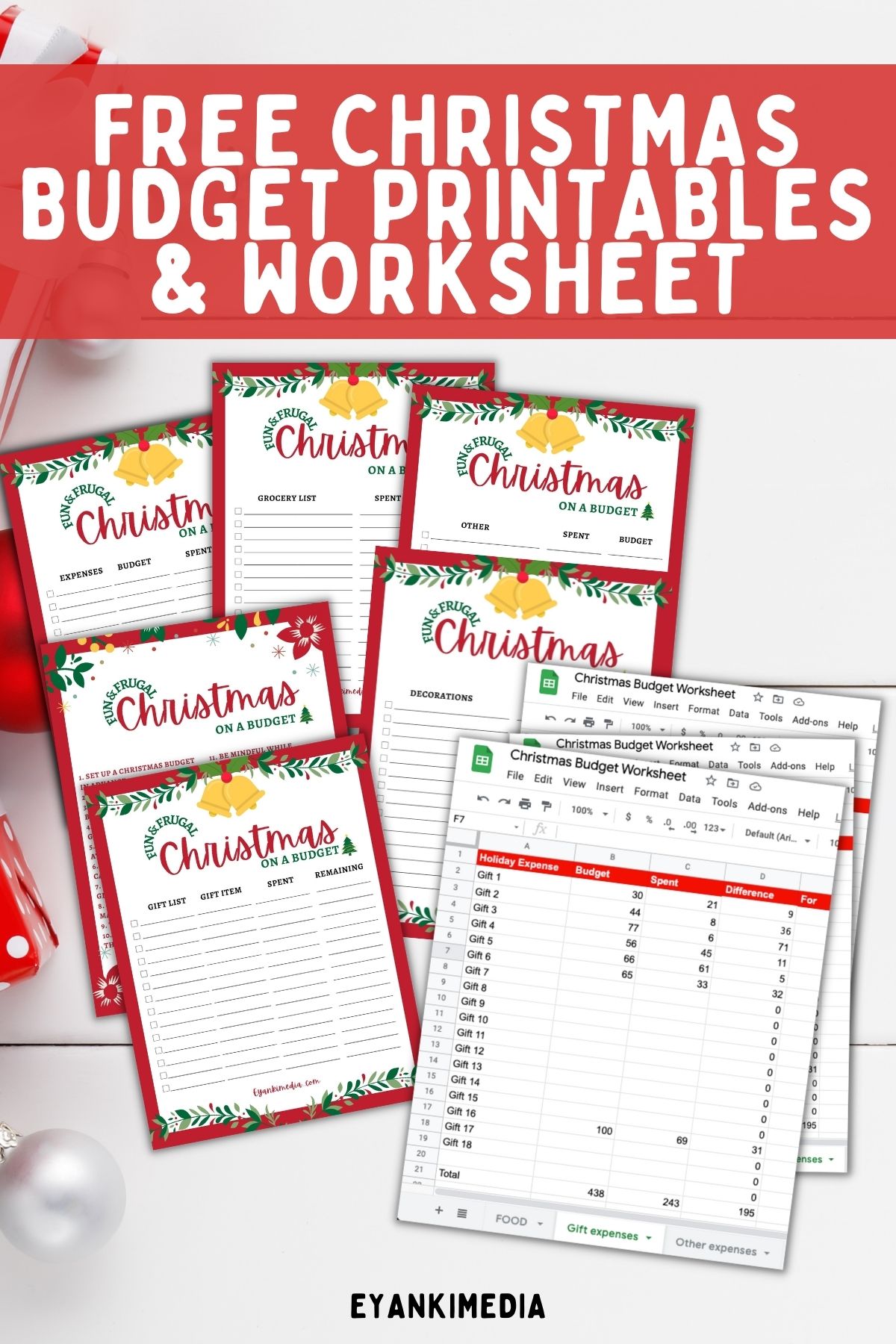 More Budgeting Related Free Printables For You
If you are looking for more budgeting and money-managing printables, you are in luck, as I have plenty of free printables for you.
The best part is they all have the same appearance, so if you're creating a binder, they'll all blend in!
1. DIY Budget Binder: Want to create a budget binder? Here are my budget binder free printables with DIY cash envelopes.
2. Beginner Printable Worksheet: New to budgeting? Check these worksheets to track your monthly finances.
3. Budgeting Printables: This post includes different types of free budget planning printables: templates, worksheets, google sheets, etc.
4. No spend Tracker after Holidays: Well, if you plan to go on the no-spend challenge after holiday shopping or in January 2022, here are free no-spend trackers to help you keep a tab. 
More Christmas Related Helpful Resources For You
If you are running low on budget or need some creative gift ideas to manage your gift spending, check these blog posts below:
Sell your old stuff for fast cash: Make some extra money by selling the things you no longer need. Whether it is an old book, clothing, or shoes that are taking up space in your wardrobe, even if it's a gadget from around the house collecting dust, there will be someone who would love to have it.
DIY Christmas ideas to gift or sell: Check these posts on DIY Christmas crafts. You can use these ideas for gifts or "hiring" yourself out as a DIY gift maker to earn some extra cash.

Start a stay-at-home job: While free time is precious for everyone, you should not let it go to waste. Use your free time to generate some money or start a stay-at-home job that will fit into your schedule and one where you can create the hours around when you are most productive.
Related Posts