Are you looking for a perfect Valentine's craft project to make with your Cricut? Check these Cute Cricut Valentine ideas you can make to sell or gift someone you love on this Valentine's Day!
What Cricut Valentine's Crafts Can You Sell?
The best thing about owning Cricut is that you can make Valentine's projects that can be customized for your customers.
When you create a gift with your Cricut, it is not just unique but also awe-inspiring. 
I know there are a lot of Valentine's Day projects you can make with a Cricut machine. This post focuses only on those Valentine Cricut ideas that people have sold on Etsy, other online marketplaces, and at craft markets and bazaars.
Whether you are making gifts for him or her, this list has got you covered. I have also included Cricut Valentine's ideas for moms, kids, or teachers that you can make as a gift or sell online.
Related posts:
Valentine crafts to sell in 2023
Best Cricut crafts to sell for money
Free SVG Files: List of websites for free SVGs (including commercial license)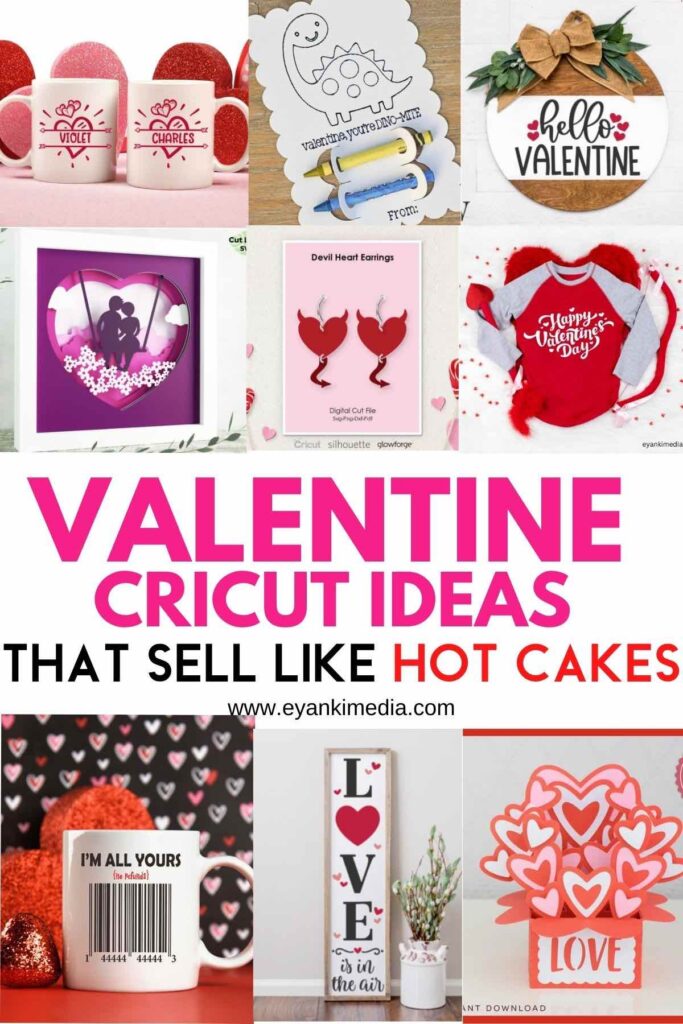 Where to get files for your Cricut Valentine projects?
If you are planning to sell Valentine's crafts with your Cricut, then you'll need 'SVG files with a commercial license.'
You can get free SVGs on many blogs, but they are for personal use only. To make money from those crafts, you are required to buy an additional commercial usage license.
I get my designs from Creative Fabrica. They have free and paid designs, and all come with commercial use licenses. 
Let's check this list of best Cricut Valentine projects of 2023.
Cricut Valentine Ideas
Cricut valentines day cards- Easy craft for beginners
No matter how tech-savvy we become in our lives, a greeting card is still a classic gift that can never get old. 
From funny notes to heartfelt messages, you can turn your choice of card stock into a memorable Valentine's day card.
Here are some Cricut valentines day card ideas perfect for beginners as well as experienced crafters:
Valentines Heart Pop Up Card
Here is an easy pop-up card idea to cut and score with your Cricut.

This card can be customized with heartfelt messages, making it perfect for any holiday or celebration involving love, including Mother's Day, Father's Day, or Valentine's Day.
Love Box Card with a cute explosion of hearts
A must for any Cricut crafter, this love box card is perfect for any occasion that celebrates love.
This design is adorned with hearts, making it an excellent choice for Valentine's Day.
Our First Valentine Card
The First Valentine is very special and calls for celebration.
This first Valentines card is perfect for couples who are celebrating their first Valentine's Day together.
Kids coloring cards to sell
These cute print and cut Cricut cards make excellent Valentine's party favors or Valentine's Day gifts for kids.
They are perfect for kids to color and can be personalized with a child's name.
Cricut Valentine Shirts
Selling cute and custom shirts is a popular Valentine's Cricut idea to sell or gift. 
You can easily make and sell a custom name shirt, Valentine's day quote shirt, or matching shirts for couples and families with Iron-on vinyl (HTV) and Cricut easy press machine.
Check these trending Cricut valentine shirt ideas that buyers will surely love:
Happy Valentine's Day design shirt
Here is one of the easiest Valentine's Day shirt ideas that will never let you down.
Write Happy Valentine's Day using a lovely Valentine's font, or grab an SVG to make your DIY shirt.
Cute Kids Shirts
These shirts look too adorable on kids, and moms like me love to buy these for a perfect Valentine's day pic.
Valentine Shirt for little miss
Valentine Shirt for little mister
Super-cute Valentine Shirt for heart crusher
Matching Couple Shirts
Matching couple shirts are always a great idea to make your loved one feel special. You can also sell these custom-made shirts on Etsy or other platforms.
Valentine Sayings and Pun shirts
These shirts are trending these days as they are witty, funny, and perfect for pun-loving people.
Fries Before Guys
Cricut Valentine Mugs
Here comes one of the best-selling Cricut Valentine ideas- mugs! You can personalize any mug with a custom name or heartfelt valentine's design using adhesive vinyl.
And if you have the latest Cricut mug press, crafting and selling these mugs will be a breeze.
Personalized heart Mugs with names
You can never go wrong with personalized mugs, especially on Valentine's Day.
This mug design features a split heart design from this amazing bundle that you can customize with names and a choice of colors.
Mug designs with cute Valentine's sayings 
You don't have to create custom mugs always; simple and pretty Valentine's sayings mugs are also a big hit.
Here's a cute idea (I'm, all yours no refunds) anyone will love.
Here are some of the cutest mug designs with sayings that people love.
"His, hers" mug design
"Be mine" mug design
"I love you more than coffee" mug design
"You make my heart melt" mug design
Valentine's Cricut decor with pillow covers
Pillows add a touch of coziness and warmth to any home, making them an excellent choice for handmade Valentine's Day gifts for everyone that you can even sell.
You can make custom pillow covers with designs and sayings using your Cricut machine and some fabric.
Here are some pillows design ideas that you can make with Cricut:
For kids room (I stole my mommy's heart)
Here is another big Cricut Valentine's pillow bundle you might like
Valentine's Faux Leather Earring
What's better than a pair of pretty and dangly earrings to show your love on Valentine's Day? 
Use your Cricut machine (fine point blade and purple mat) with Valentine's faux leather sheets to make beautiful earrings that are sure to impress everyone.
I absolutely loved these devil heart earring design from Etsy. This seller has many amazing designs worth checking.
Cricut Valentine Wood Signs
For all decor lovers, Valentine's theme wood signs make an excellent gift and decor item. From the front porch to the mantle, wood decor signs look great anywhere.
Front Porch Signs
The front porch sign is a perfect addition to any home decor for Valentine's day. Grab a wooden blank and choose a design for your vinyl.
Here are some sign ideas that you can make:
"Welcome" sign with a heart wreath
"Home is where the love is" sign
"Love grows here" sign
Wood Rounds
You can never go wrong with a pretty and heartfelt message on a wood round.
These make excellent decorations for the mantle, front porch, or any other place in the house.
Home Decor Signs
This list of Valentine Cricut projects can never be complete without farmhouse-inspired signs.
People are crazy for rustic and chic home decor signs that you can make using your Cricut machine.
Hugs kisses Valentine Wishes Sign
Here are some more Valentine's sign ideas that are always hit. I absolutely loved this SVG bundle and it is quite popular too.
Farmhouse style decor (Crazy love)
Cricut Valentine Keychains
If you want a quick and easy Valentine's craft to sell, consider making a keychain with your Cricut.
You can make them with faux leather or use a heart-shaped acrylic keychain blank to add your design.
3d Valentine Shadow Box
Surprise your customers with these unique shadow boxes made with your Cricut machine.
Give your shadow boxes a romantic and 3D look with paper flowers, hearts, and any other Valentine's day elements like cupid arrows or wings.
These shadow box blanks are just perfect for crafting gifts for any occasion.
Ready To Make Cricut Valentines Crafts To Sell?
These were some of the best-selling Valentine's Day Cricut crafts you can make to sell or gift. Use these ideas to craft something special for this Valentine.
Good luck!
Which one are you going to try first? Let us know in the comments section below! Happy crafting!