Do you love sewing and want to make money selling your sewing projects?
Have you been looking for fabric craft ideas to make and sell? If so, check out this list of 35+ amazing things to sew and sell to make extra money from your sewing hobby.
Fabric crafts are all the rage right now, and there are SO MANY things you can sew that it gets difficult to decide 'what to make out of fabric to sell?' Therefore, I curated this list of things you can sew to sell from fabric based on best-selling sewn items on Etsy and craft fairs.
These are great sewing projects if you're looking for ways to make money at home or want to start your own fabric craft business.
Bonus! I've also included some ideas for making money with fabric crafts without having to sew anything.
This information may be useful if you don't enjoy sewing but want to sell fabric crafts. So, let's get started with this list of fabric craft ideas to make and sell in 2022.
Related posts:
Can you make money sewing and selling fabric crafts?
Yes, fabric crafts are a great way to make extra money from your sewing hobby. But, as I discussed earlier, there are so many fabric crafts to sew that it is important to find what crafts are profitable and decide on what to sew and sell.
The secret to any profitable fabric business is making things that people are looking for and figuring out the cost of materials, time effort, and profit margin. 
Here are a few things to consider to help you start a profitable fabric business:
Do Your Research
Look at what fabric crafts are selling well on Etsy or in shows. You can use check Pinterest and quarterly Etsy trends report to stay informed about the latest fad.
Make a list of the most popular fabric crafts you find, then narrow it down by seeing if you have an interest in them and if the market is not too competitive.
Avoid making things out of fabric craft ideas that you don't know how to sew or aren't confident in your sewing skills because this will result in low-quality products and unhappy customers who won't return back!
Consider Cost Of The Materials
Fabrics can be expensive sometimes so the craft you are sewing should be something that people are willing to pay for.
It is important to consider the cost of material needed for each project before you start making anything out of fabric. You can also use fabric scraps to sew quick things to sell.
Value your Time
The amount of time required to complete your fabric craft will depend on what you are trying to sew/make from fabric. Don't go for time-consuming projects that won't pay well. If you have ten orders for crafts that take three hours to make, it will be a significant amount of time investment.
You must make sure that the profits reflect your time invested in the project.
Size
You need to estimate the final size of the finished product as it affects your shipping costs.
People buy more when it is free to ship. If the vendor adds this cost to their products, it can be expensive.
You might want to sell cheaper items if you offer free shipping, or else the customer will not buy your product because of expensive shipping costs.
Be smart about pricing
Keep an eye on how much your competitor is selling fabric crafts for and price yours accordingly.
If the price is too high, people won't buy it. If the price is too low, you'll be selling yourself short, and it might not be worth your time. If planning to sell on Etsy, make sure you know Etsy selling fees and charges beforehand.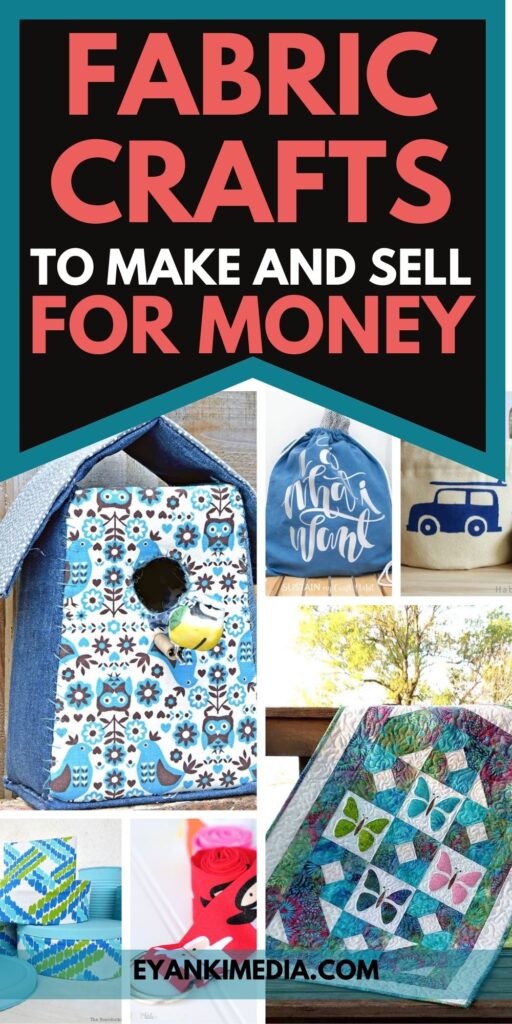 Things to Sew and Sell
Below are some of the best sewing projects to sell and make money from your hobby in 2022.
1. Fabric Baskets
Customers love fabric baskets, and they are a wonderful fabric craft to make and sell.
These baskets are not just colorful, but they are versatile, too. You can use fabric to make picnic baskets, storage bins, planters, and much more!  Mix and match colors and designs to create a fabric craft that will fly off the shelves.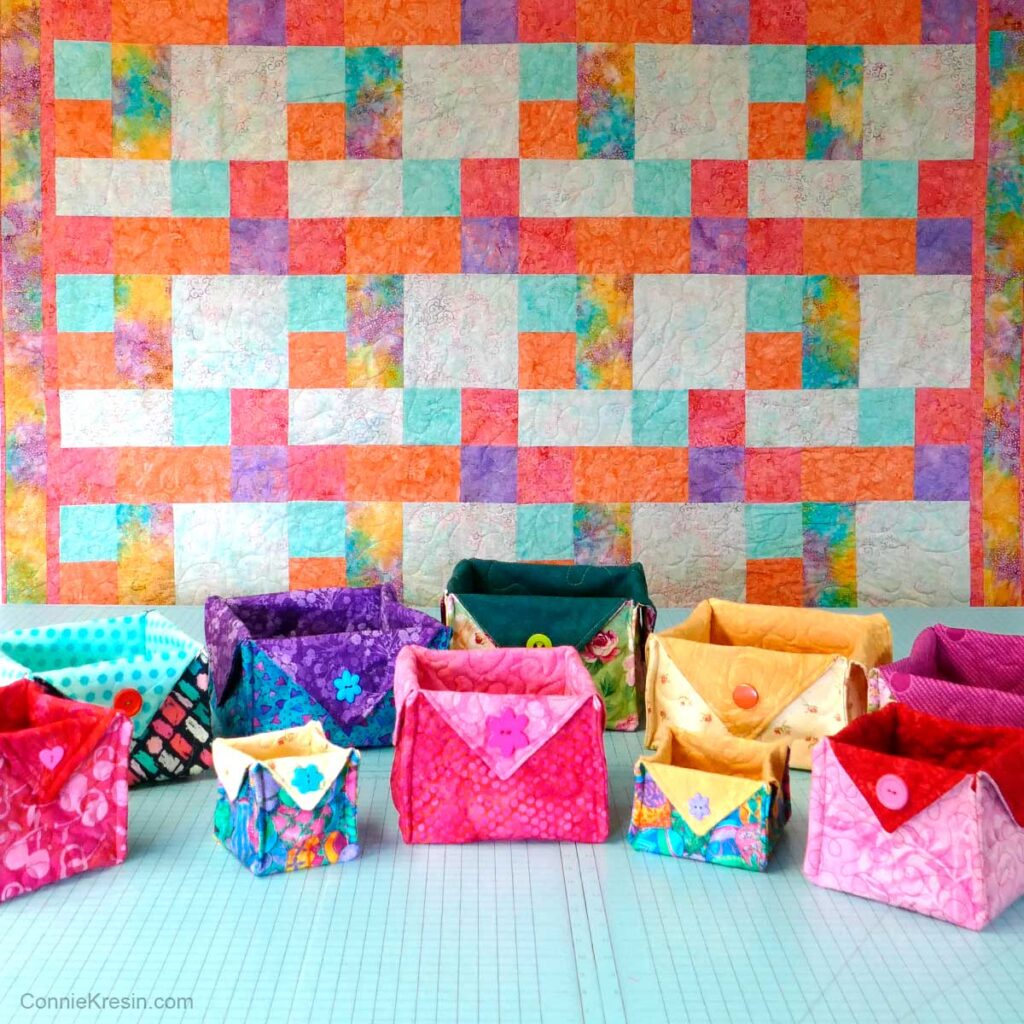 2. Fabric Bin With Handles
Just like baskets, storage bins with handles make excellent fabric craft ideas to make and sell.
You may sell adorable fabric baskets in cute patterns as a toy storage for nurseries or playrooms.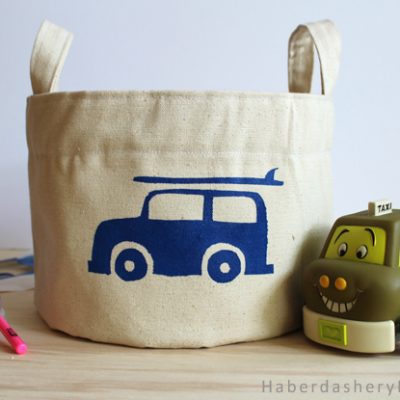 3. Quilted Wall Hanging 
I love how these quilted wall hangings look on the walls. Fabric wall hangings are very fashionable, functional, and profitable.
They are easy to sew and inexpensive to produce, so they're an excellent project for when you have a lot of fabric scraps to work with.  It is a great idea to sell year-round.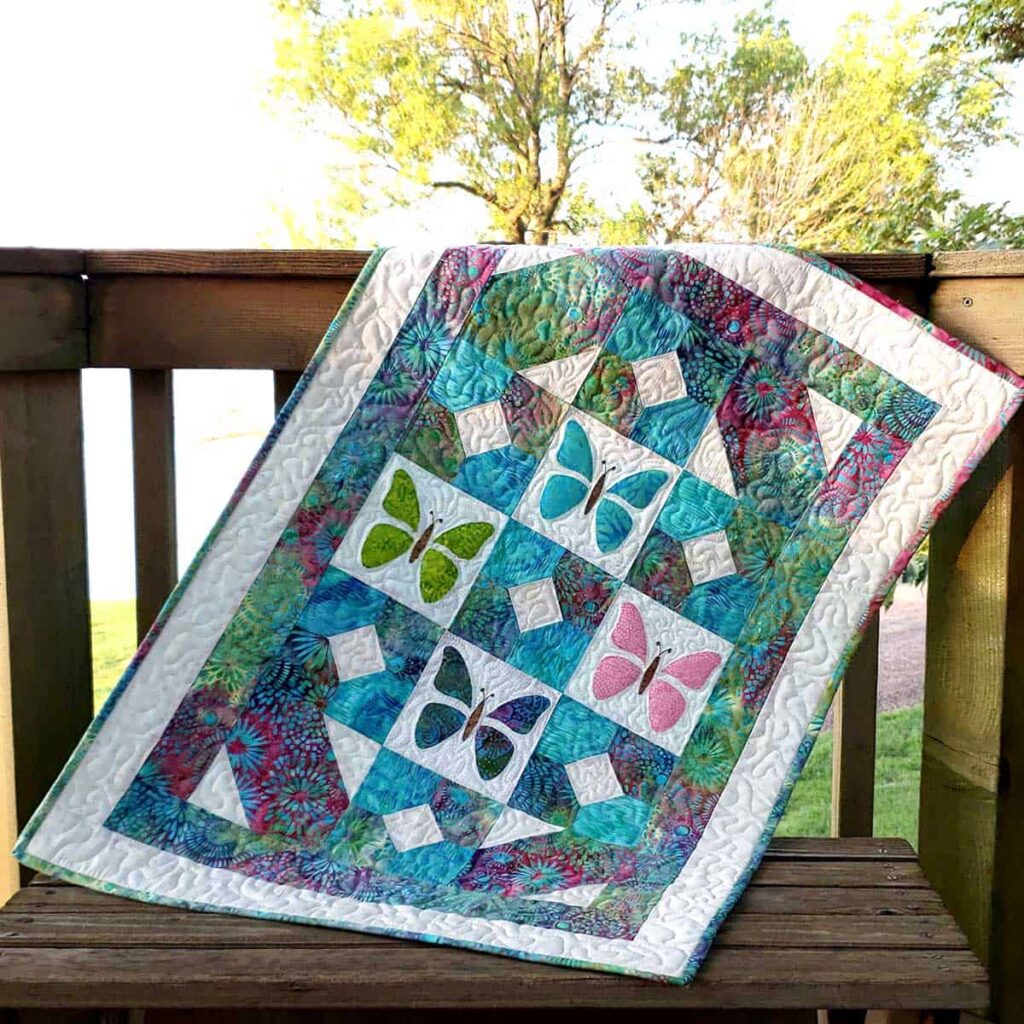 4. Fabric Belts
These fabric belts are so much fun to make. They'll go with essentially anything, from jeans to a dress.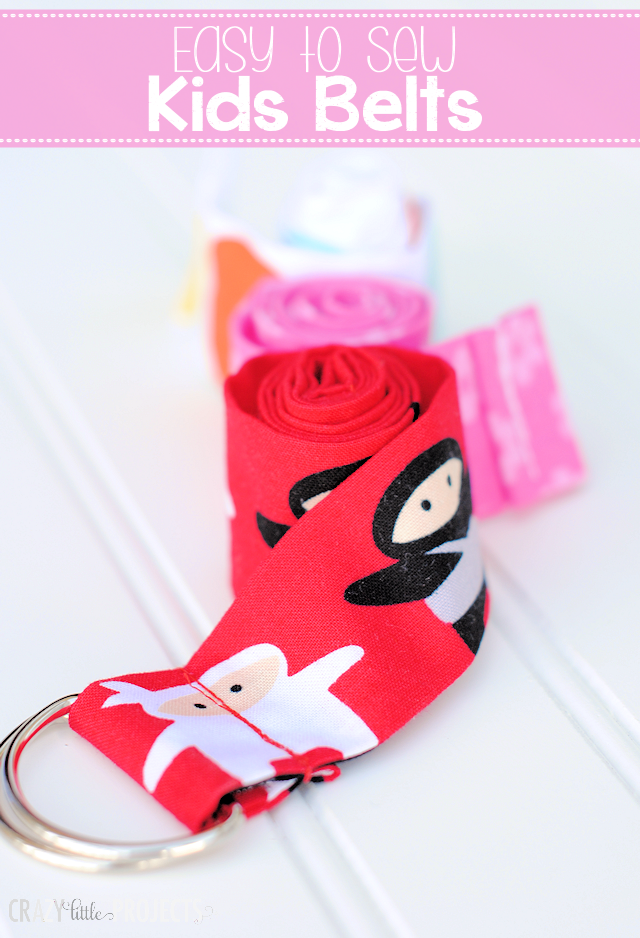 You may also embellish them with embroidery, beads, or fabric flowers to decorate them. 
These are practical fabric crafts to make and sell for kids and adults alike. 
Sell them at craft shows for $15-$50 each depending on fabric, embellishments, and time it takes to make them.
6. Toothbrush Travel Wrap
A toothbrush-holding travel wrap is a must for travelers to maintain hygiene. It's also great idea for selling online in your Etsy store or at a local craft fair.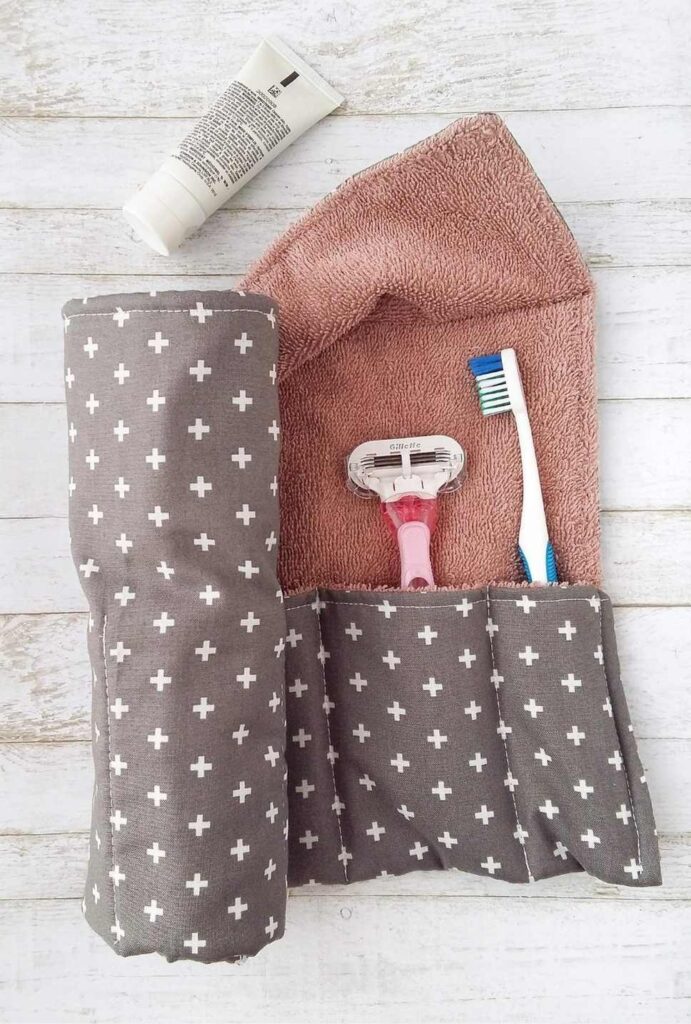 You can also add waterproof fabric and velcro to make a simple toothbrush travel bag like this one selling on Etsy.
7. Passport Holder
A passport holder is perfect for storing a person's documents while they're traveling. You can make it with leather or any fabric of your choice.
These passport holders make excellent gifts for frequent travelers.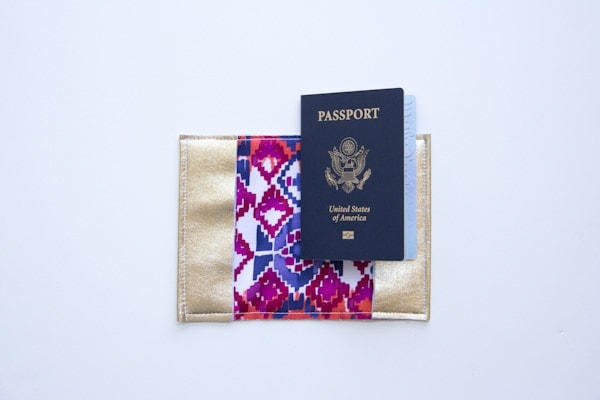 8. Fabric Purses
Making fabric purses is a great way to get started with fabric crafts.
If you are looking for a sewing craft that sells well on Etsy, then these fabric purses are a fantastic option. 
You can make these fabric purses in different fabric designs, styles, and colors that suit your customers' tastes or the season you are in.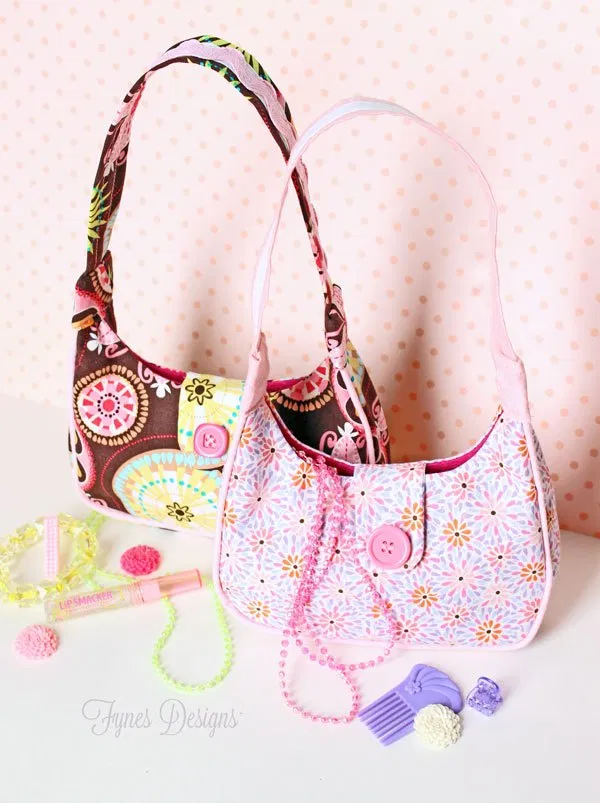 9. Quilted Bread Basket Cover
This chicken-shaped bread basket is a super cute fabric craft idea to sew and sell at craft fairs. This unusual sewing project can easily spruce up any kitchen and can be your best-selling craft too.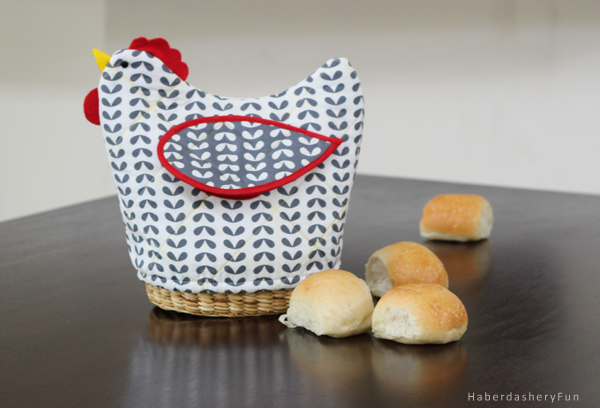 10. Cosmetic Pouches and Bags
Makeup pouches (or bags) are quite popular fabric crafts you can make to sell.
These fabric crafts will be a hit with the ladies, especially if they're made from luxurious fabrics like satin or silk. You can match these fabric crafts up with some colorful ribbon for an extra pop.
If you love sewing, then selling fabric makeup bags could be your profitable business venture, and there are soo many ways and patterns available to sew these gorgeous fabric makeup storage essentials.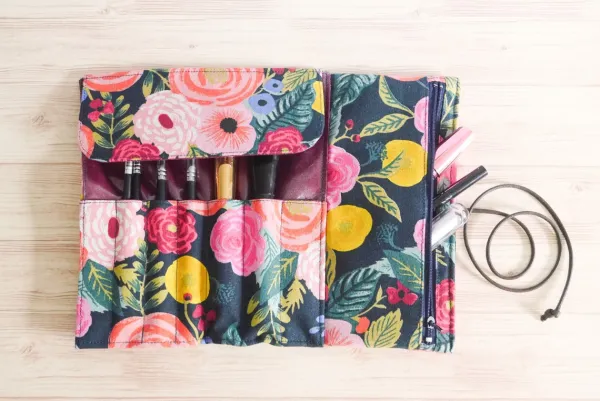 11. A-Frame Organizer
Another way to sew a fabric cosmetic bag to sell.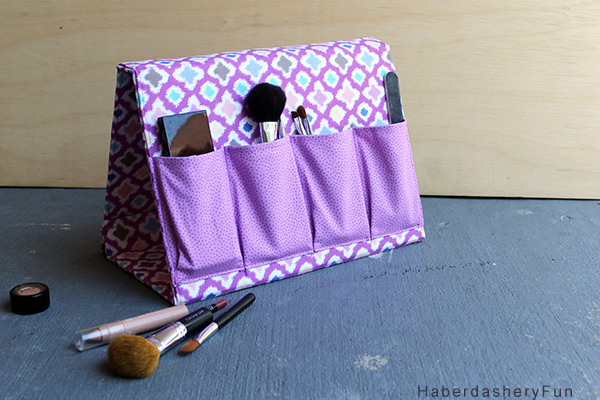 12. Sanitary Pads
Reusable sanitary pads are free of harmful chemicals and are a more eco-friendly alternative to disposable pads.
This is a fabric craft idea that is great for people who are looking for an eco-friendly option. You can make these fabric pads to sell at local markets or online.
13. Sanitary Pad Pouch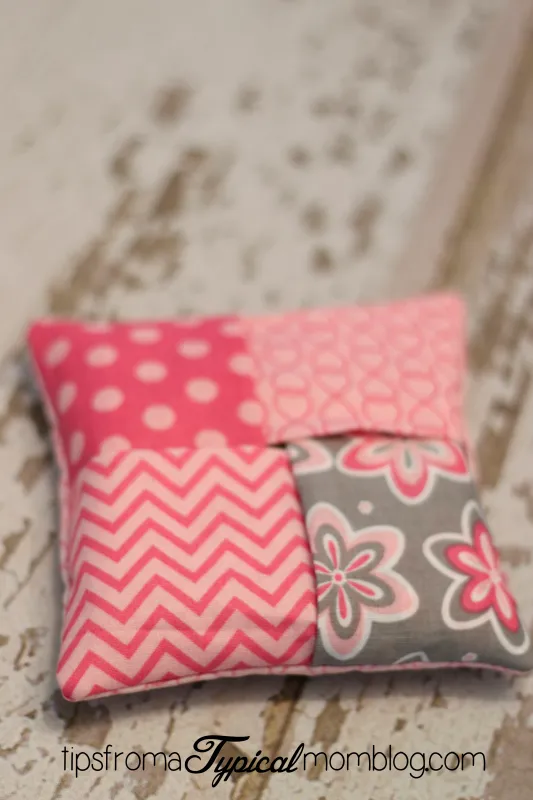 14. Fabric Birdhouses
Another unique idea to sew and sell. These birdhouses are really adorable.
Make a batch of them to sell at your next fabric craft show, and you'll be pleased to earn new customers.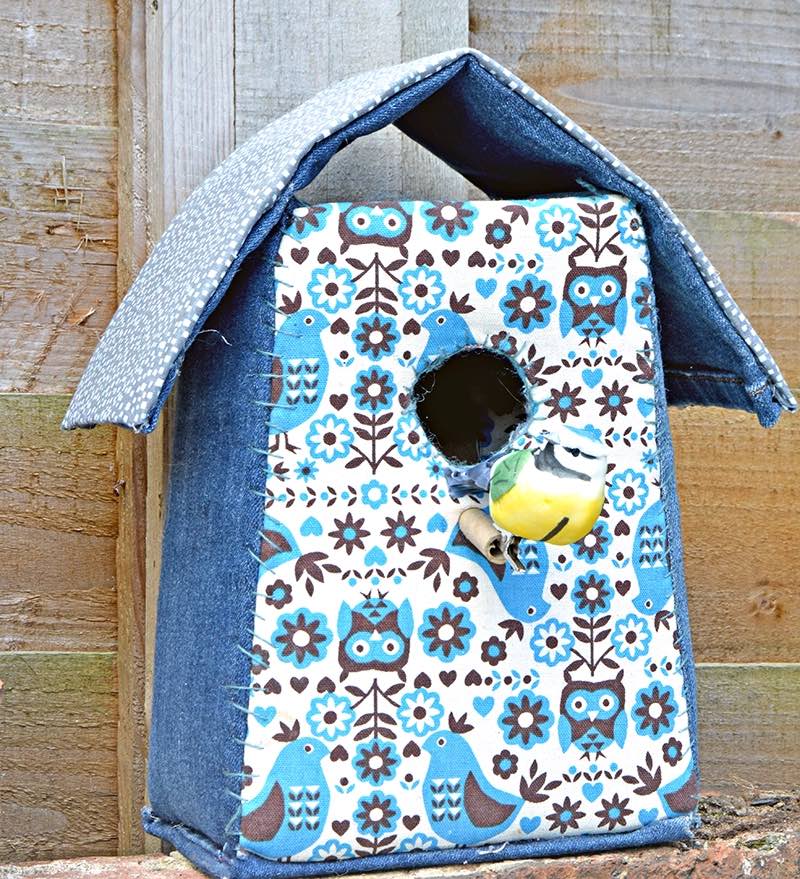 14. Fabric Tea coasters
Tea coasters are easy to sew together with just about any fabric that will get them looking beautiful. They make great presents or DIY sewing gifts to sell.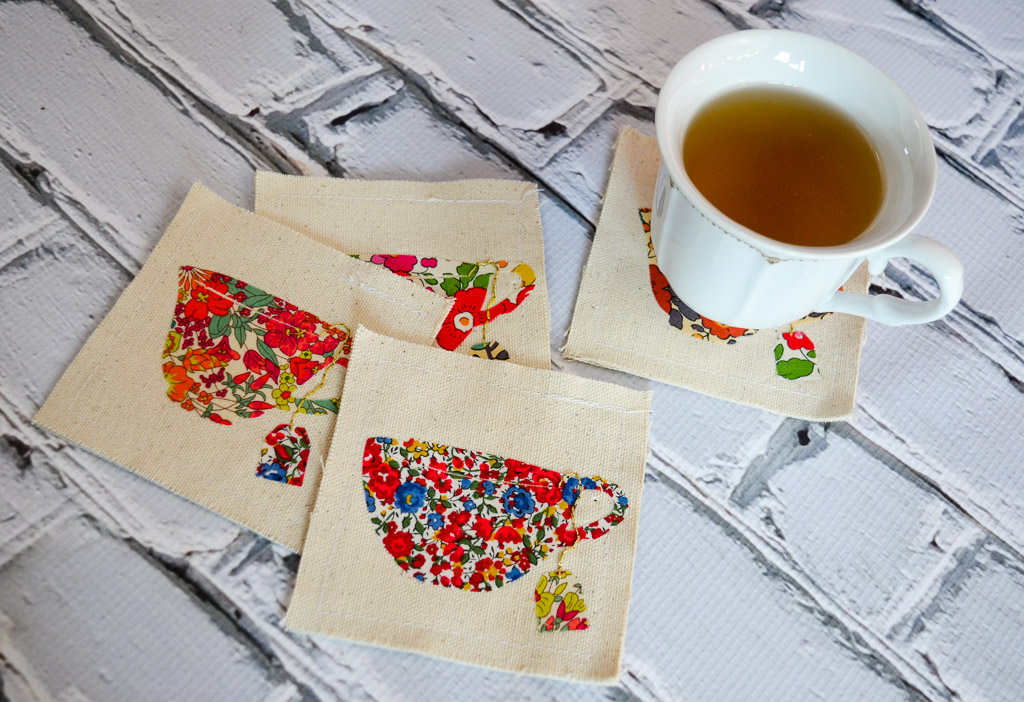 16. DIY Coin Purse with Keyring
Cute colorful coin purses are one of the most popular and easy things to sew and sell for beginners.
They're ideal for keeping cash, credit cards, or any other small things.
It's a simple, enjoyable scrap buster sewing craft because it just needs a little bit of fabric.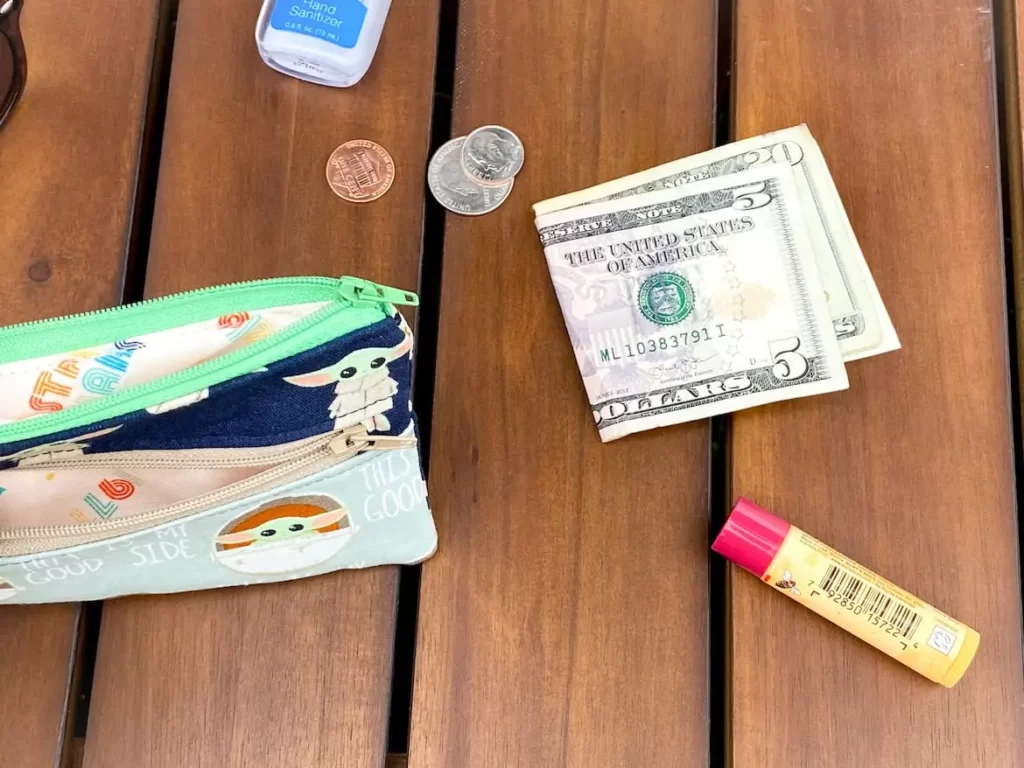 17. Fabric Tissue Holder
A tissue holder is the ideal fabric craft for the cold season. Another quick and easy project that you can sew with scraps around you.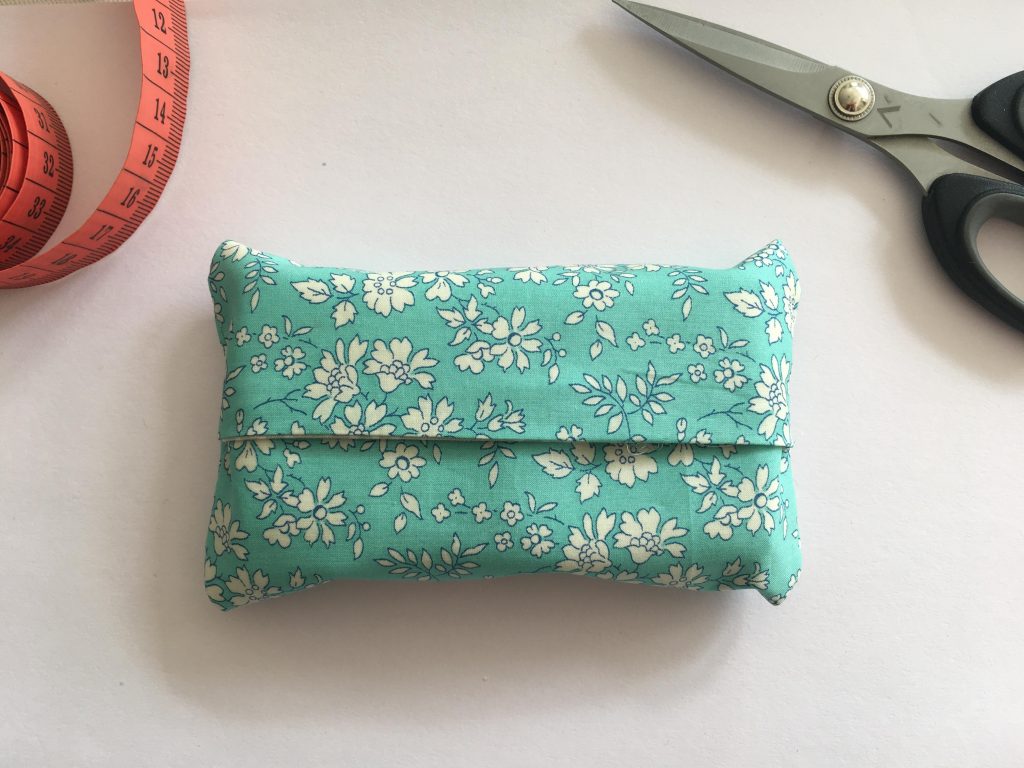 You can also add another pocket to hold a bottle of sanitizer like this project.
18. Table Runner
Table runners are quick and easy sewing projects to sell that are useful and can be made in bulk. They come in a wide range of styles, designs or fabric types so there is something for everyone!
This one is created for Christmas, but all you have to do is swap out the fabrics and it will be suitable for any occasion – Halloween, Thanksgiving, Birthday, Anniversary, or anything else.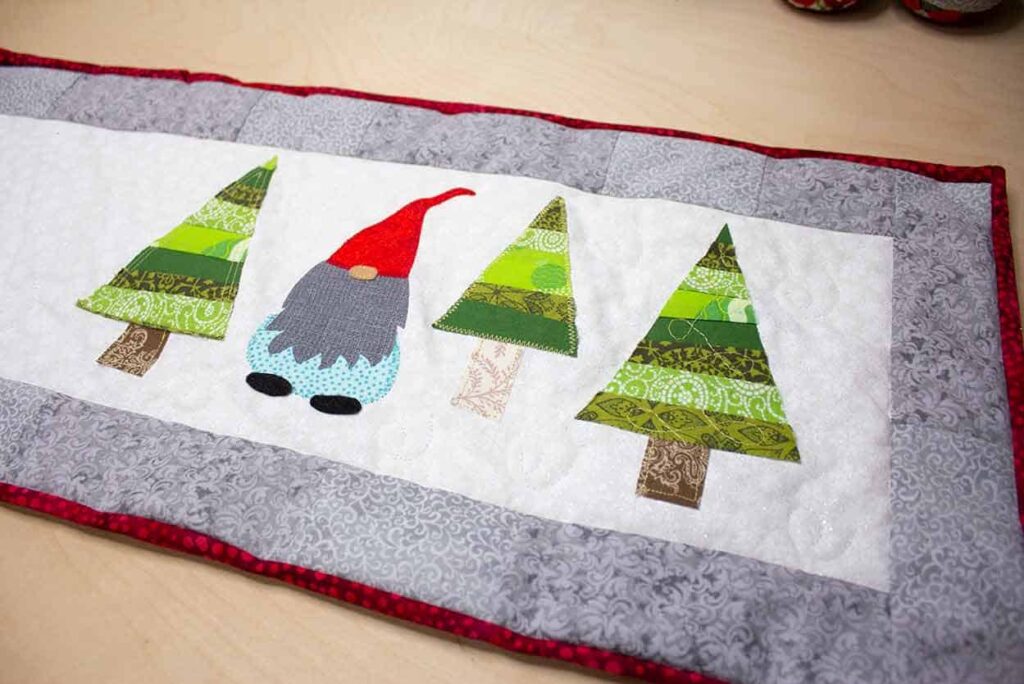 19. Hair Bows
They're quite flexible and simple to make, making them ideal fabric craft ideas for beginners.
Bows are always one of the popular selling items at craft fairs or bazaars.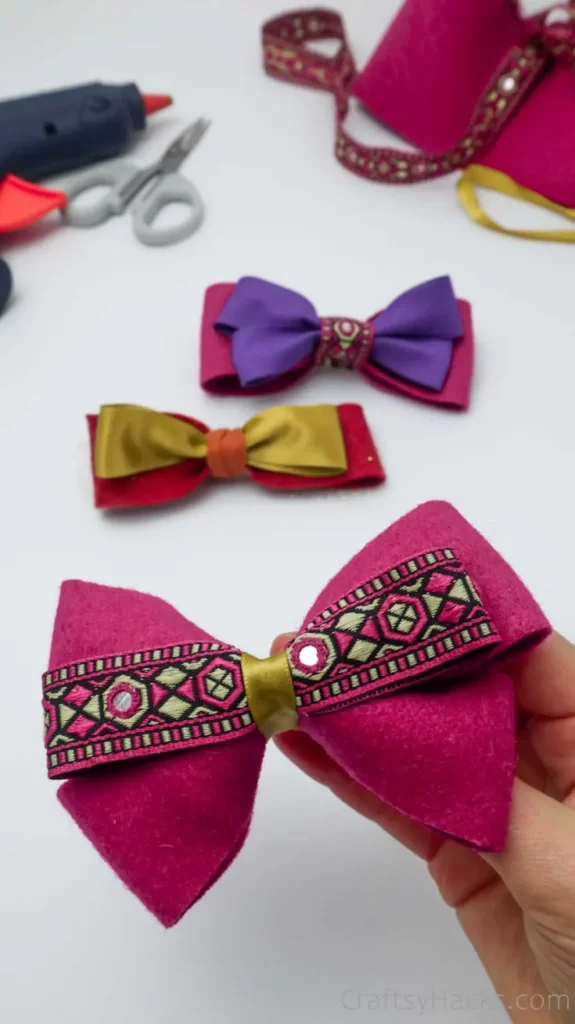 20. Felt Flamingo Tote Bag
Tote bags are fabric crafts that everyone loves and there are so many ways to customize them to sell. 
They make are great sewing projects for beginners because they're really popular and easy to sew.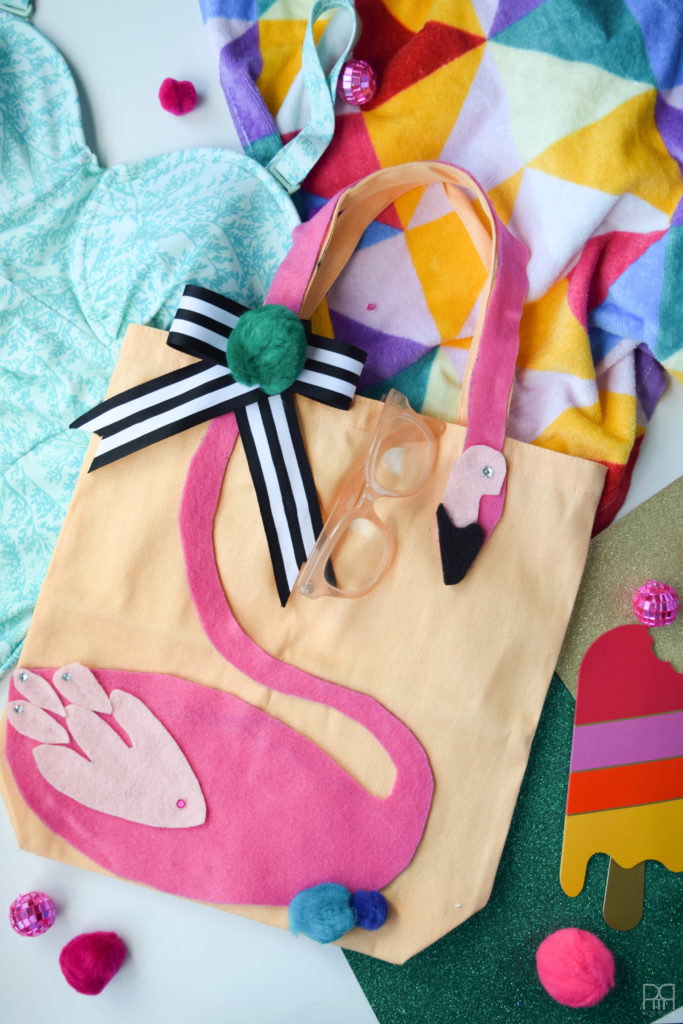 21. Drawstring bags
Drawstring bags are simple fabric sewing projects to sell that can be made in bulk with fabric scraps and are useful things to sew.
They're also great for traveling with instead of a purse or kids going to school.
These are super quick to make, so you could have one done before your next errand run.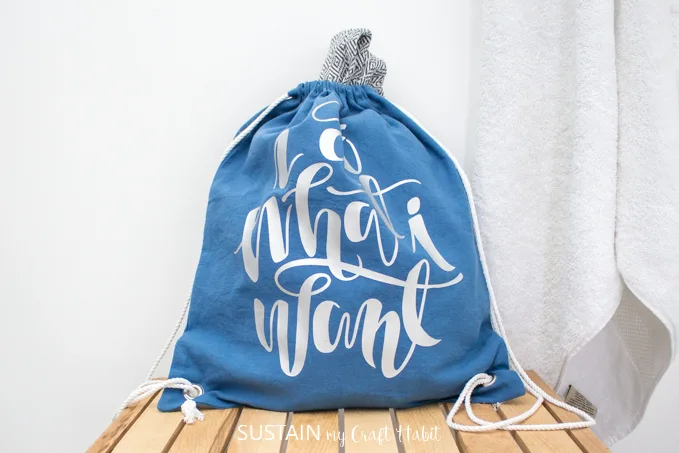 Here is another drawstring top sewing project you might like: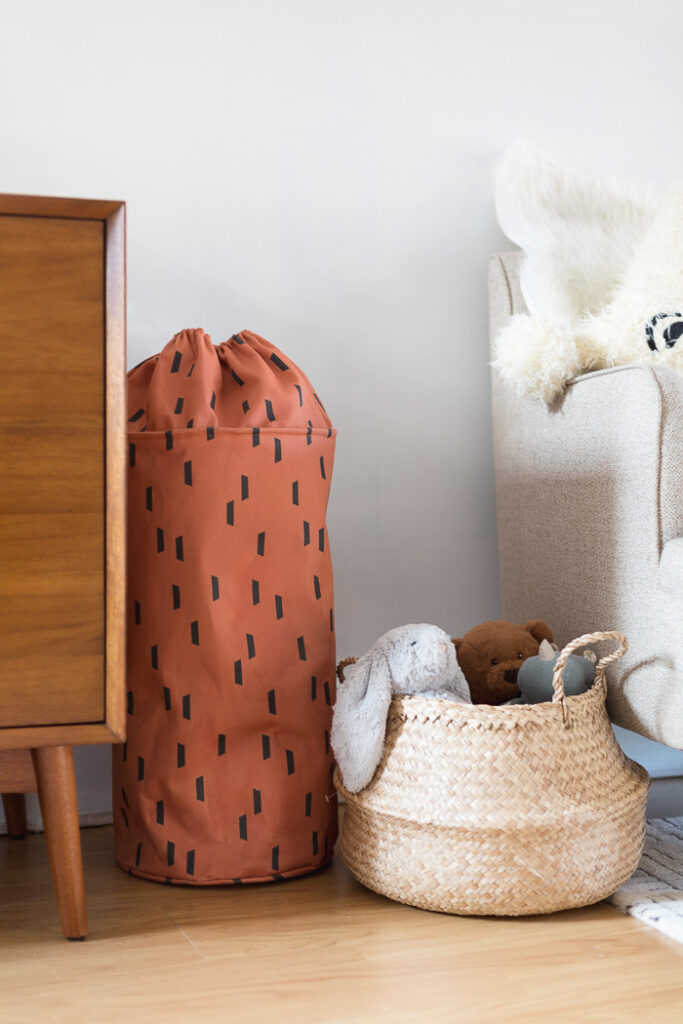 22. Baby Blankets
Baby blankets are one of the most common fabric items to sell for newborns.
They're excellent sewing projects for any beginner sewer to sell, and you can customize them in any way you want. You'll undoubtedly make a profit on them, especially if they're made of lovely fabric.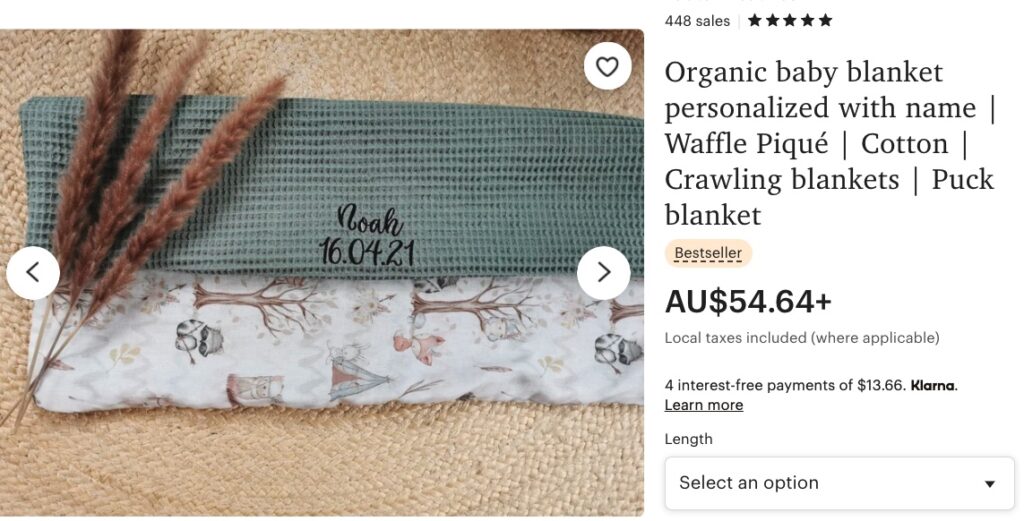 Blankets made with organic fabric and the ones with customizations are some of the best-selling sewn items on Etsy.
Related reading
Easy Etsy shop ideas to sell and make money on Etsy
23. Pillows and Cushion Covers
Cushion covers are another quick and easy fabric craft ideas to make and sell that can be personalized with any fabric, thread color, and embellishments.
These are the best beginner sewing projects for anyone who wants easy to start with easy things to sew and sell but doesn't want to take on a huge project yet.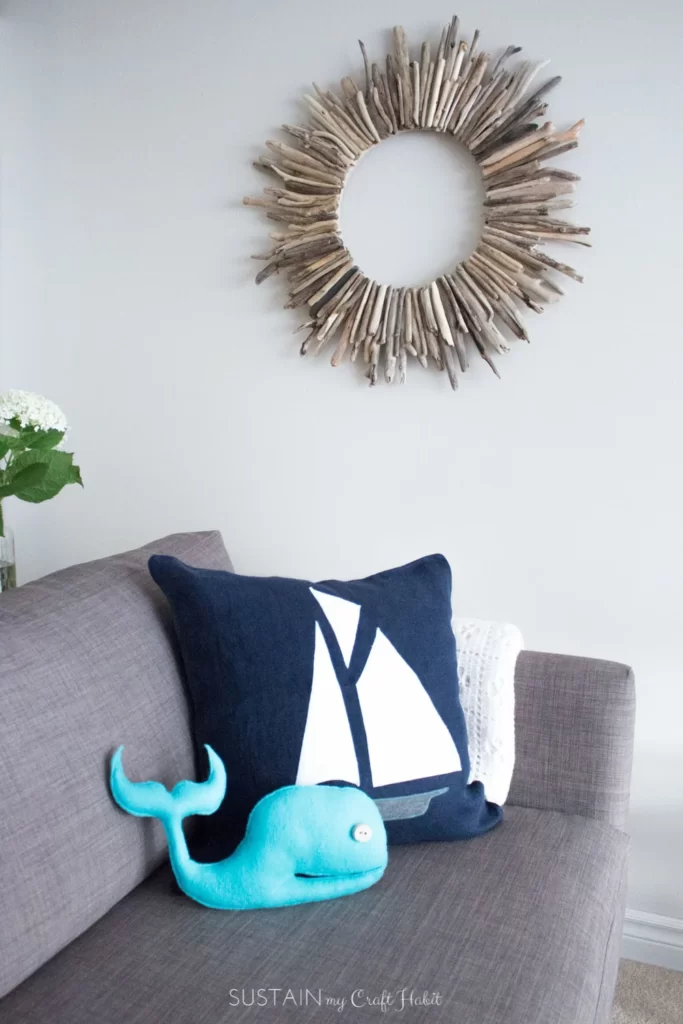 You can also buy cushion inserts in bulk to sell with the cushion covers.
24. Pot holders
Another useful fabric things you can sew and sell are these pot holders.
This is a great beginner sewing project that you can sell and makes a great gift!
If you're looking for a quick and easy sewing project to sell, these potholders are a good option.
Look at this cool custom pot holder idea, it is quite popular on Etsy right now!
25. Table Placemats
Placemats and table decor are some of the best things to sew and sell on Etsy or craft fairs. These placemats are so much fun to make and so simple that you'll have a collection in no time.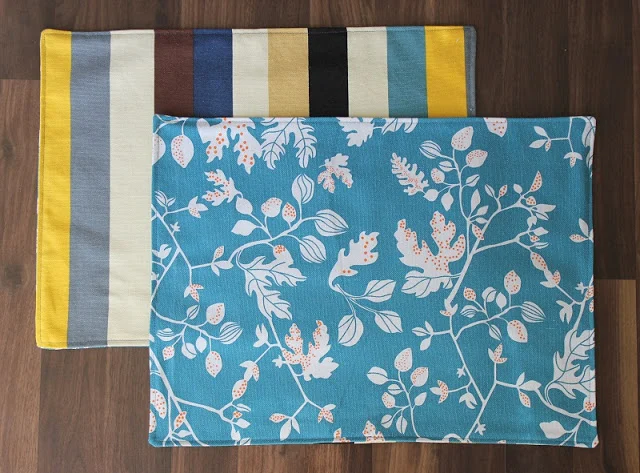 You can also use leftover fabrics some appealing set of fabric placemats, and the best part is that they don't need perfect matching.
You can sell them year-round or swap the fabric to sell them during certain seasons.
26. Napkins
Napkins are the fabric craft ideas to make and sell that won't cost you a fortune.
You can use your fabric scraps or buy some cheap fabric in bulk. Just add some ribbon, lace, or rick rack to give them a pretty touch.
These would look fantastic on the center of each table setting at a party or wedding.
27. Aprons
Sewing kitchen apron making is not difficult once you have the appropriate materials. You may create fabric aprons by buying in bulk which makes these fabric crafts very cost-effective sewing projects.
For an easy method to keep clothes clean while cooking in style, add a simple pocket and some ties on the side.
You can also sell aprons as a gift by personalizing them by adding a monogram letter or cute saying.
Personalized aprons are trending and according to a recent ETSY report there is a '108% YoY increase in searches on Etsy for personalized aprons.'

28. Scrunchies
Make fabric scrunchies out of fabric scraps and hair ties-one of the easy sewing projects to sell.
Scrunchies are a fun fabric craft idea to make because you can choose different colors, patterns, and fabrics that suit your style.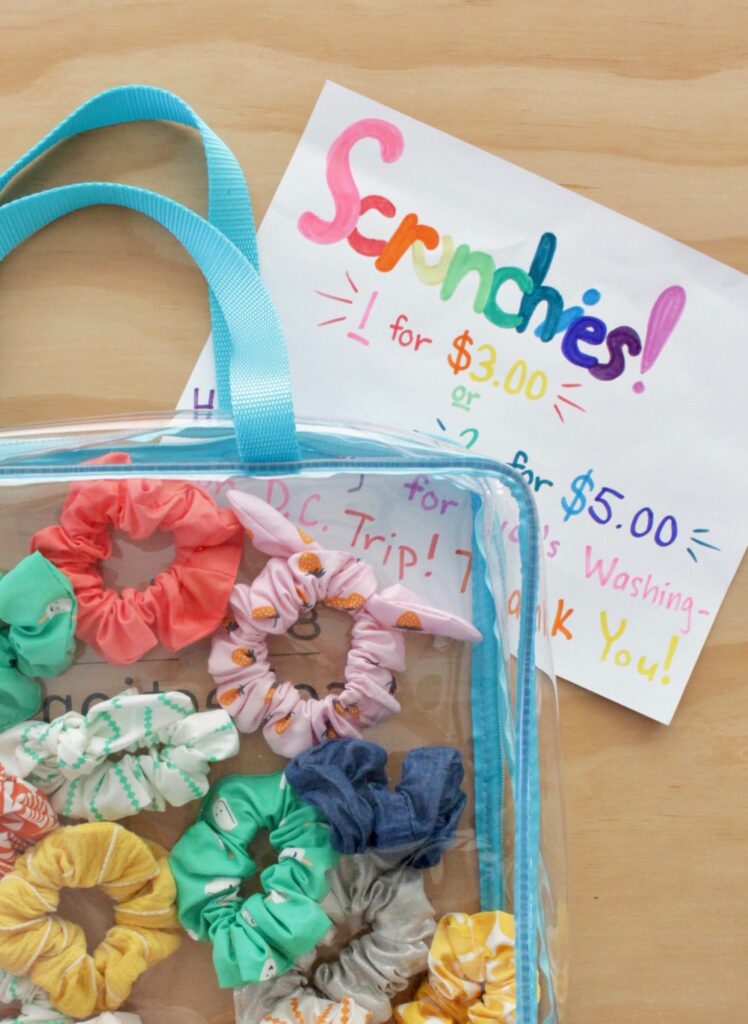 29. Sleep Mask 
These are simple to make and a fantastic way to use up your scraps. They are perfect for traveling or using when the sun is too bright.
You can make travel bags out of the same fabric if you like the idea of matching sets and sell them as a combo. 
30. Fabric Pencil Case 
These fabric pencil cases are cute fabric crafts that you can sell in your online shop. If you are looking for some popular things to sew and sell then these zippered pouches are the perfect fabric craft.
They are surprisingly easy to make (for intermediate sewers), and you can use fabric scraps to make them at a very low cost.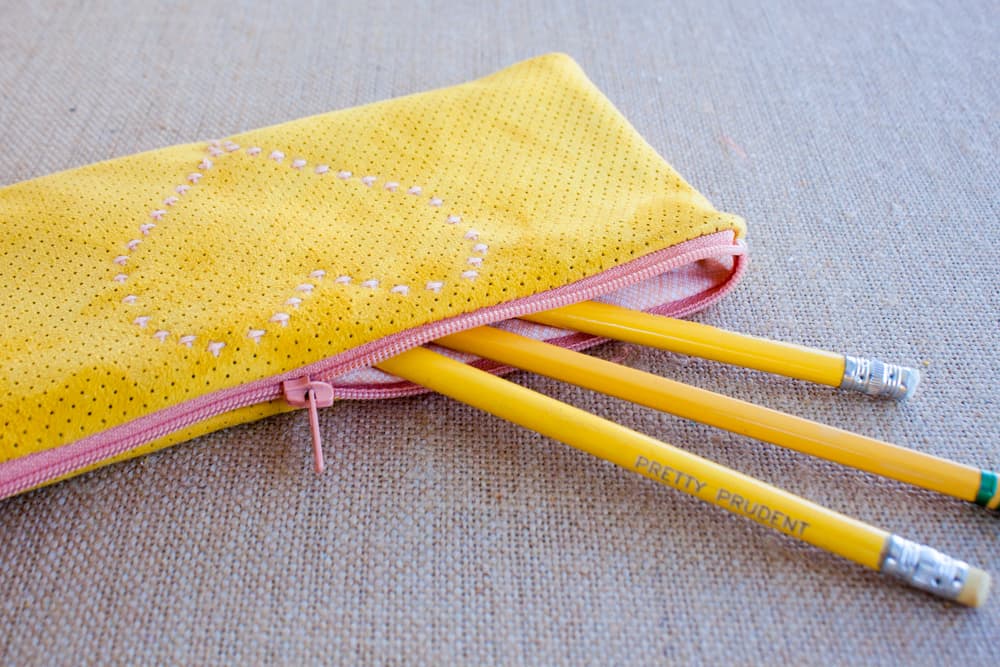 Don't forget to come up with some cool patterns that kids will enjoy. They might quickly sell out.
You may personalize these fabric pencil cases by adding the names of children, initials, or a school grade on them.

 These fabric pencil cases are great sewing projects to make and sell because they work well as gifts for kids, friends, teachers, etc.
31. Bibs
Bibs are quick and easy fabric crafts that you can sew to sell. They make great baby shower gifts and new moms always need them-A lot! I must say.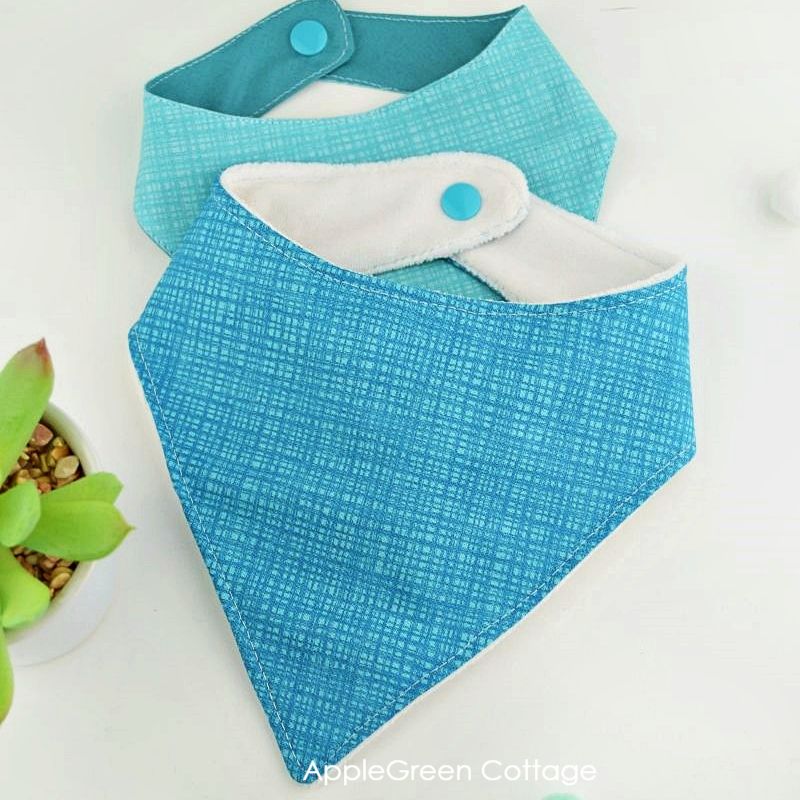 Bandana style bibs are quite popular these days, and you can easily sell fabric bibs online or at craft fairs.
32. Diaper Bags
Diaper bags are great for holding your necessities while you are out and about with your little ones.

Diaper bags are always in demand, and if you have them in super cute patterns, they can sell really well online. So get creative and try some super cute baby patterns. Here is one tutorial on how to sew a diaper bag.
33. Christmas ornaments
Christmas ornaments are always best-selling crafts to sell during holidays and fabric ornaments are no exception.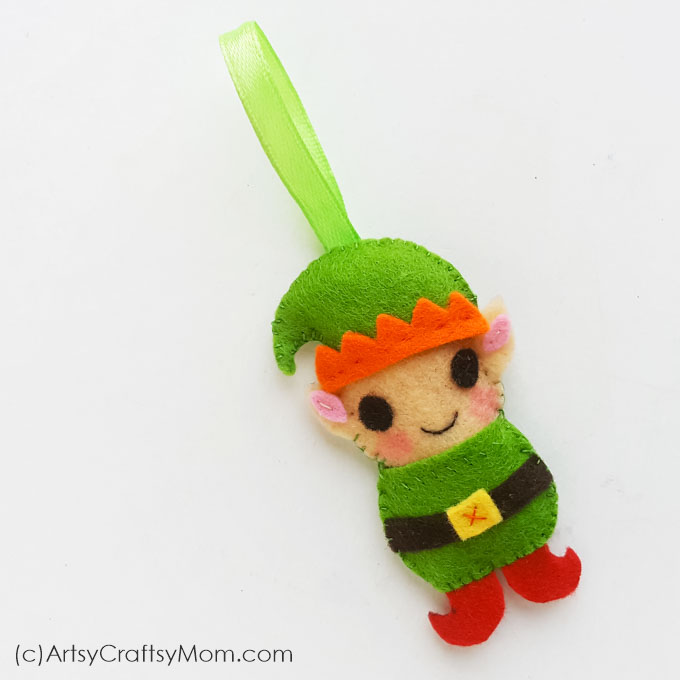 34. Tin Make Overs
I love this idea! I am sure we all have these cookie tins lying around in our houses.
I have a few that have been sitting around for a while. You may offer cookie tin makeovers in your local area or neighborhood.
Try different patterns, colors based on seasons or use leftover fabrics – this is a quick way to earn some extra money.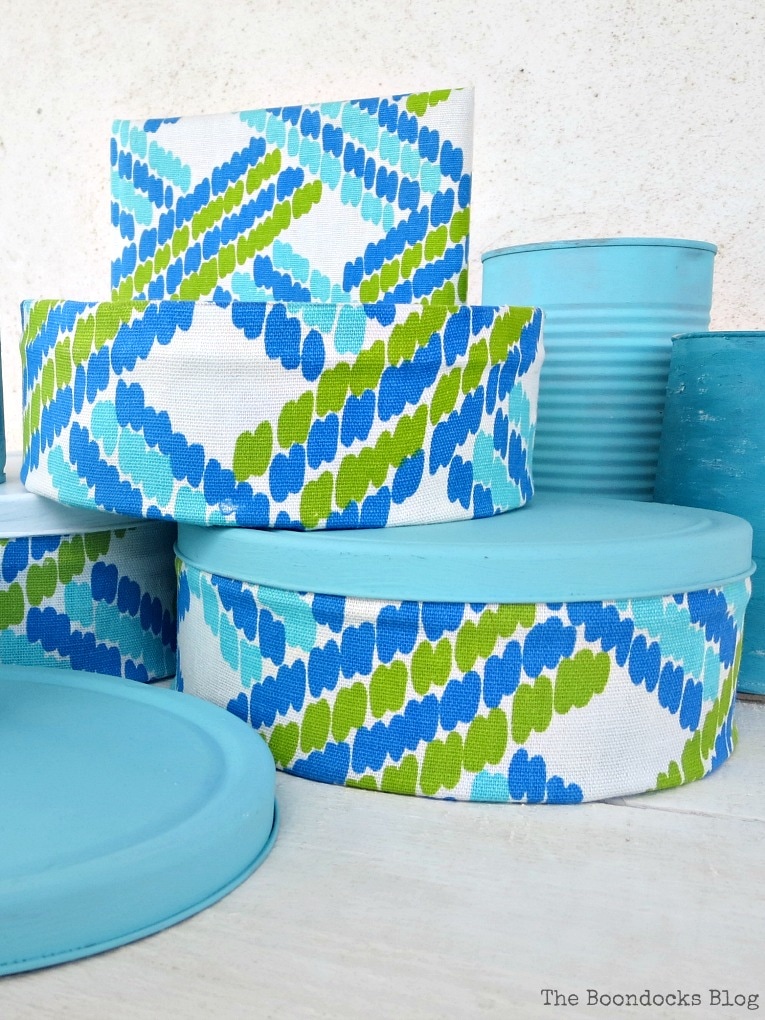 35. Fabric Bowls
These fabric bowls are great for holding accessories on your vanity or in the bathroom. They are easy to sew together with just about any fabric that will get them looking beautiful!
No-sew Fabric craft ideas to make and sell
Yes, there are ways to make money by selling fabric crafts without sewing anything.
These two are popular ways to do so:
36. Sell Personalized Fabric Crafts
One way to sell fabric crafts without sewing is to personalize things for customers. You can use fabric paint, fabric markers, stencils, or even iron-on transfers to put designs on shirts, pants, and other pieces of clothing.
Cricut is a cutting machine that crafters use to cut out designs for personalization (you might already know).
There as so making things you can make and sell with Cricut machine. From tees, baby onesies to aprons and tote bags, you can personalize anything to sell on Etsy or any other shipping platform.
Print-on-demand
Another fabric craft idea to make and sell without sewing is print on demand.
Printing on demand is one of the passive ways to make money. You may use third-party platforms like printify to submit designs and, once a customer purchases a product, the designs are printed and sent straight to the customer.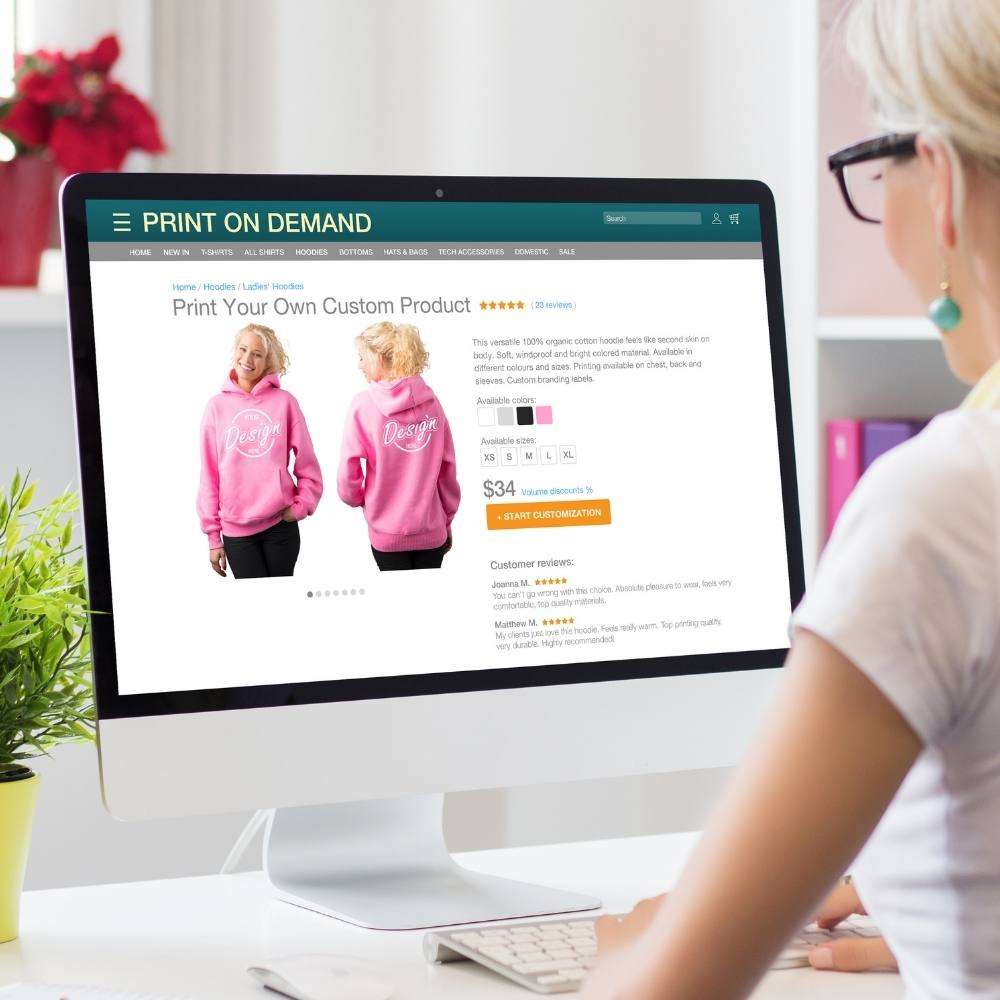 There you have it, things to make out of fabric to sell with best selling ideas of sewing projects to sew (to sell).
Ready to start your Fabric Business?
The crafting possibilities with fabrics are endless, and making money from fabric crafts is a brilliant idea. Fabric crafts are a great way to use fabric remnants and turn your stash into something useful.
There are so many different fabric types, styles, colors, and patterns that you can choose from which means there's something for everyone.
I'd love to hear what you think of these fabric crafts ideas.
If you have any other fabric crafts ideas to share, let me know in the comments below!

If you're looking for more inspiration, be sure to check out our other crafts tutorials on the blog.