Looking for a list of side hustle apps? Here you'll find the best apps for side jobs to help you make extra money in your spare time.
Whether you're looking for a work-from-home side gig to ease your financial burden or just want to make some extra cash, these apps can help you make money on the side.
And yes, these side job apps are tested and rated by many, so you can be sure they're all legit apps to make money from your cell phone. You don't need to pay for them as they are free to join and can help you make an extra $1,000 a month.
And if you want to find a side hustle suitable for you, check out this list of best side hustles to make extra money. 
For now, let's explore the best apps for side hustles to make money with your phone in 2022. No matter what your interests or skill set is, there's sure to be an app on this list that can help you earn some extra cash in your free time.
This website contains affiliate links which means we may earn commissions if you purchase through them (no extra cost to you). You can read our policies here.
Best Side Hustle Apps for Side Jobs in 2022
Here are some of the best side gig apps you can explore to make locally in your neighborhood or town. These jobs will offer you great flexibility and freedom of working hours plus the flow of money is good.
Best Apps For Side Jobs Outside Your Home
Best Side Hustle Apps To Make Money From Home
Best Apps For Side Hustle From Phone (In Spare Time)
Although all the apps on this list have a reason to be here, these are my top picks for side job apps:
1. DoorDash
DoorDash is a well-known food delivery service that pays you to deliver food from the restaurant to the customers.
If you have time and can adjust your schedule (around mealtimes) for delivery, the DoorDash app offers a great side hustle job to make extra money fast.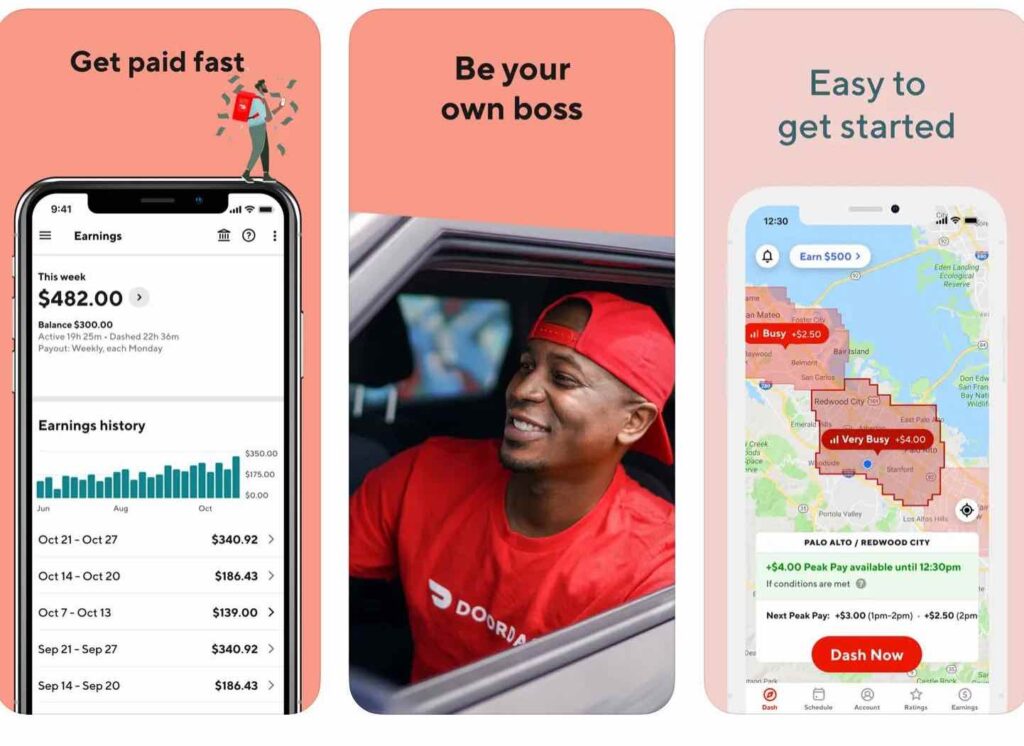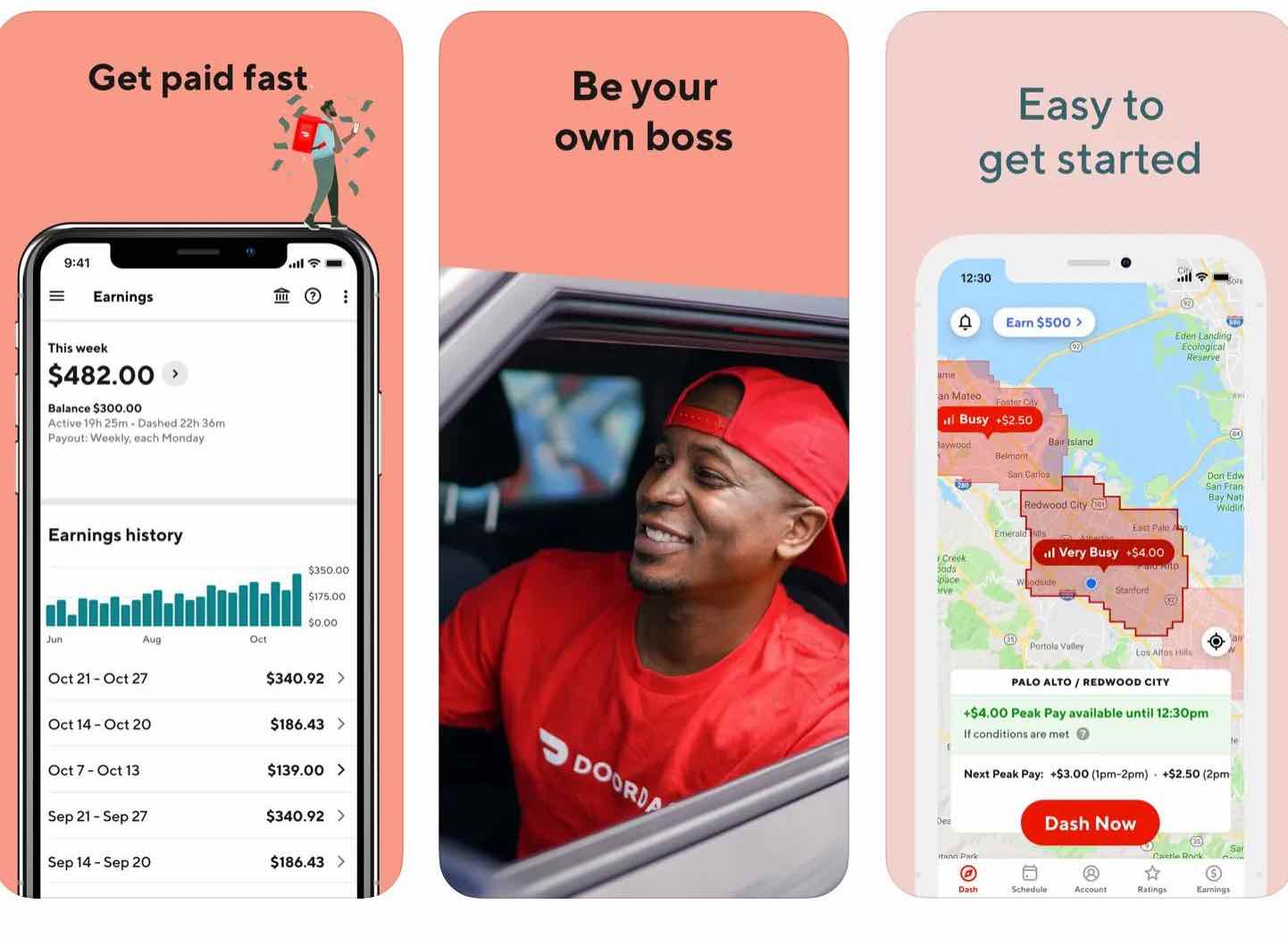 Requirements:
To become a DoorDasher (a DoorDash food delivery person), you need to be 18 or above years old and have a suitable vehicle for the food delivery. It could be a bicycle, scooter, or a car.
Earning:
The money you can make through DoorDash depends upon the size of your order, the frequency of your order, and the time of delivery.
Your pay consists of three things:
Base pay is what DoorDash pays you directly for each order.
Promotions include peak pay, challenges, drive, and guaranteed earnings. DoorDash transfers money every Monday for the previous week's work.
But more or less, you can earn up to $25 per hour (including the tips), making it one of the best side hustle apps on this list in the US, Australia, and Canada.
2. Swagbucks
Want to earn free gift cards while watching TV or do other activities you love?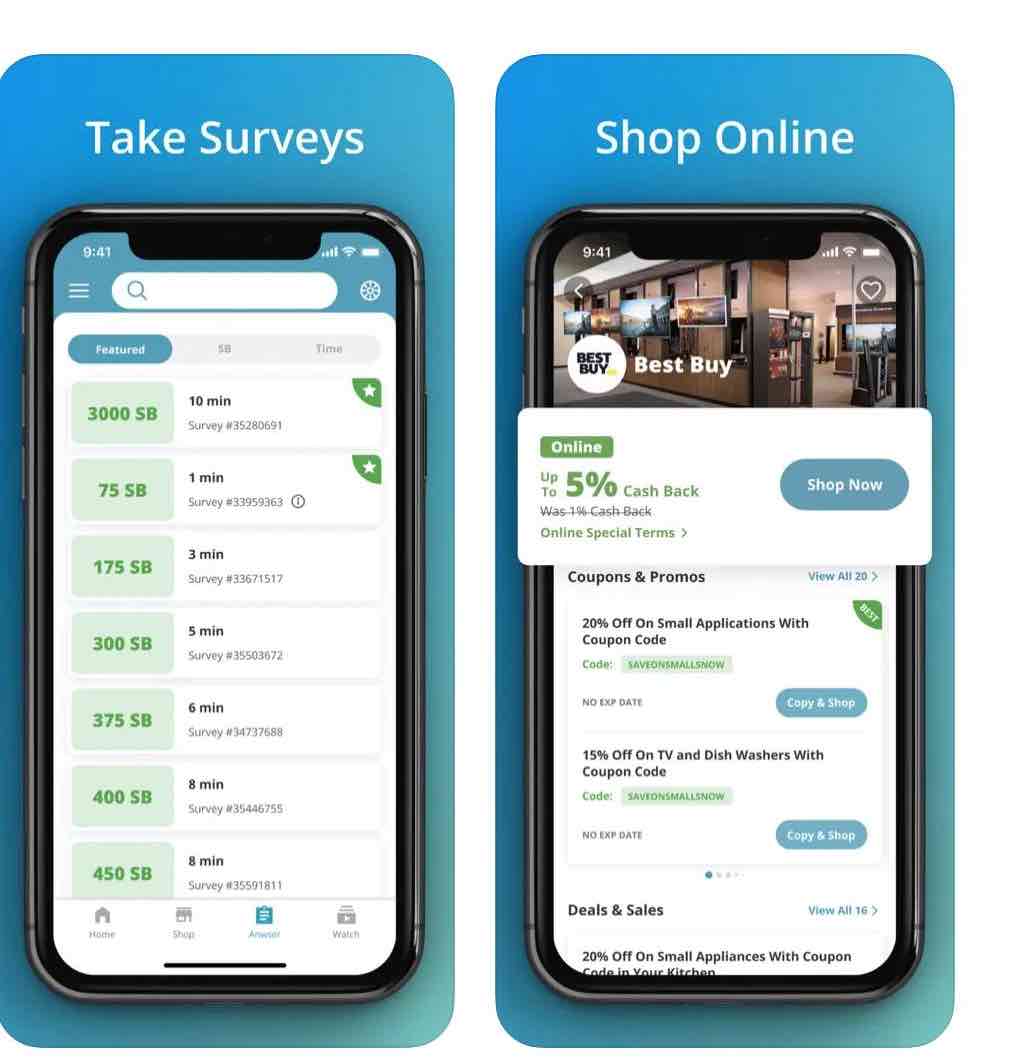 Swagbucks is the best side hustle app for that. With Swagbucks, you can make money by taking surveys, playing games, searching the web, shopping online, and watching videos. 
Swagbucks is a highly rated site and has paid over $735,995,187 to its happy members.

Like all other money-making apps on this list, Swagbucks is free to join.
You can also earn a $5 bonus when you an account and verify your email address. (You can also earn points by referring your friends.)
Swagbucks pays its customers in the form of its own generated points called Swagbucks points (SB). Each point is worth $0.01 and can be redeemed at your favorite retailers as gift cards or through PayPal. 
So if you are free and don't want to do much homework, Swagbucks is for you to earn in your spare time.
Don't forget to check your inbox for Swagbucks email to get your FREE $5! It's just free money that you don't want to lose out on!
3. Survey Junkie
Survey Junkie is the popular survey app known for its bite-size surveys and one of the easiest ways to earn money in your spare time. If you are not on Survey Junkie, you are really missing out!
I use this very app to earn FREE Amazon or Target gift cards and PayPal cash.
It acts as a marketplace for companies looking for consumers' opinions regarding their products. All you have to do is to indulge in surveys and get paid.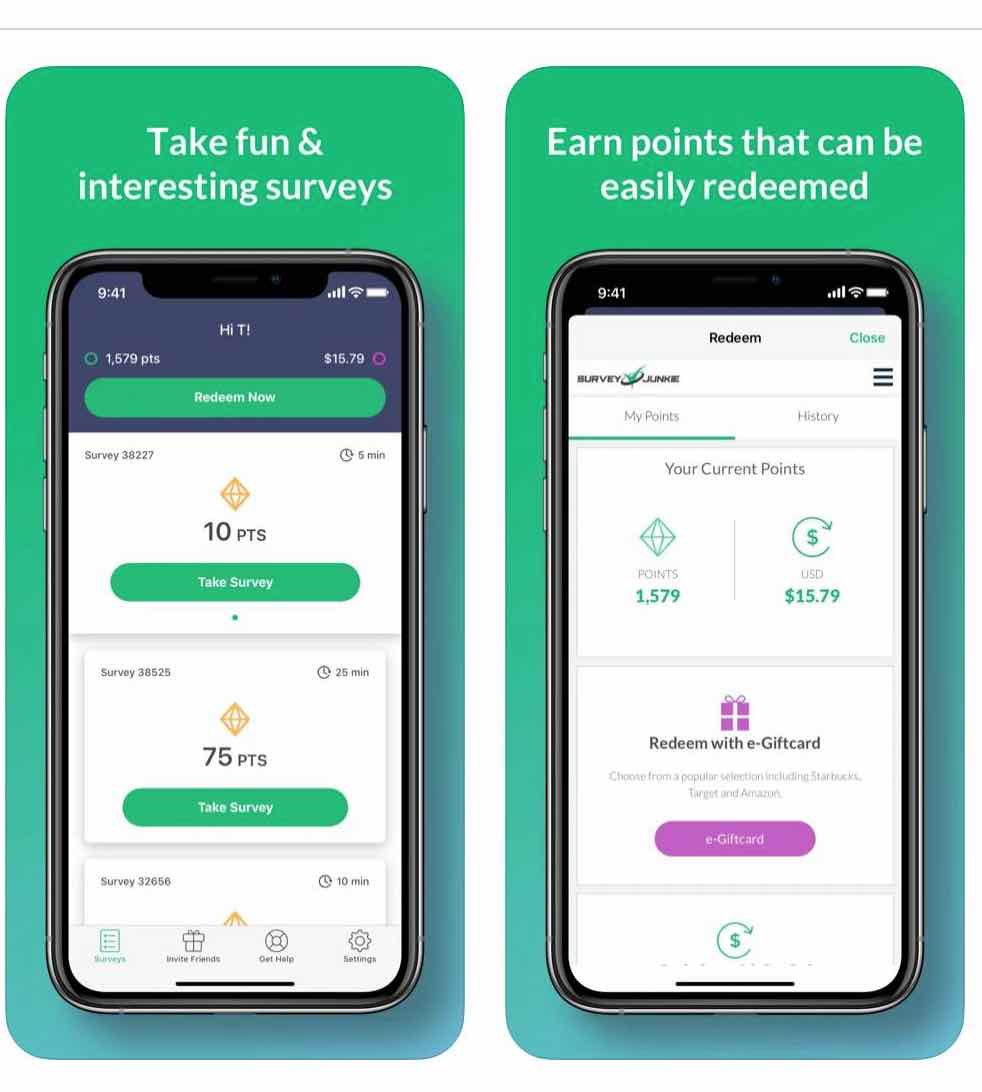 You can join here for free and may earn a bonus if you check your email.
These surveys won't take much time, and there is no limit to the number of surveys you can take in one day. 
The money ranges from $2 to $75 per survey, and it can be redeemed after you have made a $10 minimum. 
The best part is that Survey Junkie pays cash via PayPal or e-Gift cards.
The two apps above are the best for surveys in free time (while waiting for other side jobs), but there are many good apps. Here are the ones I recommend:
4. Rover
Are you a dog lover? Do you love spending time with pets? If yes, then Rover is the best app for your dream side hustle job!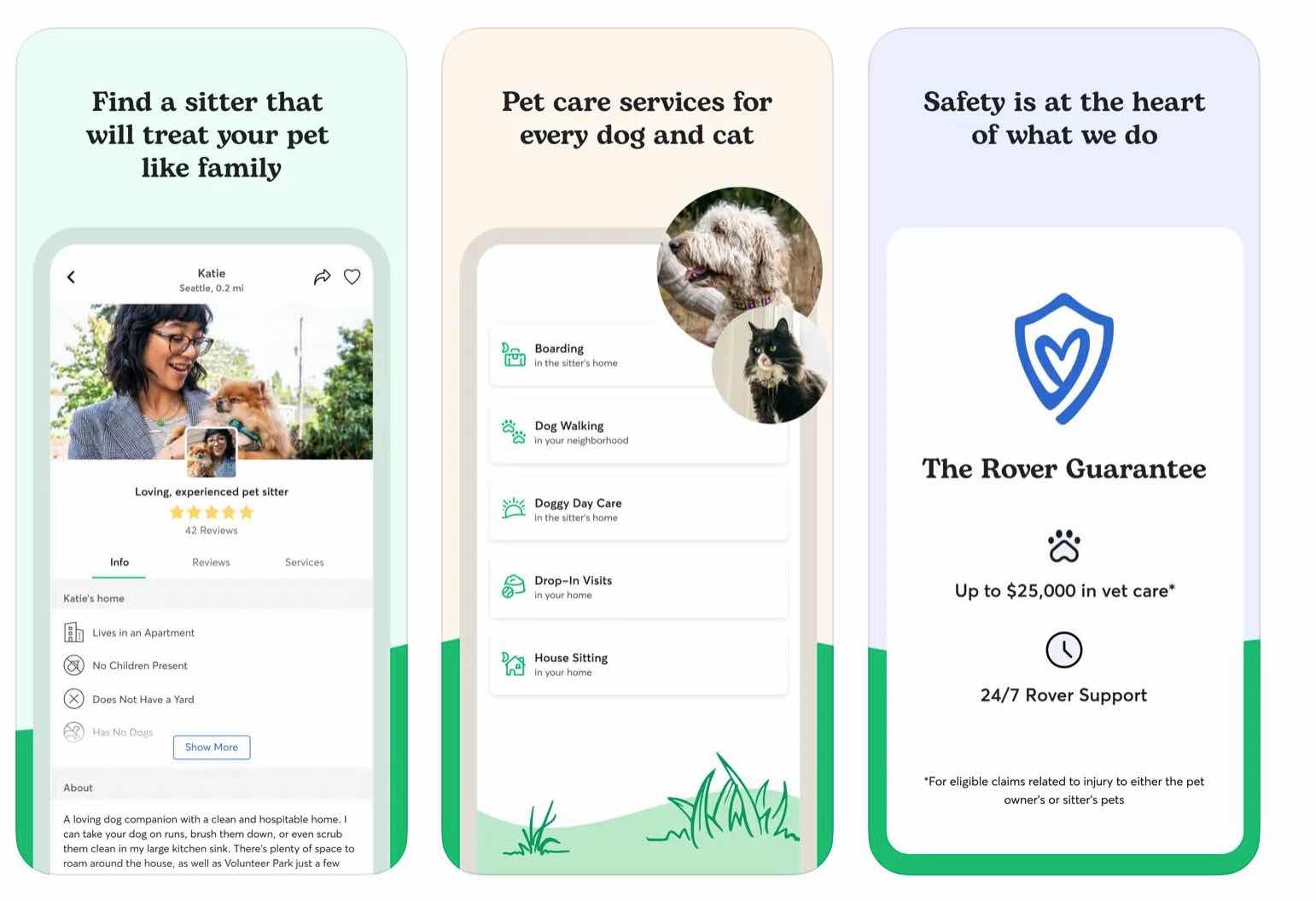 Rover is basically a pet sitting and dog walking service app. This side job app will help you find pet owners in your area who need a pet nanny or a dog walker. 
You can earn money by caring for them, feeding them, playing with them, or offering overnight pet services.
Requirements:
To sign up, you'll need to create a profile and pass a simple safety test with a background check. Add your previous testimonials and fun pictures with pets to show your love for them.
Earning:
You will be paid based on how much you charge. You could charge $25 per dog walk or more if you are a professional dog walker.
5. TaskRabbit
Rated as one of the best gig economy job apps, TaskRabbit is a freelance handyman marketplace that connects homeowners in need of services to contractors in their neighborhood.
Simply said, with TaskRabbit, you can get paid to do odd jobs and other simple tasks in your local area.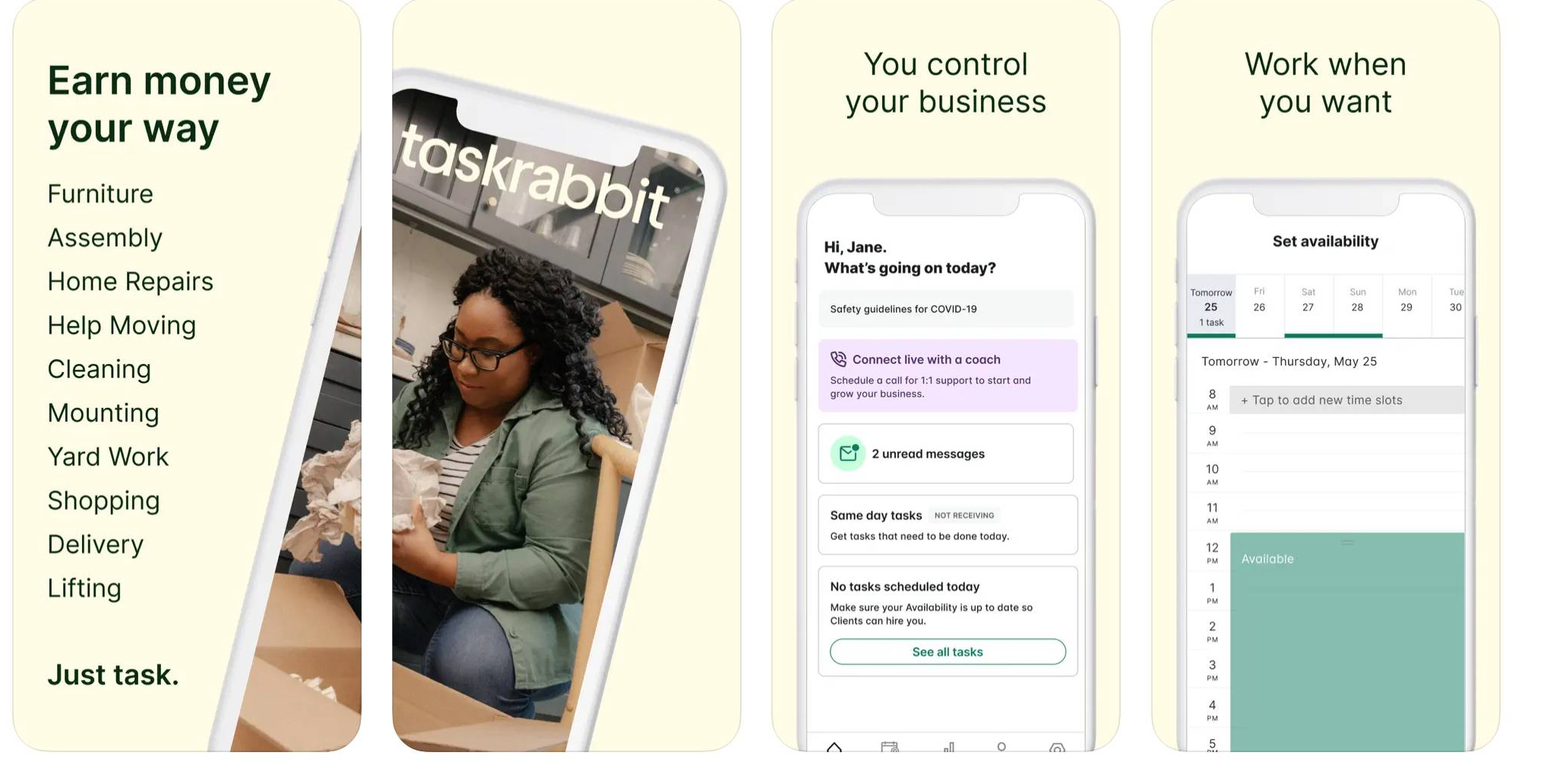 If you have skills or abilities to assemble furniture, repair home, mount TVs, do carpentry work, or plumbing, etc, TaskRabbit is the highest-earning side job app to make money (in this list).
Requirements:
To register as a Tasker, there is a one-time fee of $25. But the best part is TaskRabbit doesn't charge any extra commissions on what you make from the app. Instead, they charge a 15% service fee to customers.
Earning:
The earnings can vary with the area of expertise, demand, and per hour rate of your work.
On average, you can earn up to $62 per hour if you have special skills like plumbing or being an electrician.
But even if you don't have any of these skills, you still can earn $20$ to $40 in an hour. It includes fun jobs like running errands, helping at a party, or waiting in line!
The best part about working with TaskRabbit is you don't have to do cash dealings with the client. All the payments are handled through the app, and you will get paid within 24 hours of finishing a task. 
6. Steady App
Steady is a fantastic side hustle app that can help you find good side jobs that fit your skill set and schedule. From one time side hustle to flexible part time jobs, Steady can help you find them.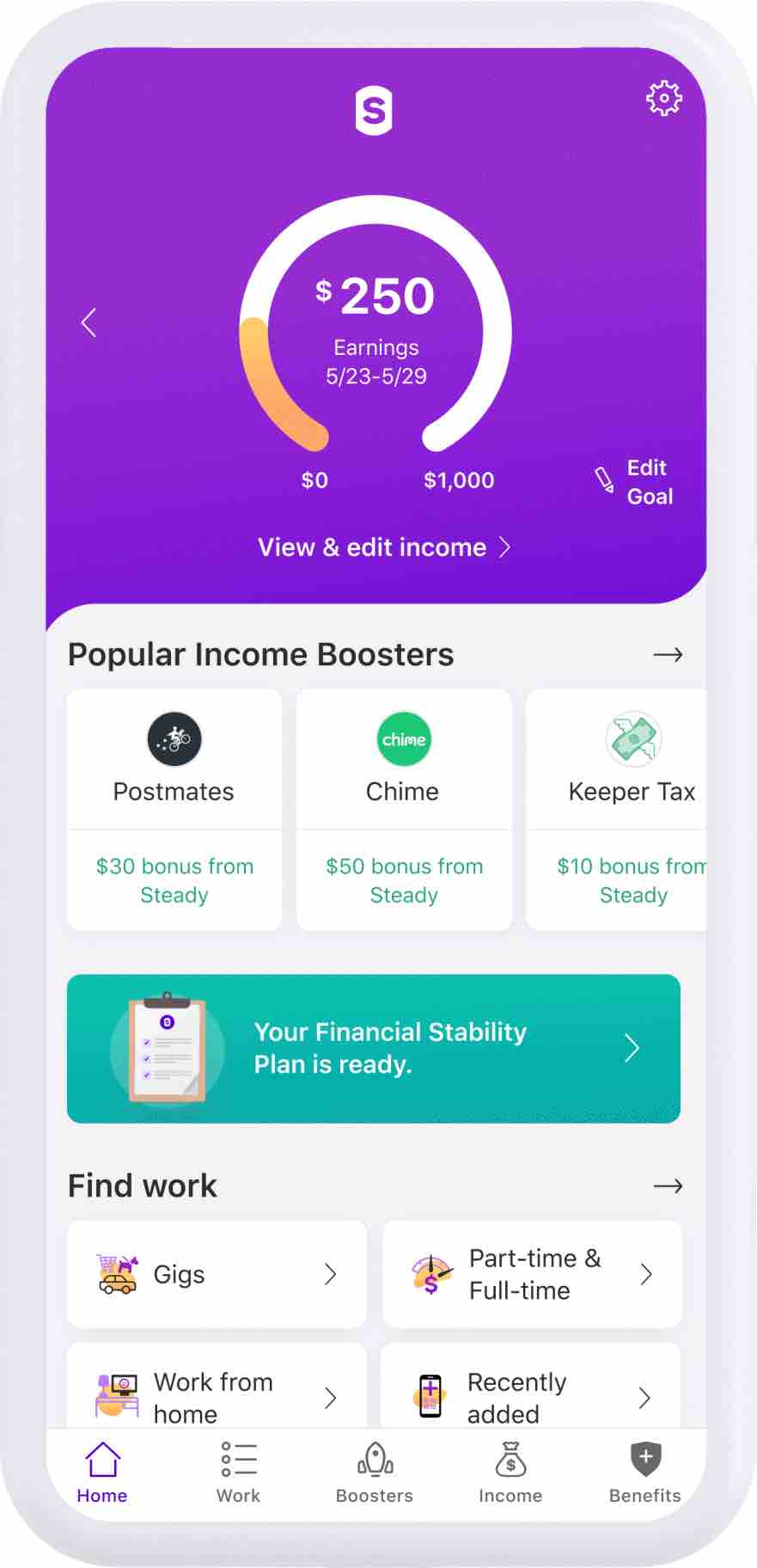 You can also use this gig-finding app to get insights on the best times to work and how much you could potentially earn.
This app is excellent for those who are looking for a flexible way to make some extra money.
Requirements:
Signing up is free. You will need to enter your basic information, and then you can start looking for gigs.
Earning:
There are many ways to earn with Steady. You can find jobs that pay between $10 and $15 per hour. However, there are few that offer up to $25 per hour.
7. Etsy
One of my favorite side hustle apps is Etsy. Etsy is an online marketplace for selling handmade, vintage items and craft supplies.
If you have a creative hobby such as card making, jewelry making, pottery, or even knitting, you could start selling things on Etsy.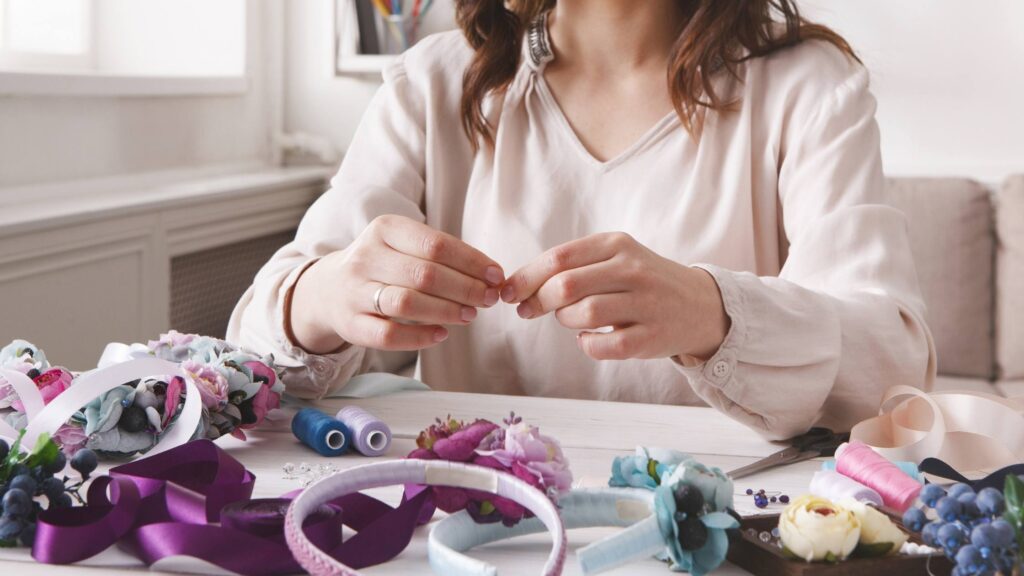 You can check these Etsy shop ideas to get some inspiration. If you plan to start selling on Etsy, I have this free Etsy shop checklist for you.
But wait! Etsy is not just for people who make super-creative and handmade things. I sell digital downloads and printables on Etsy as a passive side hustle.
Check out this free workshop if you are interested in learning a super easy side hustle.
Another hot item to sell on Etsy is stickers! They are top-selling items on Etsy and very profitable too!
My friend Mim sells planner stickers on Etsy and makes over $12K monthly sales.
8. Neighbor storage
Got extra space at home? Why not make make money with it?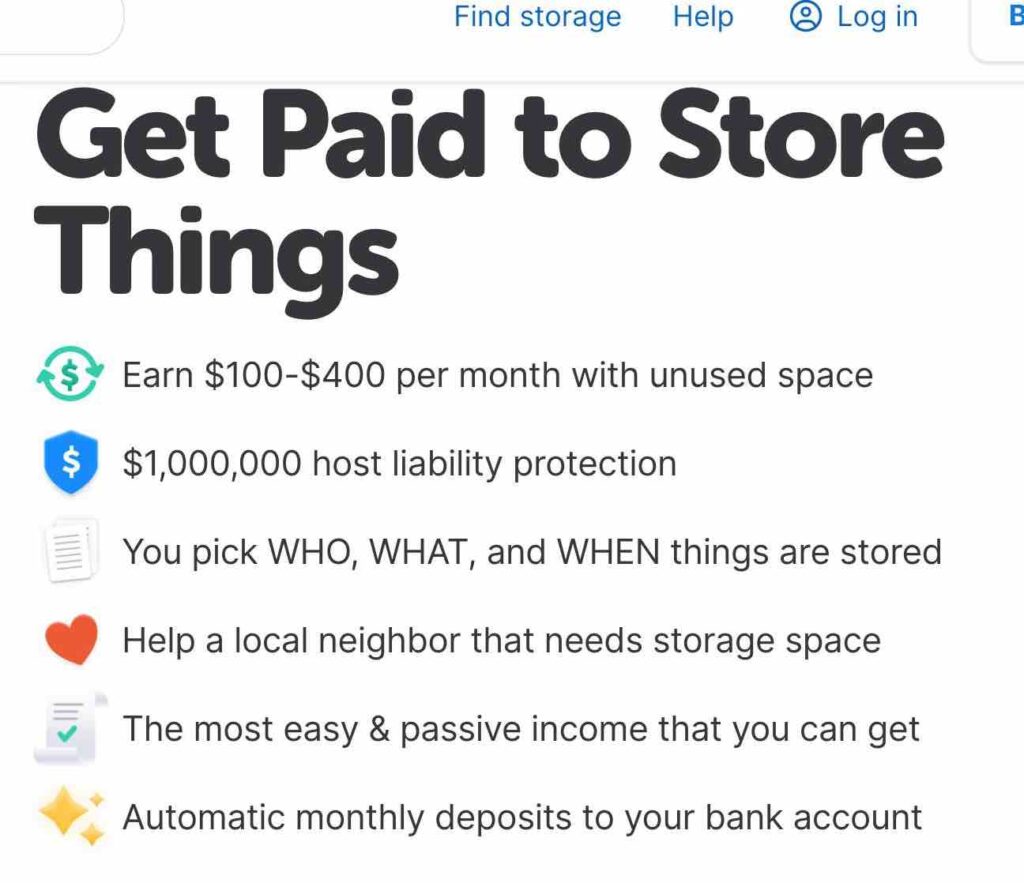 Check this easy side money-making app, Neighbor where you get paid to store things. In simpler terms, it is like an Airbnb but for storage of your things or car parking.
You can choose Neighbor to list under any of the following category:
Self Storage: Includes business, college, warehouse and indoor storage.
Vehicle Storage: For cars, trailers, RV and boat
Parking: For monthly parking, long term parking or driveway parking
If you have a free space, this is something to definitely try out. To become a host at Neighbor, just create your account here and list your space for free. If you accept a renter, you'll get paid at the end of monthly term by the Neighbor.
The best part is the app covers hosts with up to $1,000,000 in liability coverage. It's an excellent alternative for earning passive income, and it doesn't require much effort on your part.
My friend has a shed in Tampa (near the University) and she said that she easily makes $150 a month by renting it out to students. Many times they keep renewing the contract without actually coming to the shed.
9. Uber Eats
Previously known for its ride-sharing service, Uber has now branched out into the food delivery business known as Uber Eats.
The app is available in major cities across the globe, making it one of the most accessible options on this list.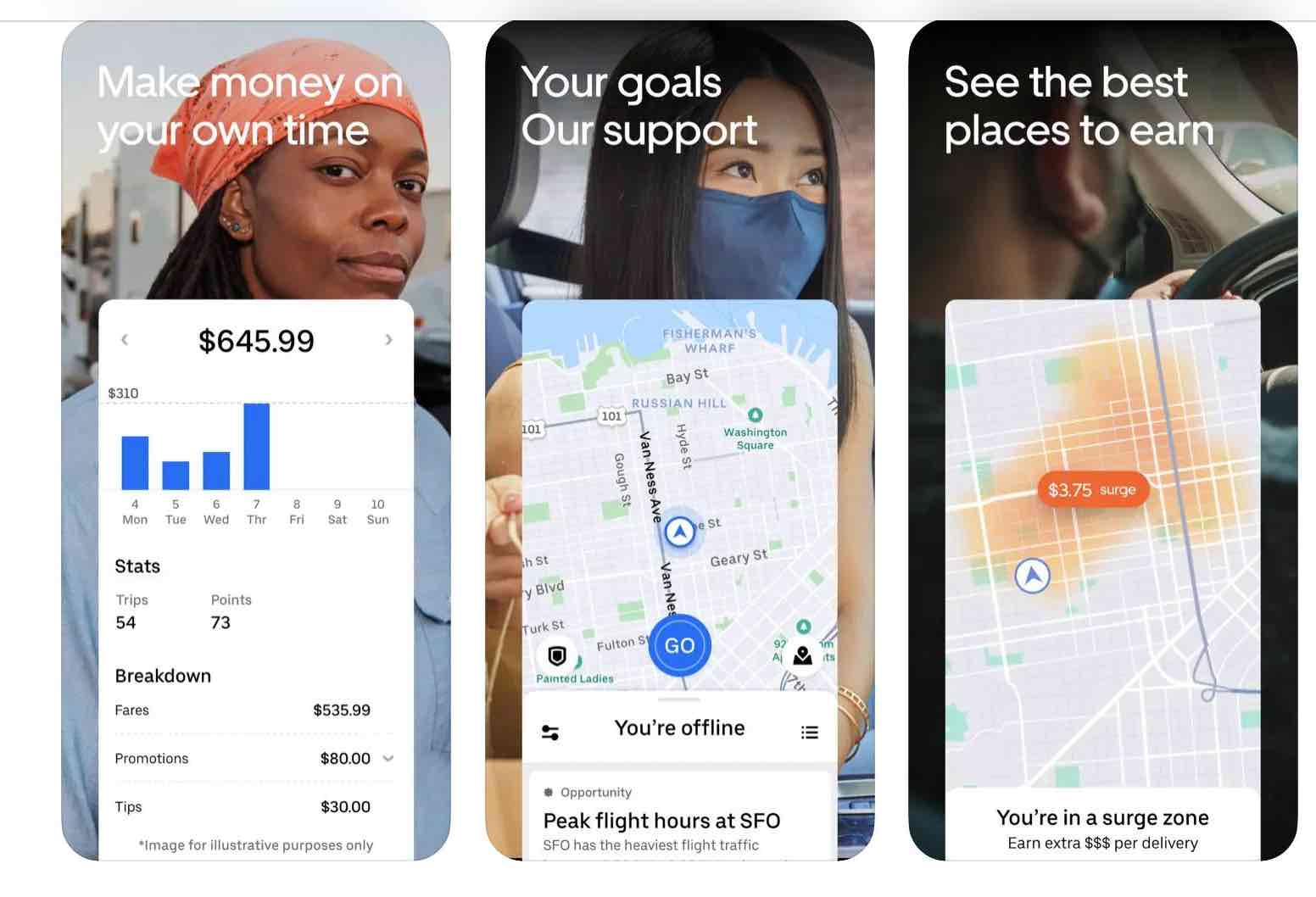 Requirements:
To deliver with Uber Eats delivery in the US, you must be 19 years of age or older and have an eligible delivery vehicle with a valid license and driving history. It could be a car or a scooter.
Few cities also allow you to deliver with a bike or by foot.
You can start earning money by delivering food with Uber Eats after you sign up and submit the required documents for verification and background check.
(Requirements may vary with countries and cities, so check your local requirements.)
And once you're on the road, you can use the app to accept delivery requests, track your earnings, and more.
Earning:
The money you make varies with your trips. Tips you receive are only for you, and Uber does not take any commission from it. You can also make extra money by making trips to surge zones.
If you are looking for a flexible side job, Uber Eats is one of the top side hustle apps, and you can make up to $25 an hour.
10. Instacart
Instacart is a grocery delivery app that works by paying shoppers for buying groceries and delivering them to their customers. It also offers pickup services at selected locations.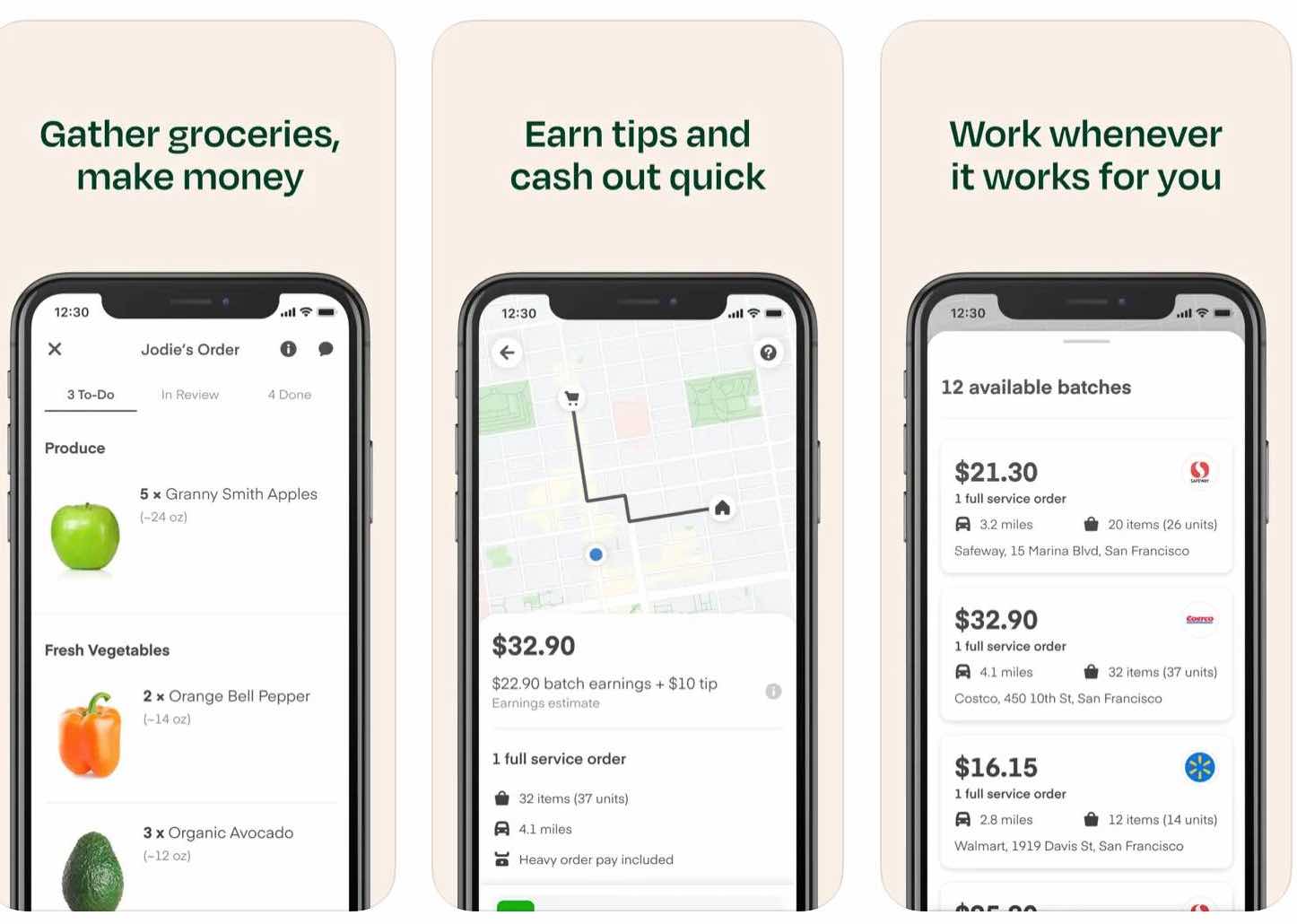 The Instacart app guides shoppers on what to buy and then pays them for their services.
Requirements:
To become an Instacart shopper, you must be 18 years or older with a recent background check, have access to a reliable vehicle, and be able to lift weights.
The best part about Instacart is the flexible working hours, which can get adjusted with your schedule.
Earning:
An average Instacart shopper earns 12$ to 15$ dollars/hr and can go up to 20$ an hour. You can earn more money by working during the busiest hour of the day.
Instacart offers an excellent side job app with a good per-hour wage and flexible working shifts.
11. Amazon Flex
Flex is one of the best gig economy apps by the e-commerce giant Amazon.
This side hustle app pays people to deliver Amazon packages and groceries from the Amazon warehouse to its buyers.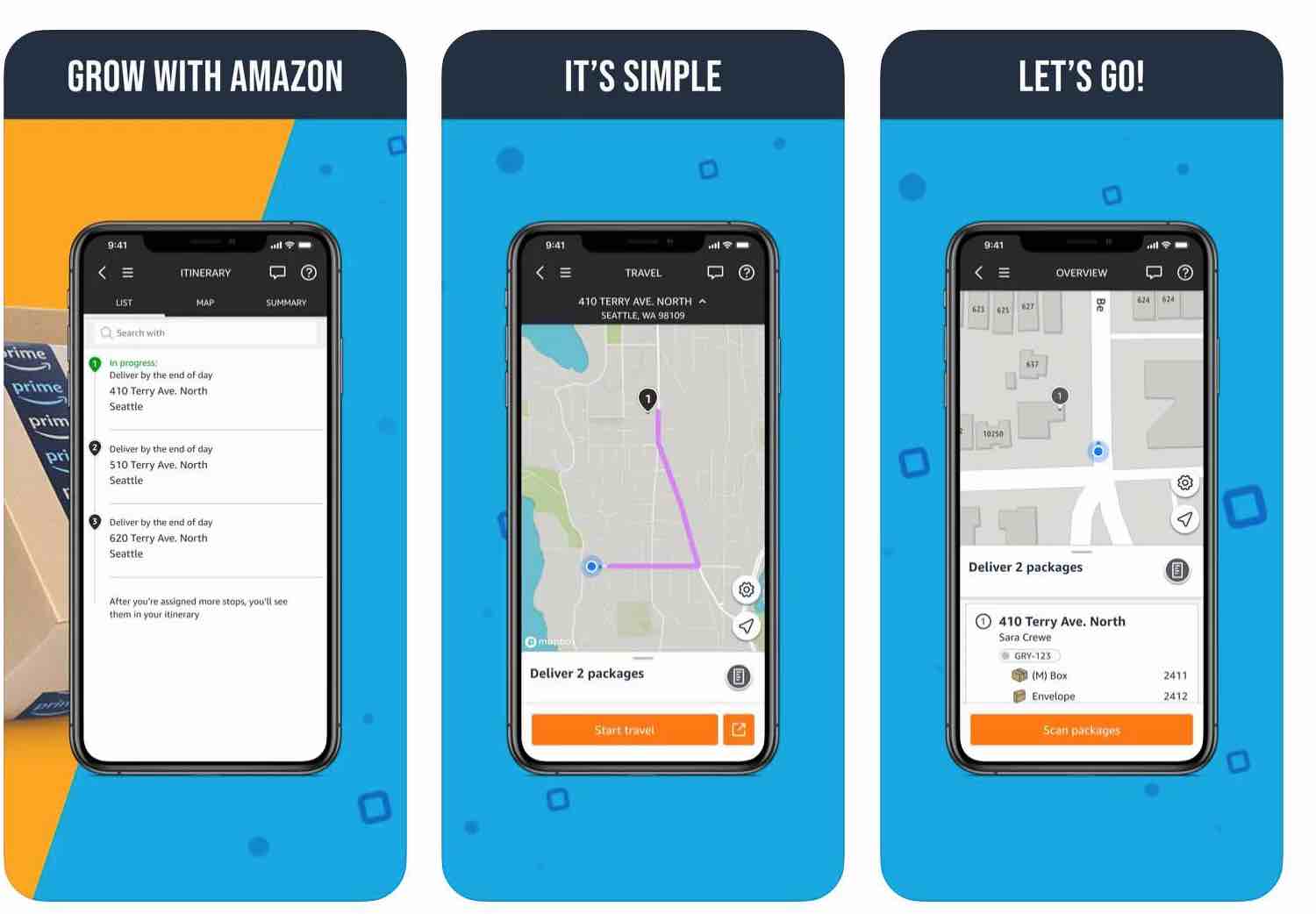 Requirements:
To deliver with Amazon Flex, you need to be 21 years or older and have a vehicle appropriate for delivering packages. 
It's an excellent side job to earn extra cash as a side hustle.
Amazon flex will help you earn money by fitting into your busy schedule as it is super flexible, and you can earn up to $25 an hour. You may book a job ahead of time or take same-day offers whenever you have free time.
Earning:
With Amazon Flex, you can from $18 – $25 per hour, depending on your tips, working hours, location, and the time it takes to deliver the goods. You get paid through direct deposit in your bank account.
The Amazon flex drivers are technically not employees of Amazon, but they are hired as contractors.
12. Shipt
Another well-known delivery app for side jobs is Shipt, which pays you to shop and deliver groceries from your local stores.
As a perk, Shipt shoppers also get a free membership to the app and discounts on various services like insurance, gym, gas, auto maintenance, etc.
Requirements:
To become a Shipt Shopper, you must be 18 years or older with a reliable vehicle and be able to lift 40 lbs and more.
Earning:
According to sources, Shipt shoppers are paid between $15-$20 per hour. It includes the amount that shoppers keep from their tips.
To make more money with Shipt, you can shop for more than one order at a time.
13. Decluttr
Do you have a bunch of electronics lying around that you don't use? Or love flipping things for profit?
If your answer is yes, Decluttr is the best app for you to make money on the side. With Decluttr, you can sell your used electronics like phones, cameras, video games, DVDs, CDs, and Blu-rays for cash.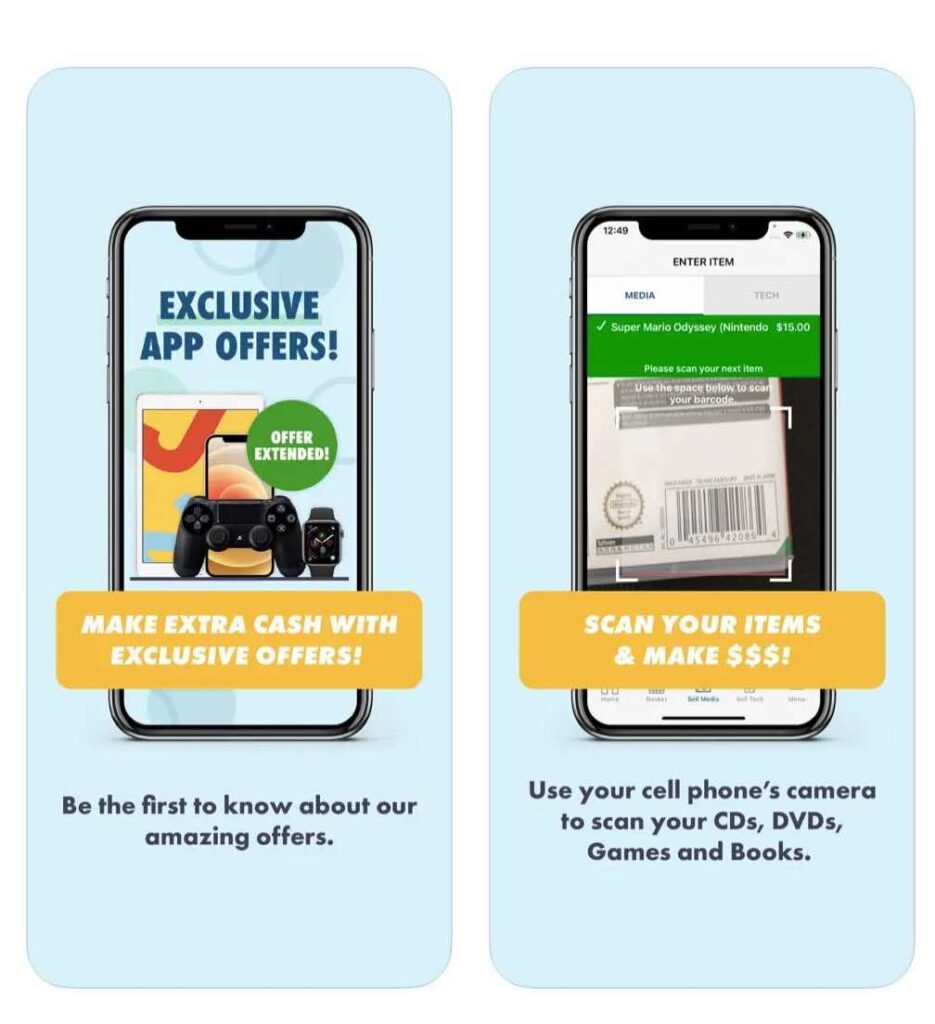 To use this highly-rated selling app, simply scan the barcodes of the items using your phone's camera and get an instant offer quote.
If you are happy with the price, you'll send your item for free and receive payment once Decluttr receives and inspects it.
How much money you make depends on the product you are selling. Just create an account and scan any item you have to sell.
14. Facebook Marketplace
When talking about selling things, how can we forget Facebook?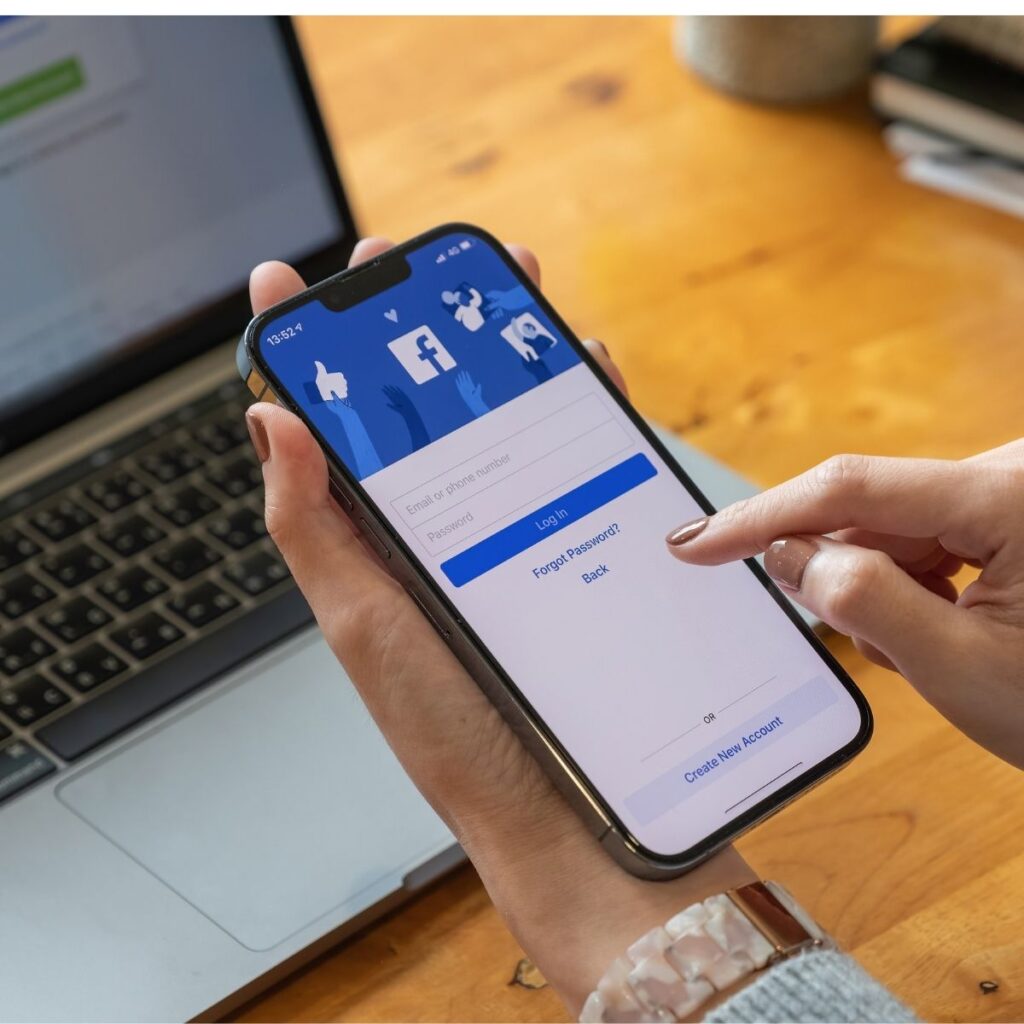 Facebook is the largest social media platform. So it's not surprising that you can make money on your side by selling stuff on the Facebook Marketplace app.
I have sold and made money on Marketplace. It is free, easy to use, and one of the most recommended apps to sell stuff locally.
You can find items for cheap (up to 90%) at your local retailers using this inventory checker and sell them for profit.
Here are a few related resources to get started:
15. Poshmark
Poshmark is one of the top side hustle apps to sell used or new clothes online. If you have a luxury handbag, statement shoes, or even your old wedding dress, you can sell them on Poshmark and make money.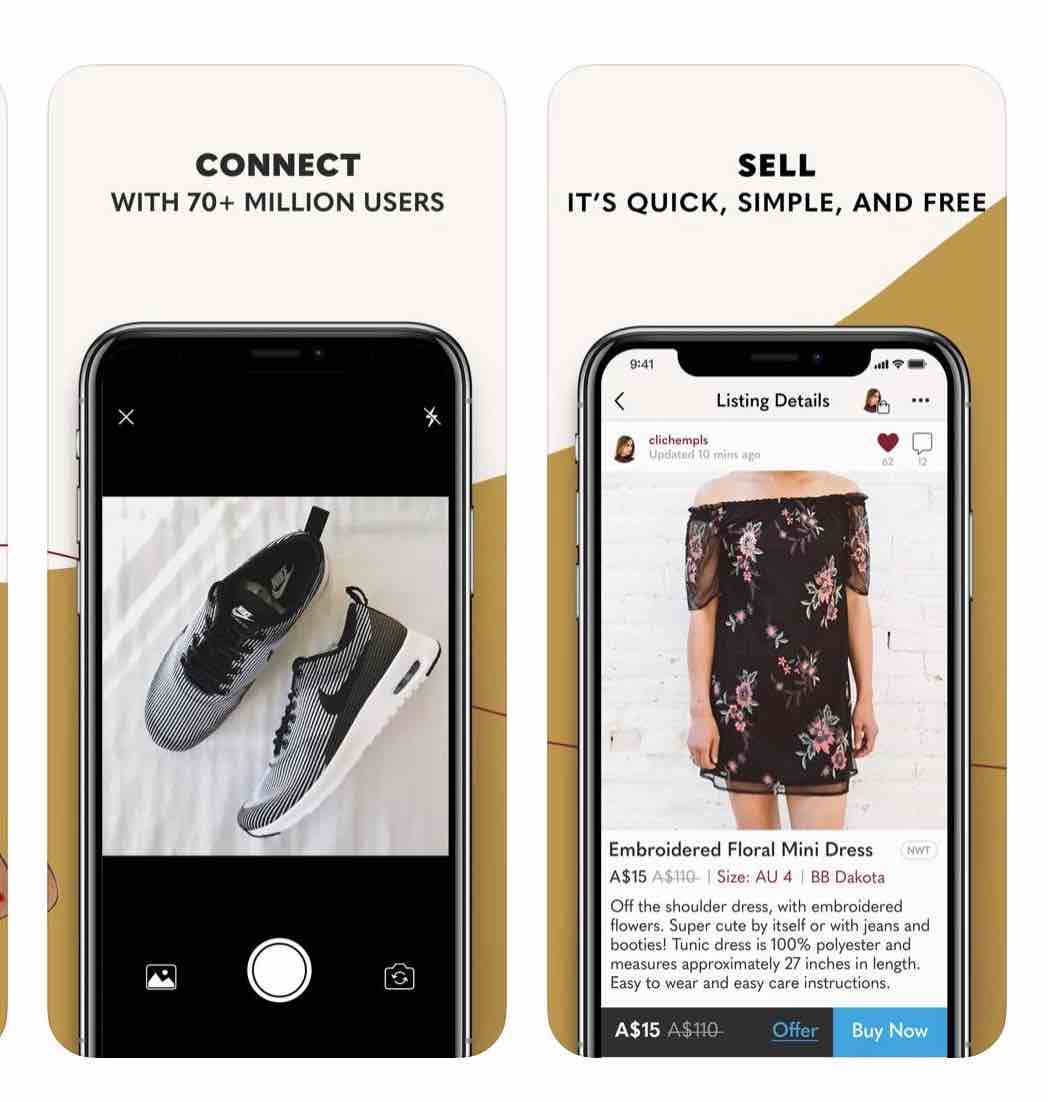 Some people buy fashion clothes cheap from thrift stores and sell them on sites like Poshmark. 
According to Vogue, Poshmark is a great online resale platform.
One thing that can help you sell more is building a following and connecting with other people, as it is a very social platform.
Requirements:
As such, anyone can join Poshmark and start selling. Poshmark takes a 20% commission fee on each sale.
Getting started with Poshmark is easy, just download the app and upload pictures of your clothes. When someone buys your item, Poshmark will provide you with a shipping label.
Earning:
The money you can make on Poshmark depends on what you are selling and how popular your items are. Some re-sellers make thousands of dollars per year on Poshmark.
16. Fiverr
Do you have a skill that you can offer as a freelancer?
If yes, Fiverr is the best gig app for you to start selling your expertise and make money from your couch.
It works as a freelance market space, giving freelancers flexibility in hours and freedom of work. The platform is user-friendly and allows you to set custom offers. 
Although it's known for its $5 gigs, you can earn from five to hundreds of dollars depending on the amount of work and hours you put in.
Some of the popular gigs include: 
Logo design
Writing and Editing
Voiceovers
Social Media Marketing
Video & Animation
17. Upwork
Upwork is a freelance marketplace quite like Fiverr, but quite more professional. It connects independent freelancers and their corresponding agencies to clients worldwide. 
 On Upwork, you are more likely to find jobs paying you a lot more than $5, so working on Upwork requires more skills than Fiverr. 
It is like an upscale place for freelancing.
Although Upwork offers the same gig opportunities, earning money through Upwork is not as easy as Fiverr and requires you to have a strong profile and good feedback from clients. 
18. 99designs
It is a platform that offers graphic designing services and connects graphic designers (creativity geeks)s worldwide to their clients.
99designs offers 90+ designer categories where talented graphic designers and creativity geeks are already giving their service. From drafting a T-shirt design to laying out the layout for an app, everything is covered at a decent hourly rate.
If you are a graphic designer, visual designer, cinematic designer, or illustrator, this place is for you to earn a good income.
19. Foap
Love doing photography? Why not make money out of it? Foap lets its users earn money by their photos. It's like an online photo marketplace where people from all over the world can buy your photos.

The great thing about Foap is that you can sell your photos as much time as you want! Isn't this great?
You can earn $5 for every picture you sell on Foap. Usually, these pictures sell for $10, and Foap charges a 50% commission on every picture you sell.
That's a fantastic way to earn easy passive money if you are passionate about photography and have a good quality camera.
Related reading:
How to make money selling hand pictures
18. Airbnb
Do you have an empty garage or room that is not being used? Ever thought of making money out of it? 
If you have a spare room or a garage in your home and want to earn money, then Airbnb is for you. Airbnb is a popular app that people use to find places to stay.
Become a host with Airbnb and make money with this side hustle app that pays high.
The amount you earn depends on the city you live in, the amenities you offer, how often you rent your space, and for how long. And seasonality also plays a role in pricing.
If you live in a tourist hotspot and have a nice place to offer, you can make some good money as an Airbnb host during holidays.
20. Mistplay
If you are fond of playing games and want to earn side cash, this side hustle app will help you earn from something you do already. 
Mistplay is a leading loyalty program for mobile gamers—the Loyalty programs in games aid in creating a competitive environment between different players. 
Through the competitive environment, the player earns certain coins, badges, rewards, and incentives upon winning.
Mistplay's website is user-friendly and enables the players to discover the games they like to play and earn rewards. 
These rewards can be redeemed into gift cards for Amazon, Google Play, Visa, or PayPal!
The amount you earn varies on several factors, but you can make around $50 worth of monthly rewards. 
21. Achievement
Evidation (previously called Achievement) is one of the best health and fitness apps to make money.
Sounds profitable, right? Indeed it is. This app is for people over eighteen who aspire to achieve good healthy habits and keep track of them. 
The Achievement app pays you to go for walks, exercise, and take health-related surveys.
The process is straightforward: connect your fitness app to Achievement, and once it gets synced with Achievement, you are ready to earn points and cash them.
For every 10,000 points, you can redeem $10 cash. 
You may be able to make money by completing health surveys. Depending on the survey, you might get anything from $60 to $200 each time.
22. Tapestri
Imagine if you get paid for sharing your location with an app. Sounds amusing! 
But that is a reality with the app called "Tapestri." When you install an app, most of them ask for your location as a prerequisite for getting installed. You allow the app to get your location data for free.
Why not earn money by sharing your data? With Tapestri, you can earn side cash of around $8 to $25 per month by sharing your anonymous data. They only collect anonymous data to understand consumer behavior in the market.
24. Honeygain
As the name implies, Honeygain is a considerate sweet gain for you in terms of cash. Like Tapestri, which takes your location data, Honeygain gathers internet browsing history. 
Some people might find this invasion of personal space to be frightening because it can feel like someone is invading your privacy. But your data will never get accessed. Only the data that is publicly available will be accessible to the app. 
There is a $5 gift for anyone who joins, and around $19 can be earned through Honeygain monthly. It seems like a very fruitful side app to earn money. 
25. Neilson Mobile Panel Study
If you are looking for a long-term and reliable source of income from your phone, this is the best passive income app for you.
This app enables users to earn cash in exchange for their internet activity. Privacy and security are their top priority, and no data is misused. They use the data to understand consumer behavior and help create user development products. 
Neilson Mobile Panel study gives $50 rewards yearly to anyone who chooses to participate in their study 
You can use those rewards to get free Amazon gift cards or to enter sweepstakes.
FAQs on side job Apps
What Is The Best Side Job App?
Gig job apps are a popular way to make money from your phone. Doordash and Uber-eats for food delivery or TaskRabbit for odd jobs are the best examples of these side gig apps to make money.
TaskRabbit pays more than some delivery apps, but it might not be the best option for everyone. With Doordash, you can get started immediately, as long as you have a vehicle and driving experience.
Which Side Gig App Pays The Most?
There is no one answer to this question. It depends on the type of job you are looking for and your location.
Taskrabbit pays more than delivery apps, but you have to be willing to do odd jobs like yard work or furniture assembly. Doordash pays more than Uber Eats on average, but Uber Eats is available in more cities.
How can I make $1000 on the side?
First, determine how much time you are willing to commit to your side job and your goal, and then divide $1000 by that number to see how much you need to make per hour.
For example, if you can commit 10 hours per week to your side job, you will need to make $25 per hour to reach your goal of $1000 per month.
Then you will need to find an app or job that pays well and provides consistent work.
There are many jobs on the list of side job apps that pay $25 per hour or more, so it is possible to make $1000 on the side.
You could also look for tasking apps like Taskrabbit that have high-paying jobs available in your area.
Freelancing at Fiverr is also an option if you have skills that clients are willing to pay for.
You could also look into proofreading or virtual assistant jobs, as they are usually high-paying, in-demand jobs to do from home.
Here more some free courses you can consider to work from home.
Winding up Best side hustles apps for jobs
There are many ways to make $1000 on the side- it just depends on how much time you are willing to commit and what type of job you are looking for.
You could do a combination of gig apps, tasking apps, surveys (in your free time), and freelancing to reach your goal.
Renting your spare space is also a great option and can boost your income significantly. Always remember, good things take time so be patient and keep hustling.
We hope you enjoyed this list of the best side job apps to make money. Do you have any other suggestions? Let us know in the comments below.