Sell feet pictures on Etsy
Want to know if you can sell feet pictures on Etsy and make money? Or even how much does it cost to sell pictures of feet on Etsy?
No matter the reason, I will answer all your questions relating to how to sell feet pics on Etsy, and I will also show you the real truth of selling feet pictures on Etsy 2022.
Selling pictures of your feet is one of the easy ways to make some extra money online. All you need is a camera, good feet (of course!!), and a promising marketplace to for you to sell feet pics online.
You can turn your feet into a money-making side hustle machine and make money online using them as long as you have the right tools to do so. The best part about selling on Etsy is you can remain anonymous while selling your foot pics on Etsy. 
But can you really make money selling feet pics on Etsy? Is Etsy the right marketplace to sell your foot pics?
This is one of the main queries that I want to address in this article. And to answer this question, I spared some time from my schedule to research on Etsy and the result was totally WORTH SEEING!
So, let's first start with some questions about Etsy and how to sell feet pictures on Etsy.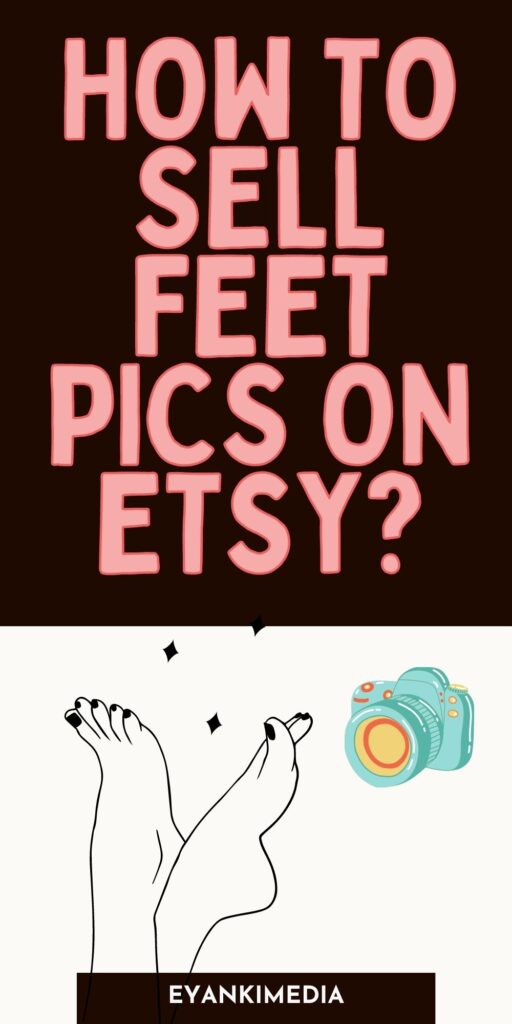 Wait!!! Do you know our favorite way to make extra money in my free time? Readers love them too!
What is Etsy?
Etsy is an online marketplace to sell handmade and custom items. It is one of the best places to sell your handmade stuff for beginners as it's free, easy to use, and has a huge customer base.

Thousands of people join Etsy every month because it provides an opportunity to people who want to start their own business and tap into the market of millions. Thousands of new people join Etsy every month to start their own small business or earn extra money form home.
Related Reading:
What sells best on Etsy? Top-selling items that sell like crazy!
Easy Etsy shop ideas to sell and make money on Etsy
Where to sell feet pictures! Best ways to sell your feet pics
Can you Really make money selling feet pics on Etsy?
It is easy to start a shop on Etsy and put up a listing. But can we make money selling pictures of feet on Etsy?
Etsy is a great marketplace with over 80 million buyers looking for something they're interested in, and some sellers make over 500 sales in a day.
But can this be true with feet pictures as well?
Since I am a data-loving person, I had a quick look on Etsy and found that there are not many shops selling feet pics on Etsy. It was a good sign as it meant there was room for you to grow and make some money selling your feet pictures to foot pic lovers or people who buy feet photos for marketing.
However, I also discovered that the majority of shops had NO sales.
Yes, zero sales which were quite surprising!
To collect more information, I explored e-Rank, one of Etsy's keywords, listings audit, rank checker, and competitor search tool.
Here is what I found for the keyword "feet pictures"

As you can see, search volume has decreased from 2020 to 2021.
It means that ONLY a few people are looking for feet pictures on Etsy, and most of them aren't converting into sales.
Seems like feet pics buyers are not getting what they are looking for on Etsy and are now using other social media platforms or stock photo sites to buy feet pics.
Most of the Etsy shops I visited had one or two feet pictures listings for sale only. 
It could be the reason for the decrease in interest as Etsy is a long-term game that requires consistency and a little more listings.
 So, what does this mean?
It means you might be able to make money selling pictures of feet on Etsy, but it will require some effort from your side. Here are some tips for getting your first Etsy sale (This is how I got first few sales).
Create one store, add multiple optimized listings and work on SEO. It doesn't take too long to set up a store. You can probably make it on a weekend or in your free time.
BUT, I WILL NOT suggest you putting all your efforts into selling feet pictures online on Etsy. And I will never recommend you to create more than 1 Etsy store to sell your feet pictures.
If you are successful with your first store, you can start selling feet pics on your second store. But not right now.
Instead, you can use your time to use social media platforms to drive traffic to your Etsy store. Instagram is a very popular platform these days, use hashtags and reels to build a following and drive traffic to your Etsy store.
I am an Etsy seller too and below steps can help you launch your Feet pic selling Etsy store in just a few steps.
How to sell feet pics on Etsy
Here is a quick step-by-step guide on how to sell feet pictures on Etsy in 2022.
Etsy has payment gateways to certain countries only. Therefore, I would suggest you read Etsy's seller policies before moving on. You can also see if Etsy payments are available at your location.
1. Create an Etsy account
Creating an account is free and easy on Etsy. All you need to do is provide your name, email address, add a password, and some other information like your shop language, location, and currency. 
You can use my link to get 40 free listings (worth $8 for new sellers only).
2. Choose a shop name
You will be asked to choose a username for your Etsy account. This username will be displayed on all of your listings, so make sure it's catchy and memorable.
If you are using your shop to sell feet pic only, then try to make it relatable like feet shop, foot diva, etc.
You can only change the name of your store once, so be careful.
Here are Etsy's guidelines on naming your shop for further reading.
3. Set up your Feet shop
The next step is to set up your shop and fill in all other important details.
Create a listing
For creating a shop, you'll need to create a listing. If you are not ready to sell anything, you can create a simple dummy listing that you can edit later (don't forget to update later).
Set payment details
Once your dummy listing is ready, you will be asked to provide bank details so Etsy can connect with your bank for all payment processing.
Different countries have different rules; please check Etsy policies before proceeding.
After this step, your store will be live.
Create shop banner and logo

Now that's the fun part.
Give your shop the looks you want. There are two different banner sizes to choose from, and you can create them free with Canva.
Canva has templates for Etsy, Facebook, and other social media websites that you can easily edit.
You can use this link to get free banners for your store. If you need some ideas for banner, here is an helpful article on Etsy banner examples and ideas from top Etsy sellers.
Set up your policies and shipping details
This section is important as it tells your buyers about your shipping policies, terms, and refund/returns policy.
You can also set up your story, social media profiles, team members here. Be clear and concise with your policies. 
If you are selling only digital files of your feet pics, clearly mention that no physical item will be shipped.
Etsy provides a really good guide on setting up shop policies which you can find at the link below:
Add announcement 
You can add an announcement on your shop front, so your potential customers know about new products you're selling, any sales, important updates, etc. 
4. Create listing for Feet pictures
Now that your story is ready, you can create a listing and put your feet pics for sale.
Creating a listing for your feet pics is easy, but several factors contribute to the success of your listings (not just feet pics).
1. Use high-quality listing images. Etsy recommends horizontal images in 4:3 ratio for the first listing image that Etsy uses to make a thumbnail. I have a free template on Etsy listing size that you can use.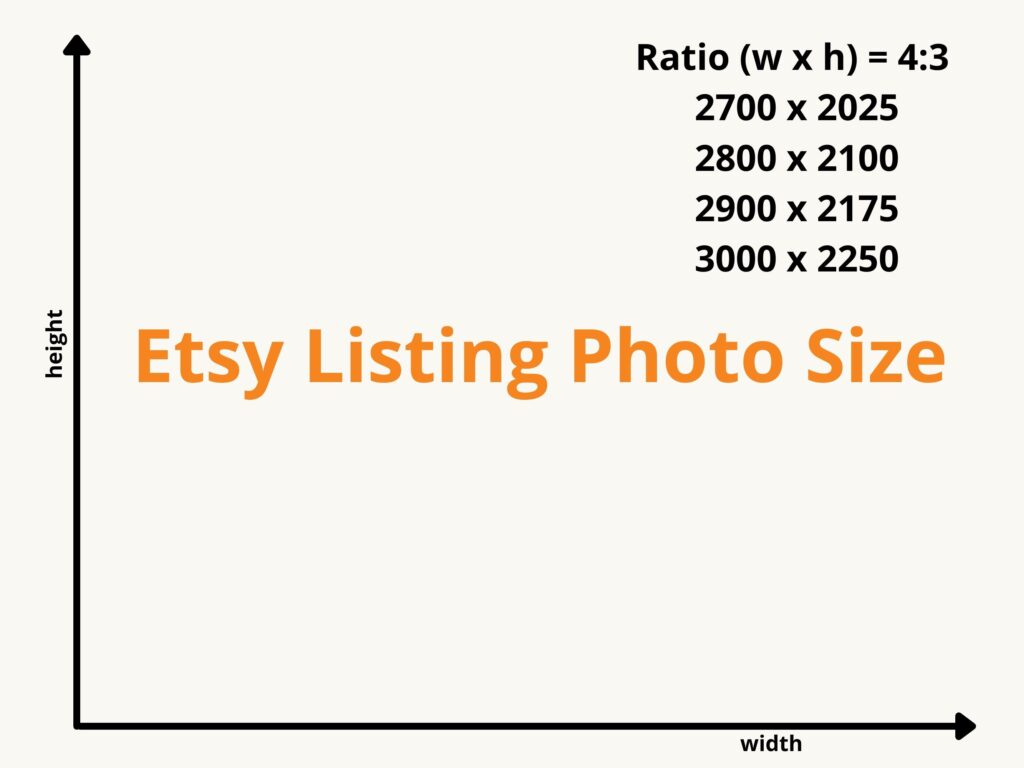 2. Since our listings are about feet pics, try to get close-up shots of your feet in different angles. Add a watermark to your feet photos. Learn how to take good quality photos for selling for pics.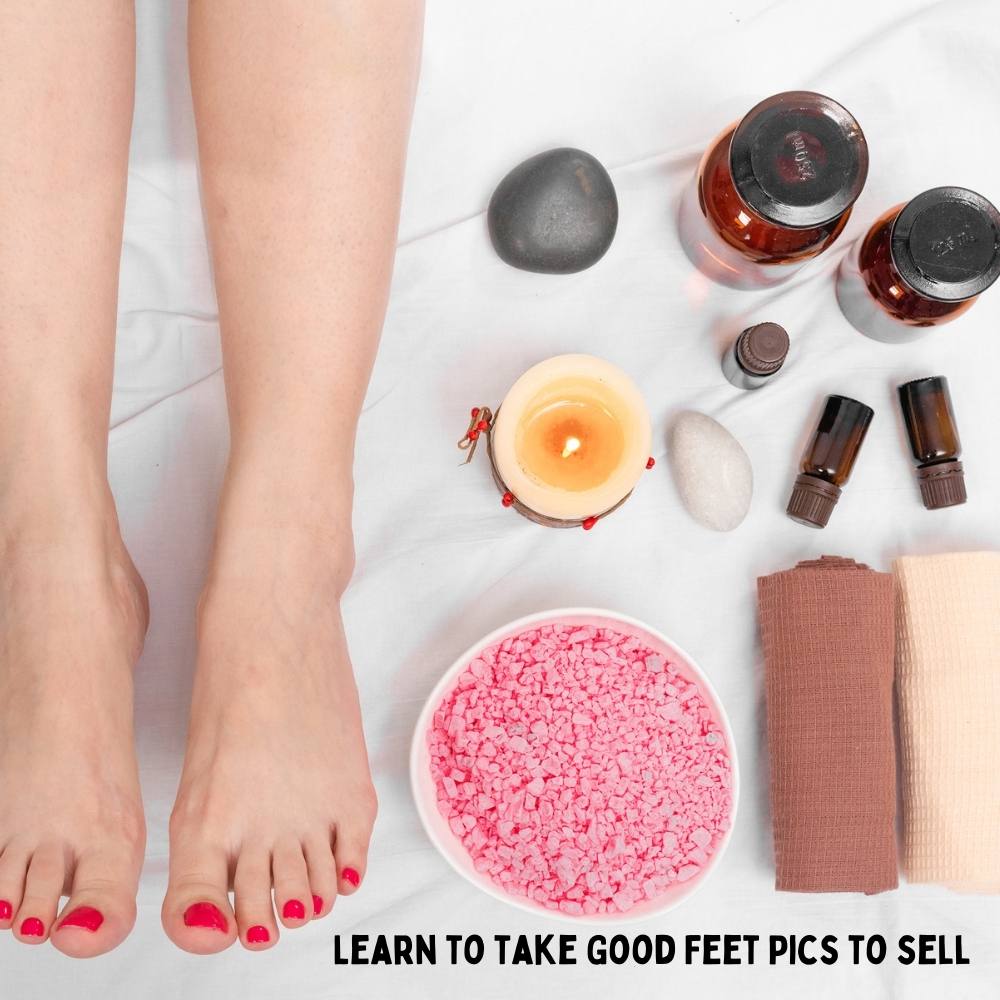 3. Write SEO-friendly titles. Check eRank to find long-tail keywords. You should add your main keyword first.
4. Write the description. Be descriptive and write all the necessary details. Your first few lines should be SEO-friendly to attract Google traffic.
5. Use all 13 tags. Check eRank or any other SEO tool to find long-tail keywords for tags.
6. You can add your shop policies, return policy, and shipping details to the listing.
7. For digital feet pics, you can upload your digital files to Etsy so that buyers can download them after purchasing your listing.

5. Promote your listings
Now that your listing to sell your foot picture is ready, you can share it on social media or your link whenever required.
Etsy has inbuilt tools that can help you share your listings with a few clicks. You can also run Etsy sales or offer coupons to attract more customers.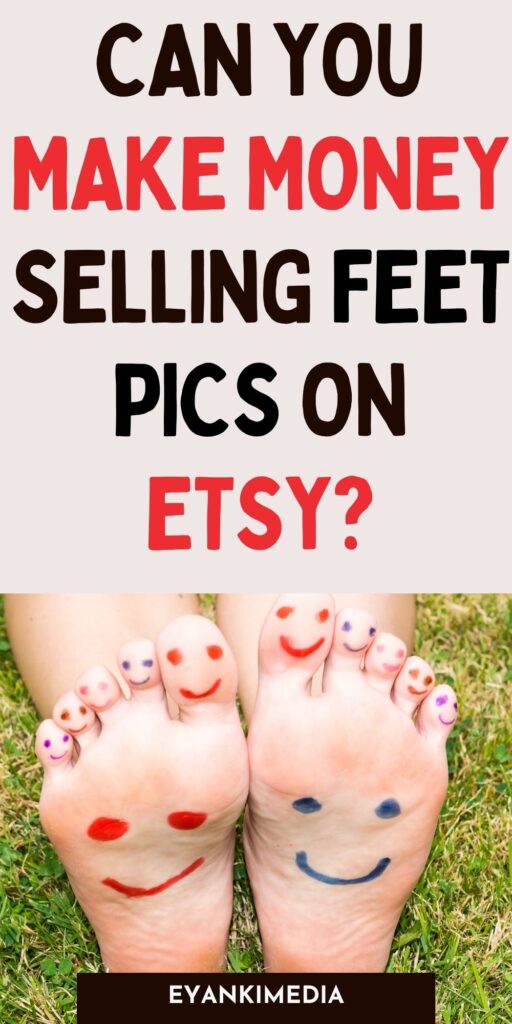 How much does Etsy charge to sell feet pictures?
Etsy is free to join and safe website, so there's no risk in joining this platform and selling feet pictures on Etsy.
Once you make a sale, Etsy charges a flat listing fee of $0.20 (for every listing) and takes a 5% transaction fee from each sale you make on its platform.
If you use Etsy payment for payment processing, it will charge you 3% plus $0.25 fees. If you still have doubt, check this article on the cost to sell on Etsy explained with examples.
You will also pay currency conversion charges if you sell in different currency.
But you won't have to worry about shipping or shipping transaction costs if you're selling digital photographs as they are instant download items.
However, selling foot photos on Etsy isn't an overnight task.
In addition, it takes some time to attract customers to your listings, so you need to be patient and spend more time learning about Etsy SEO and marketing.
Related Reading:
How much does Etsy charge? Etsy selling fees with examples
How to price your feet pics? 
When you are ready to list your first batch of feet pics, be sure to set a competitive and fair price. Review other sellers selling feet pics on Etsy to help you come up with a good starting point.
You can always adjust your prices as you go along and get a feel for what buyers are willing to pay.
You can check other places where you can sell your feet pictures.
Survey Junkie: Highly rated survey site. Join for FREE for short surveys and get free 250 points for just signing up here!
how to sell feet pictures on etsy: Final thoughts
Selling feet pics is a completely legal and easy way to make money, and Etsy can be a great platform for you to sell your pictures of feet.
However, looking at the current trends, I will not suggest you put all your eggs in one basket. Use Foot finder, sell pics on social media platforms like Instagram or Onlyfans, or sell feet pics on Foap.
Here are some places to explore:
Sell your feet pics on Instagram
Use apps to sell feet pictures like feet finder
Sell your feet pics on Facebook
Sell your feet pics on TikTok
Let me know if you have any questions in the comments and your thoughts on selling photos of your feet on Etsy.
More Legit Money Making Ideas You Might be Interested in
It can take some time to start making sales, but selling feet pics is a great way to make money from home. If you're searching for additional ways to generate money from home, have a look at these articles.