Wondering what to put in resin? This blog post is all about different things that you can put to your resin crafts and projects.
From easy-to-find budget-friendly ideas to truly unique items, you'll discover a wide range of cool possibilities to enhance your resin creations.
Resin crafts are like magic – they make regular things turn into awesome art! You might think that just pouring resin into a mold is enough, but it's even more fun. It's like a puzzle where we can be super creative!
That's why it's important to find out what things we can put in resin crafts. It's like finding treasures to make our art even cooler!
Every single thing we put inside resin tells its own story. It's like adding layers of personality and specialness to what we make. We can capture the beauty of nature or keep memories safe.
Whether you're just starting or you're already great at resin, looking for the perfect resin fillers/ things to put in resin projects is what makes your art totally unique.
This website contains affiliate links which means we may earn commissions if you purchase through them (no extra cost to you). You can read our policies here.
Things to put in resin
Stickers
Stickers add a splash of fun and color to your resin creations. Plus, they're super easy to find!
You can use any stickers in resin. Foil stickers, puffy stickers, and vinyl stickers don't need sealing. But, paper stickers will if they aren't printed on waterproof paper.
Flowers Butterfly Stickers
Small Letter Stickers
Golden Holographic Stickers
Shiny Holographic Stickers
Custom Stickers/ Personalized Stickers
These stickers can create a personal connection and give your resin project a unique touch.
Whether you're crafting gifts with resin or making items to sell, personalization adds that extra special something that sets your creations apart.
By adding customized stickers, you're turning your resin art into heartfelt keepsakes or standout products that people will love!
How to get custom resin stickers?
Buy from Etsy sellers or local marketplace seller
Use a Cricut machine to make your own stickers. Since you need small stickers for resin, Cricut Joy would be perfect.
Print on transparent sticker paper and cut
Foil Flakes
These little wonders come in dazzling gold, silver, and copper colors.
The gold foil flakes are built to last – they won't easily fade or lose their shine over time. When you add these flakes to your resin crafts, they work their magic to create a mesmerizing textured effect that's sure to make your creations stand out.
Alcohol ink
These vibrant and colorful inks are perfect to color your resin crafts. When mixed with resin, alcohol inks create a mesmerizing dance of hues and shades, turning your projects into stunning visual spectacles.
Mica Powder
 A good color agent to mix with clear epoxy for custom looks. 
These little powders come in a bunch of vibrant colors, letting you create your own special styles.
If you want your epoxy to be kind of see-through, alcohol ink is awesome. But if you're aiming for a pearlescent or super shiny effect where you put the powder, mica powder is the way to go.
 Chameleon Mica Powder
For gorgeous bright color shifting, highly saturated mica pigment powder luster that shift intense colors depending on the angle it is viewed.
Glow in The Dark Powder 
Add luminous pigment powder to epoxy resins and see them glow in the dark! These lit glow powder are also perfect for glow party, Halloween/Christmas parties, rave party, color runs and other fun night activities.
Dried Pressed Flowers
You can dry the flowers you have in your garden or buy a variety of pressed real flowers for resin crafts. Pressed flowers are one of the most popular things to add in resin.
Glitter
"When in doubt, just use glitter." This saying holds true because you can never go wrong with a dash of sparkle in your resin jewelry. Glitter adds that extra magic that turns your creations into dazzling pieces of art.
Types of glitter:
Holographic Glitter
Fine Glitter for Resin
Chunky Glitter for Resin
Multi-Shaped Glitter for Resin
Glass Glitter for Resin
These broken glass pieces are mirror backed, Add these applied onto any of your art projects they will looks glitter in appearance under the light. This crushed glass for crafts will add super-lustrous, intense sparkle and shimmer.
Special Shaped Glitter for Resin
Best for holiday resin crafts, theme specific crafts. From spooky ghosts to bright colorful flowers, you'll get different types of glitter and shapes here.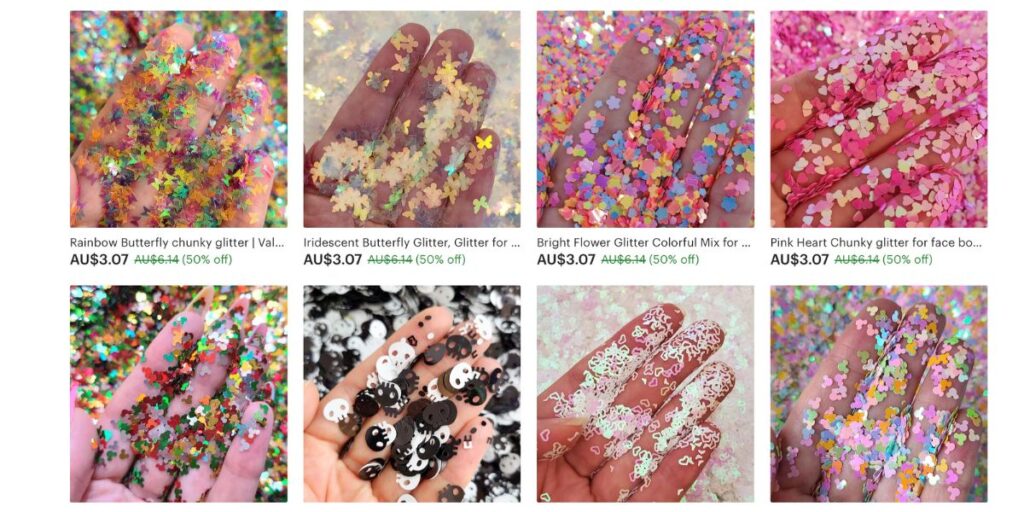 Glass Bubble Beads
Tiny iridescent balls that add  vivid bubbling effect in your resin crafts. Beads show different colors in different lighting and angle, which will make resin crafts so shining and eye catching.
 Letter Beads
Polymer Clay Slices
These tiny slices are like mini works of art all on their own.
When you embed them in resin, they add a touch of intricate detail and texture to your creations.
From adorable fruit shapes to cute animals and beyond, polymer clay slices offer endless possibilities for resin creations like tumblers.
Custom Shape Polymer Clay Slices
Best for holiday resin crafts, theme specific crafts. From spooky ghosts to bright colorful flowers, you'll get different types of glitter and shapes here.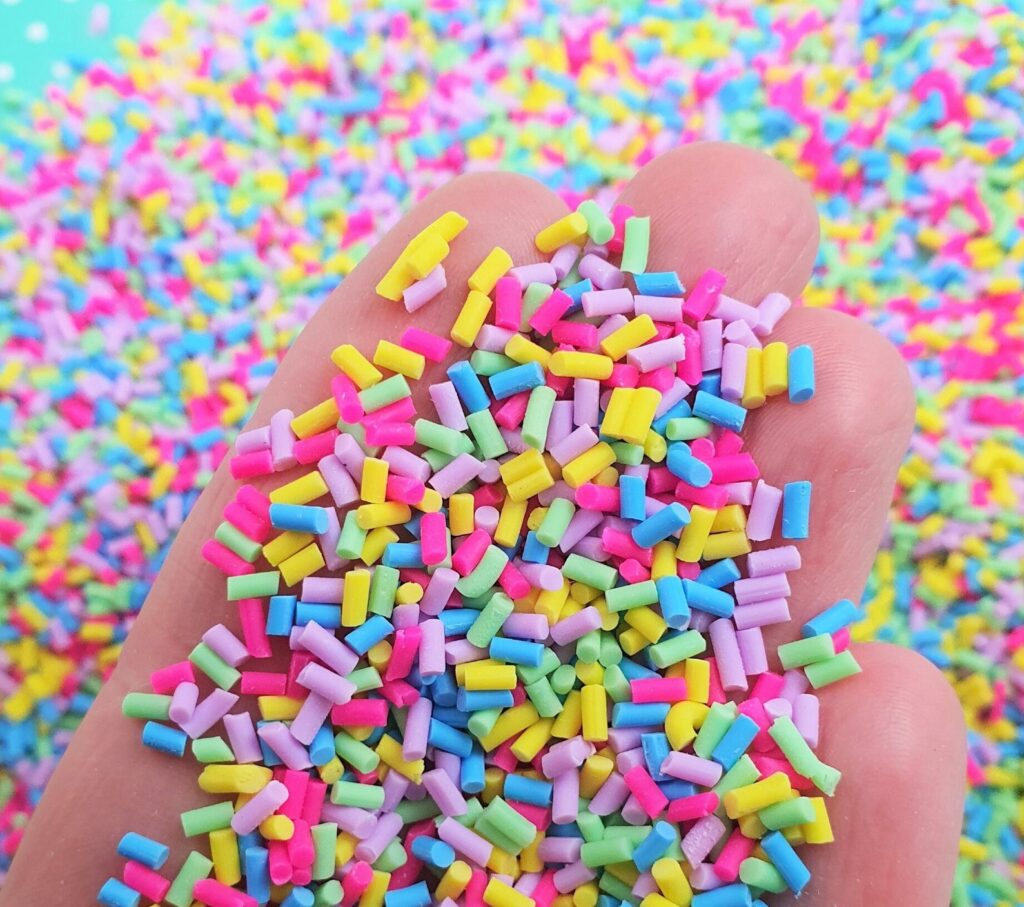 Acrylic paint
Cost effective way to add color to resin crafts.
Pearl Beads
alloy-made resin fillers
Made from a blend of metals, alloy fillers add depth and character to your creations. Whether it's gears, keys, or intricate designs, these metallic elements become like little treasures trapped in resin.
Food Themed Resin Filler Alloy
Antique Steampunk Gear Alloy Charms
Zodiac Sign Resin Fillers
Resin Shaker Film Plastic Sealing Protective Films 
Perfect for making resin shaker crafts. Can seal sequins, small beads, glitters, confetti and embed different kinds of embellishments.
Sea Shells
Planning to make unique summer/ beach theme craft? These assorted sea shells are just perfect to add in your resin projects.
Tiny Crushed Shells Miniature Shells 
Craft Sand
Perfect for adding to resin for a beach themed art piece.
Irregular Shaped Stones
Sea Glass Vase Fillers
Create mosaic pictures in resin.
Green Moss
Fake Ice Cubes/ Diamond Ice Crystal 
Made of high quality acrylic, these unique fake crystals help give fake ice effects on resin arts (like wall art).
Crushed Glass Vase Fillers
Available in 3 colors, these crushed glass fillers are perfect to create the nautical, beach, and coastal theme resin decor items.
Metallic Colored Crushed Glass Glitter
Bling Bling Diamond
Wood
Resin Wood Pendant
Natural Sandalwood Snow Mountain 
The craft wood sculpted into natural mountain top shape with exquisite concave and convex, perfect for making various resin crafts showing mountains and landscapes.
Matte Candy Colored Acrylic Balls
These balls are perfect for candyland themed resin products!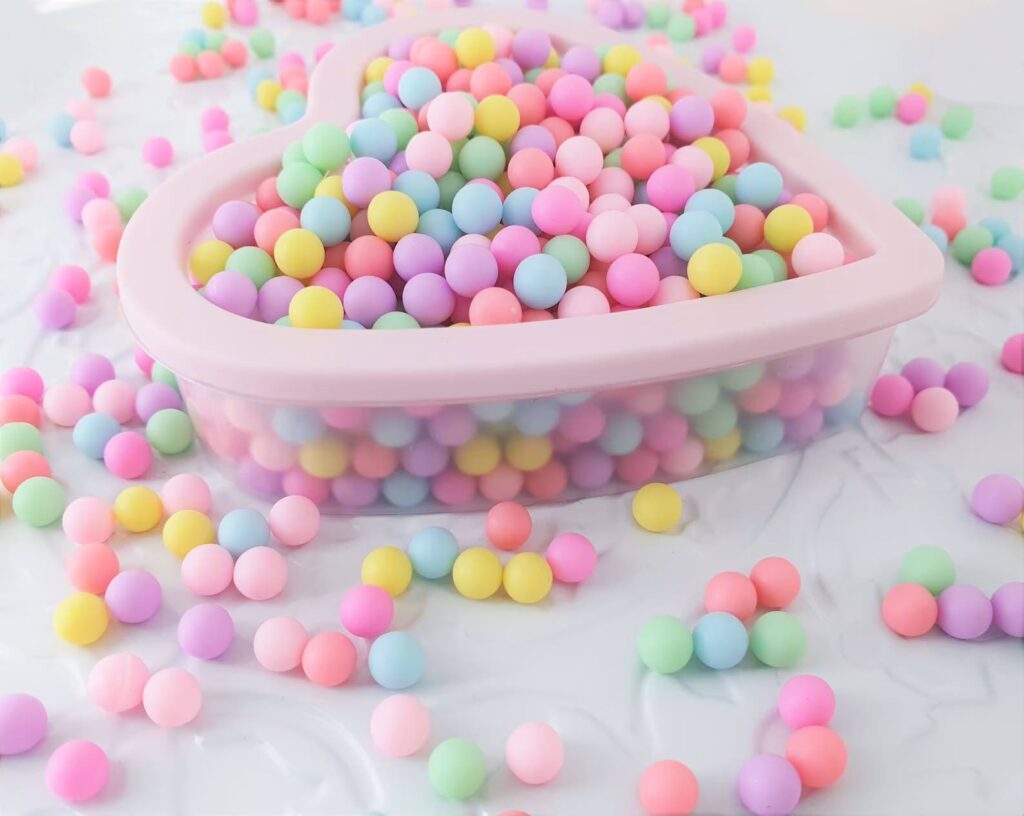 Unique items to put in resin (personalized Resin crafts)
Personalized items take resin crafts to a whole new level of sentimentality and uniqueness. Here's a list of personalized things that you can incorporate into your resin creations:
Photos: Encase photographs of loved ones, special moments, or favorite places in resin to create timeless keepsakes.
Initials or Names: Embed initials, names, or even entire words into resin to give your crafts a personal touch.
Handwritten Notes: Preserve heartfelt messages, handwritten notes, or signatures in resin to capture the essence of a moment.
Locks of Hair: For a truly intimate touch, consider sealing locks of hair from loved ones or pets in resin.
Birthstones: Integrate birthstone crystals into your resin projects to make them unique and meaningful.
Fingerprint Impressions: Make impressions of fingerprints in resin as a beautiful way to remember loved ones.
Dried Flowers: Press and dry flowers that hold special meaning and then incorporate them into your resin creations like wedding flowers, bouquet, garlands etc.
Tiny Keepsakes: Place small trinkets, charms, or mementos that hold personal significance inside your resin crafts.
Pieces of Fabric: Use fabric snippets from memorable clothing, like baby clothes or wedding gowns, to evoke nostalgia.
Map Cutouts: Cut out maps of meaningful locations and embed them in resin to commemorate journeys and memories.
Tiny Artworks: Add miniature drawings, paintings, or doodles for a personalized artistic touch.
Quotes and Lyrics: Embed favorite quotes, song lyrics, or affirmations into your resin crafts.
Handprints: Capture the handprints of loved ones in resin to create lasting memories.
Wedding Keepsakes: Preserve elements from weddings, such as confetti or petals, to create unique mementos.
Pet Tags or Collar Clips: Remember your furry friends by incorporating their tags or clips in your resin creations.
Personalized elements infuse your resin crafts with emotional depth and significance, making them cherished pieces that tell a story and connect on a personal level.
To wrap things up, resin crafts offer a boundless realm of creativity.
Whether you're using custom stickers, mica powder, or alloy-made resin fillers, your imagination sets the limits.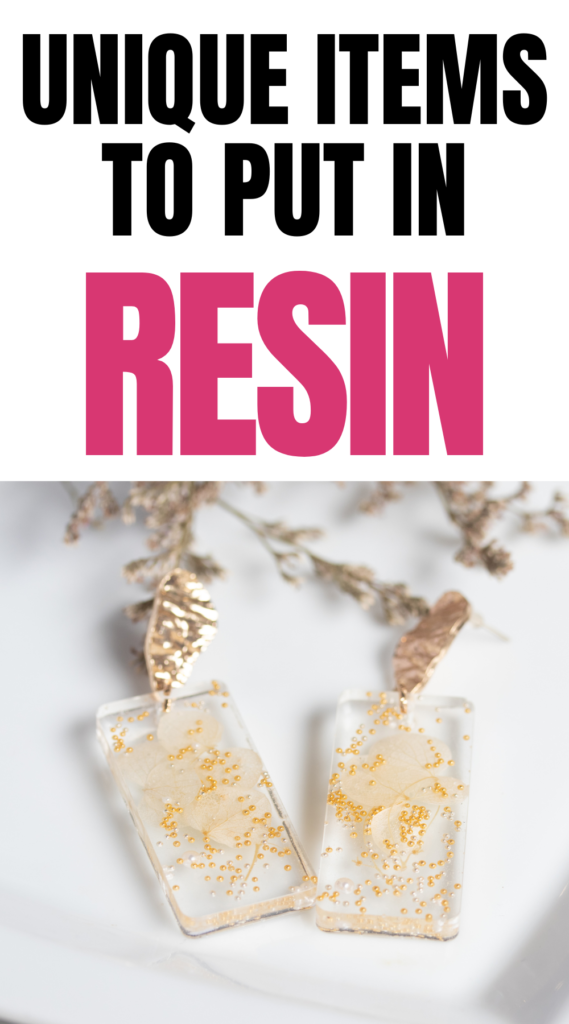 Beyond aesthetics, these creations tell stories and hold memories. From pressed flowers to glitter, every element you include speaks volumes about your personality and creativity.