Want to make money while being pregnant? Or looking for a new job that suits expecting moms during pregnancy? Either way, in this blog post, we will discuss some of the best jobs for pregnant women to help them make money!
Pregnancy is a beautiful time in a woman's life, but it can also be stressful, especially when it comes to finances.
Thankfully, there are plenty of good jobs for women who are pregnant and need money. 
I know it can be stressful and sometimes overwhelming trying to find a job that is both – good and pays well but don't worry- I have gathered some of the best jobs for pregnant mothers below! 
All of these are pregnancy-friendly jobs (including online work-from-home jobs for pregnant moms) that can help you make some extra money while you're expecting.
So, if you are a mom-to-be and looking for good jobs pregnant women can do to support themselves and their little one, read on how to make money while pregnant.
This website contains affiliate links which means we may earn commissions if you purchase through them (no extra cost to you). You can read our policies here.
Can I be employed if I'm pregnant?
 This is a common concern that many pregnant women have.
 The answer is yes! You can definitely work while being pregnant. Most countries have laws that protect pregnant women in the workplace.
You are legally allowed to work if you are pregnant, and you don't have to tell potential employers that you are pregnant. But keep in mind, if you show up for an interview with a big pregnant belly, the employer will eventually know.
As long as you are healthy and your pregnancy is not high-risk, working during pregnancy is perfectly fine.
Of course, if you start to feel sick, it's important to listen to your body and take a break. But as long as you feel good, working while pregnant is no problem!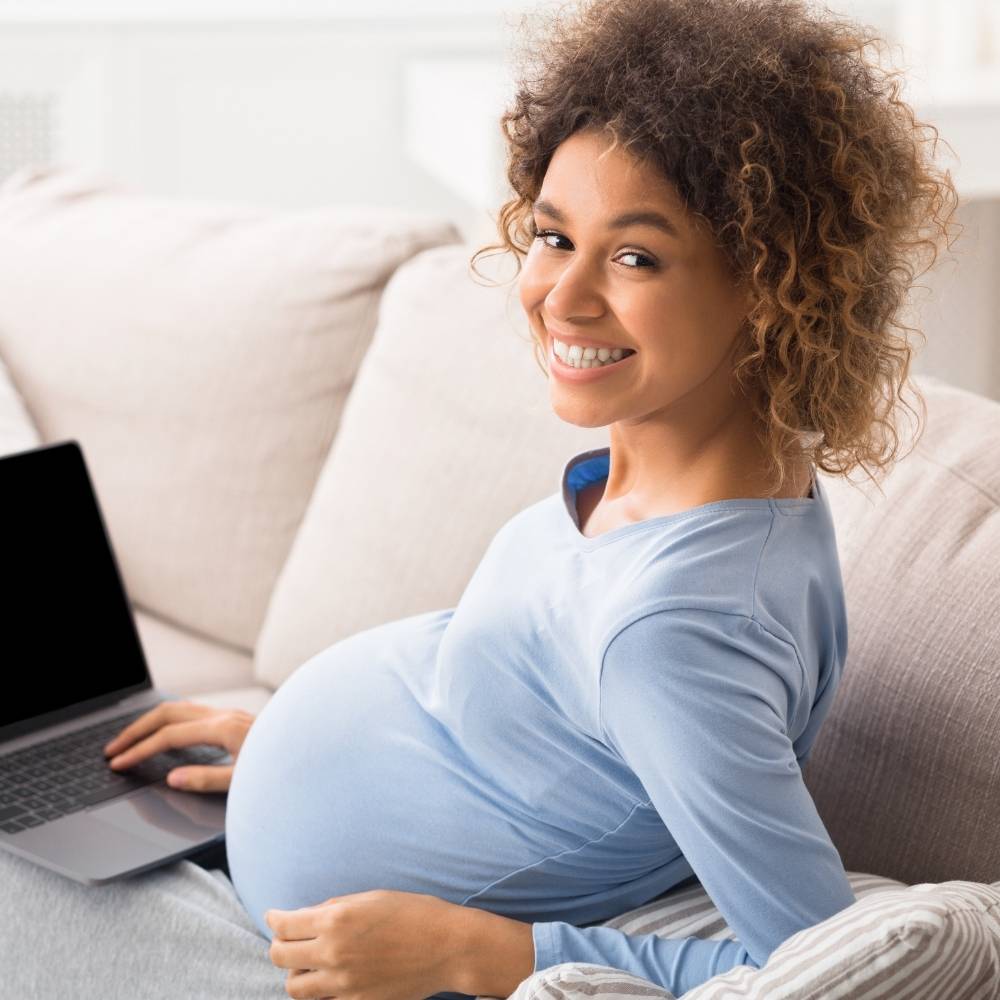 Best jobs for pregnant Women
Below are legitimate online work from home jobs for expecting moms that are stress free and flexible in 2022.
1. Start Proofreading
For any pregnant woman looking for a flexible job, I suggest proofreading is the best option. It is one of the best stay-at-home jobs for pregnant women because you can do this from home and on your own time.
As a proofreader, you will read over documents and check for grammar, punctuation, or spelling errors. It's an easy and flexible job that can be done even after the baby is born as there is a growing demand for qualified proofreaders, and most proofreading jobs are remote.
And if you're not sure where to begin, I highly recommend signing up for this free proofreading webinar. It's a great way to learn many helpful tips and strategies you need to get started, and it's also packed with valuable information on how to make money as a beginner proofreader.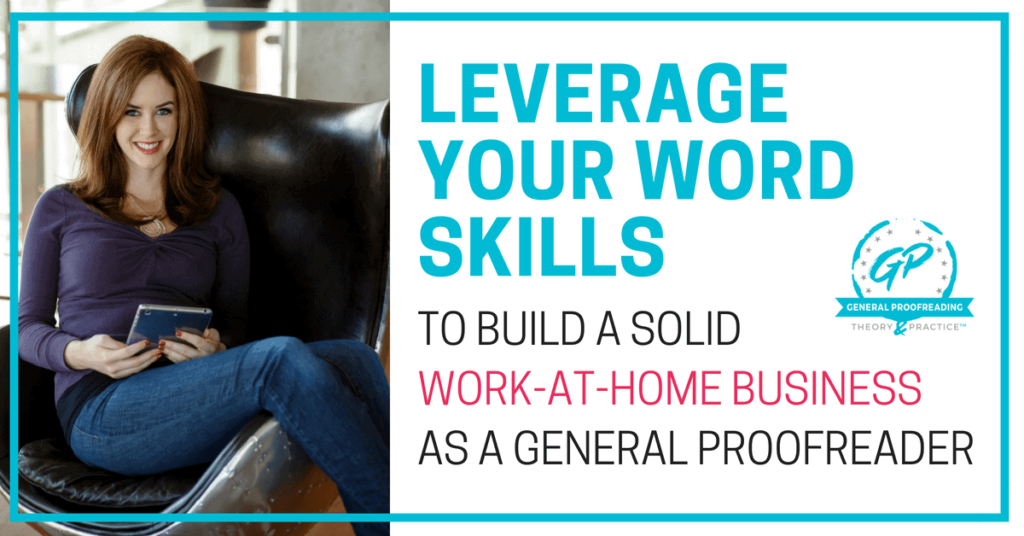 Proofreaders make up to $40,000 working part-time, and the internet is full of proofreading jobs. So if you're ready to get started on your proofreading journey, be sure to sign up for this free webinar today!
2. Offer Virtual assistant
If you're an extremely organized mom-to-be and want to make money while pregnant, becoming a virtual assistant might just be the perfect job for you. 
A virtual assistant is someone who provides administrative support to clients from home. It can include tasks such as
Scheduling appointments
Answering emails and customer service
Doing research
Handling social media accounts
Managing websites
And so on! There are about 275 services you can offer as VA. 
Virtual assistants make anywhere from $20 to $50 an hour working as ready to hire contractors. You can even start your own VA business once you have more experience. You might be surprised to know that some highly paid VA's earn 6-figures in salary too!
The bottom line is – if you're looking for a high-paying work-from-home job for pregnant women, virtual assistance is definitely worth considering. That being said, I would recommend you to check this free workshop on how to be a VA.
3. Transcribe for money
Here is another job idea for pregnant moms, make money transcribing.
Transcribing is a well-paying flexible way to make money from home, and you don't need prior experience – many people do this as a side hustle!
I know you must be thinking about what transcribing is and how to start?
Honestly, I don't have much experience in this field, but I know someone who is just perfect for answering your queries.
Janet started as a transcriptionist in 2007 and now runs a successful general and legal transcription business.
To help other moms (and dads), she has a perfect free crash course to help you learn all the nitty-gritty details about becoming a transcriptionist from home and earn.
 4. Be a Bookkeeper  
Online bookkeeping is another good job for pregnant women who are good with numbers and tech-savvy.
As a bookkeeper, you can work from home and help business owners to maintain their accounts and keep track of finances.
I am sure you're thinking that you are not an accountant. Well! You don't have to be one or need any previous experience!
Ben, the founder of Bookkeeper Business Academy, explains how you can start your own bookkeeping business and make money while pregnant. 
I recommend you start to sign up for his free workshop, where you can learn more about bookkeeping, how much new bookkeepers earn, and how to become a bookkeeper.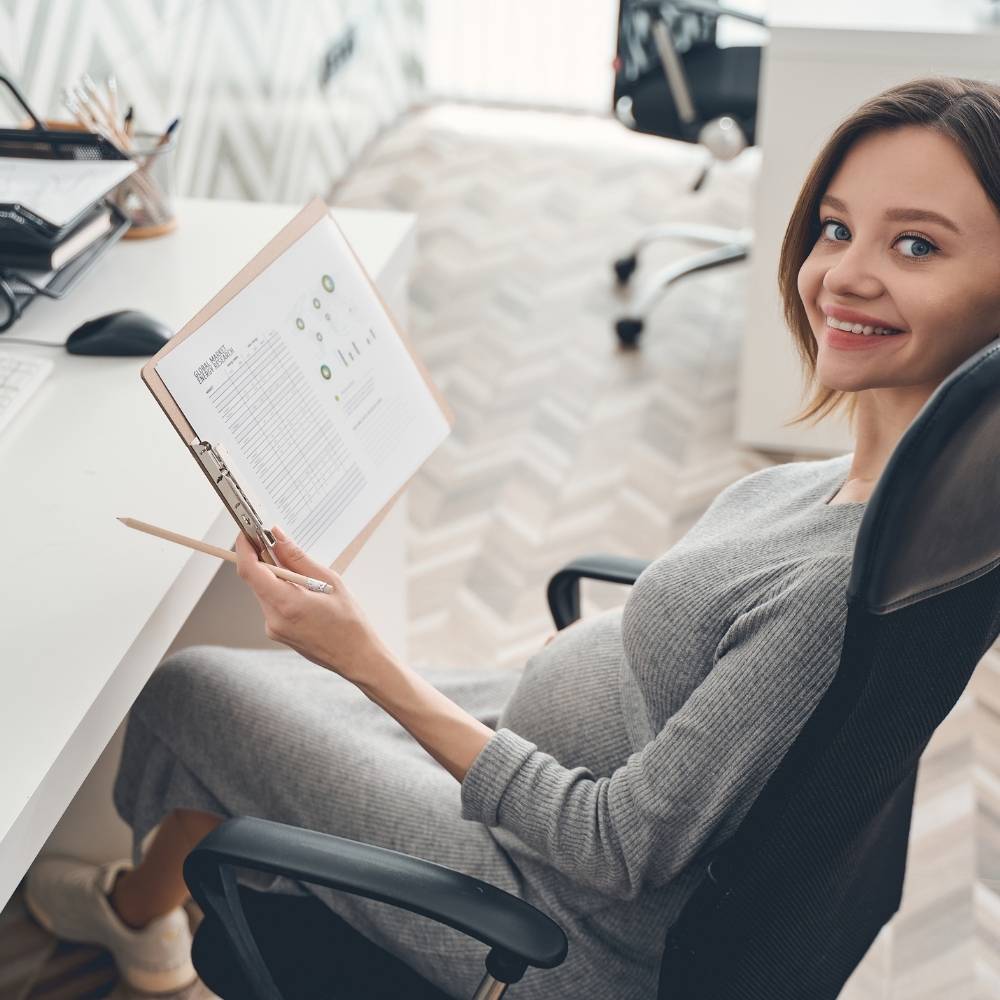 5. Start freelance writing 
Freelance writing is rated as one of the best jobs for pregnant moms that pays high and is super-flexible.
As a freelancer, you get to write for business owners, bloggers, websites, or anyone looking for a writing service. Again, you don't need a special degree, just good language command, and knowledge about what you are doing. 
Elna was pregnant with two twins when she started her freelancing writing business. Today, she earns more than a thousand from a blog post.
If you are considering being a freelance writer, her Write Your Way to Your First $1k (online course) will give you a big push to get started and earn your first $1000 as a freelance writer.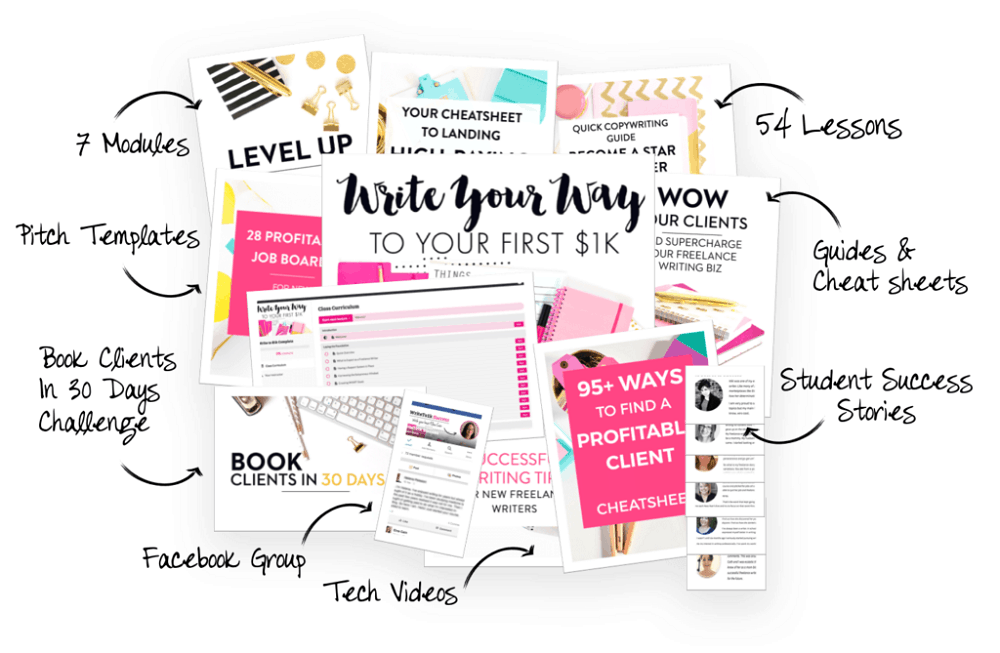 She also teaches you how to land your first client as a freelancer writer, which is very important when you are pregnant and need money fast.
6. Sell Printables
Selling printables is one of the best side hustles for moms, and pregnant moms are no exception. 
If you ever wanted to start an easy side business, selling printables or digital downloads is the best way to go. You can sell anything that people would want to print and frame or use in their daily lives, such as:
Wedding invitations
Birthday invitations
Art prints
Greeting cards
Planners & journals
Wall art & posters
You can easily make and sell printables on Etsy, your own Shopify store, or teachers pay teachers.
The best part is that you don't need much investment to get started and earn a passive income over years. I have so many resources on my blog that can help you start your printable business.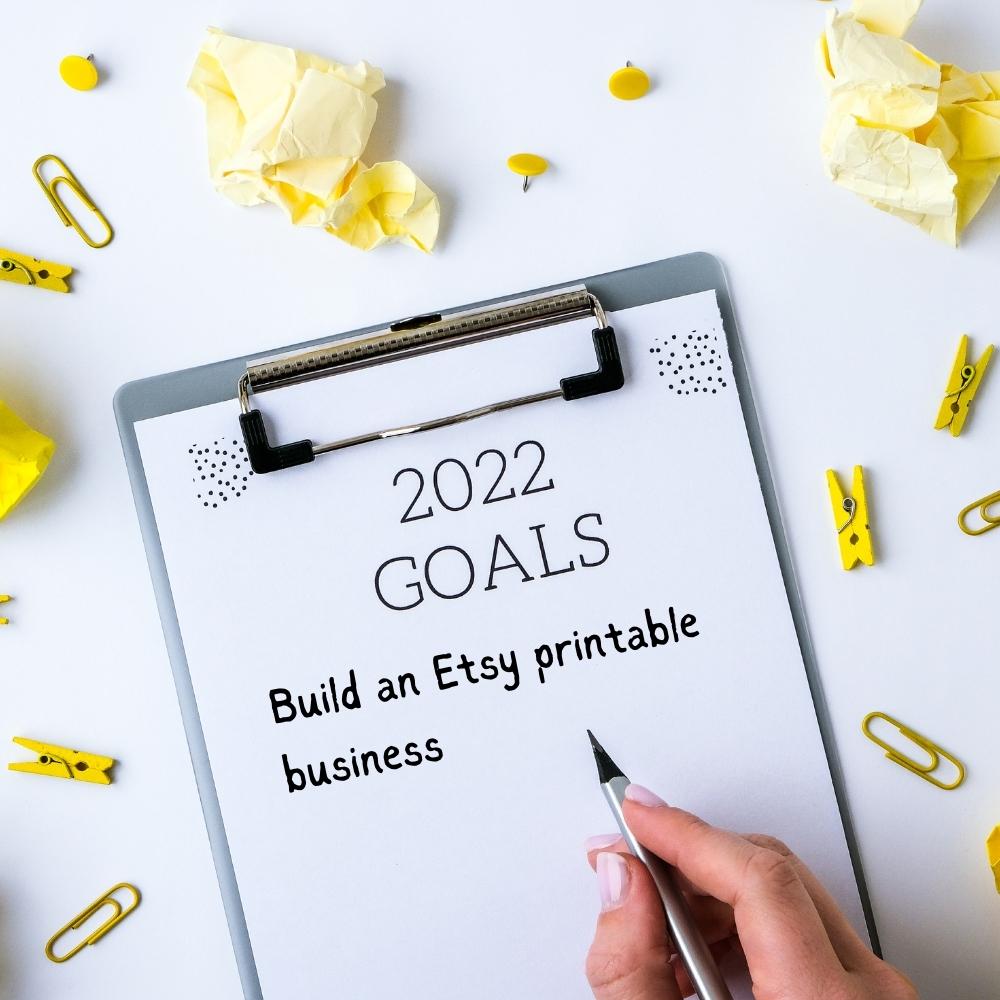 If you want to learn more about how to start a printable business, here are some blog posts and resources to get you started:
You can also join this amazing workshop by Julie, a mom who started selling printables on Etsy. She has trained so many moms like you (and me) to make and sell Etsy printables.
7. Sell Stickers
Stickers are huge moneymakers, and you can design your own and sell them online!

You can design anything you want- it could be cute baby animals if you're looking for a pregnancy-related niche, planner stickers, product packaging or something else entirely like car decals.
It is a fun way to make money while pregnant as you get to be creative and make money.
You can either print the stickers yourself or outsource the printing to a company.
If you want to learn how to design and sell stickers, I recommend taking this free class from my friend Mim.
8. Start a blog
Starting a blog was the best decision of my life (and one of the most challenging too). I started this blog to work from home while taking care of kids.
Blogging is indeed a fantastic way of making money but let's be honest- it is not an immediate one. It takes time to build a blog and get traffic and money.
If you are considering starting a blog, I have this free tutorial that can help you get started. This also includes my goal planner that helped me gain over 100,000 monthly visitors and make passive income through ads and affiliate marketing.
But as I said, blogging is not an immediate source of money, so if you are in need of money now, it is not the best option for you.
9. Teach English online
A few other easy jobs for pregnant women to make money online is teaching English online to children.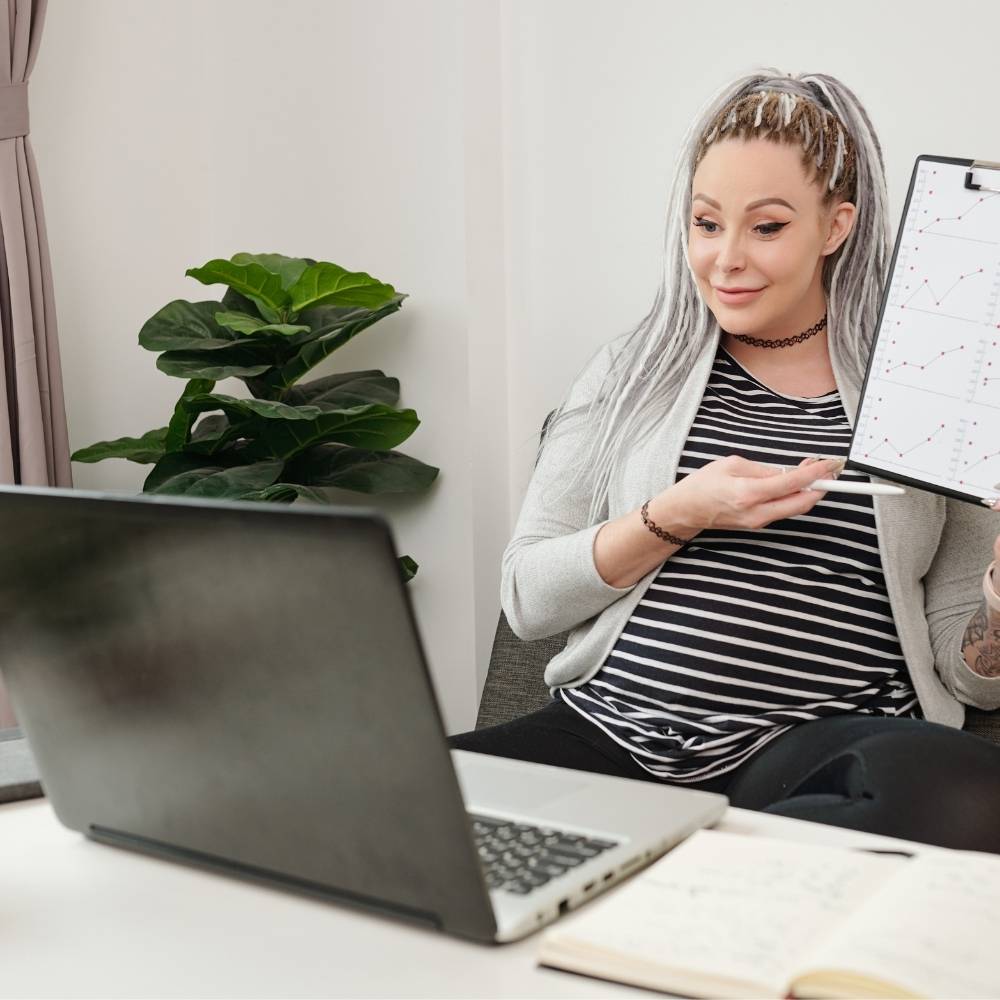 Yes, if you are a native English teacher, you can make money from home teaching English to kids who have English as their second language.
Many online ESL companies hire native English speakers to teach English online to children.
The best part is that you can work from home on your own schedule and earn from $18-21 per hour.
10. Editing
Editing is similar to proofreading, but here, you edit and improve the content written by a writer. 
Editing is one of the jobs for pregnant women that are in high demand but often overlooked. These jobs are usually well-paid, and you can often set your own hours.
You can search on FlexJobs for online editing work or job search engines like Indeed.com.
11. Freelance Graphic designer
Graphic design is a great way to make money from home, especially if you are a creative person.
There are many online jobs for pregnant women available in this field. As a graphic designer, you can create designs for businesses to help them grow. Some of the popular ideas include:
Logo
Design websites
Social media graphics
Flyers
Infographics
If you're interested in creating designs to sell or offer your services to make money, make a portfolio and profile on freelancing apps like Fiverr, Upwork, or 99designs.
12. Social Media Manager
As a social media manager, you will be responsible for managing the social media accounts of a business or individual.
As a social media manager, your responsibilities include creating content, scheduling posts, engaging with followers, and running social media campaigns. This job is a perfect stay at home job for pregnant moms as it doesn't require much physical activity.  
If you are good at social media and enjoy being active on various platforms, this job is perfect for you.
13. Start a Youtube channel
Starting a Youtube channel is another source of passive income. If you love creating videos, you can start your Youtube channel in no time. You can create videos on anything you are passionate about or have knowledge of.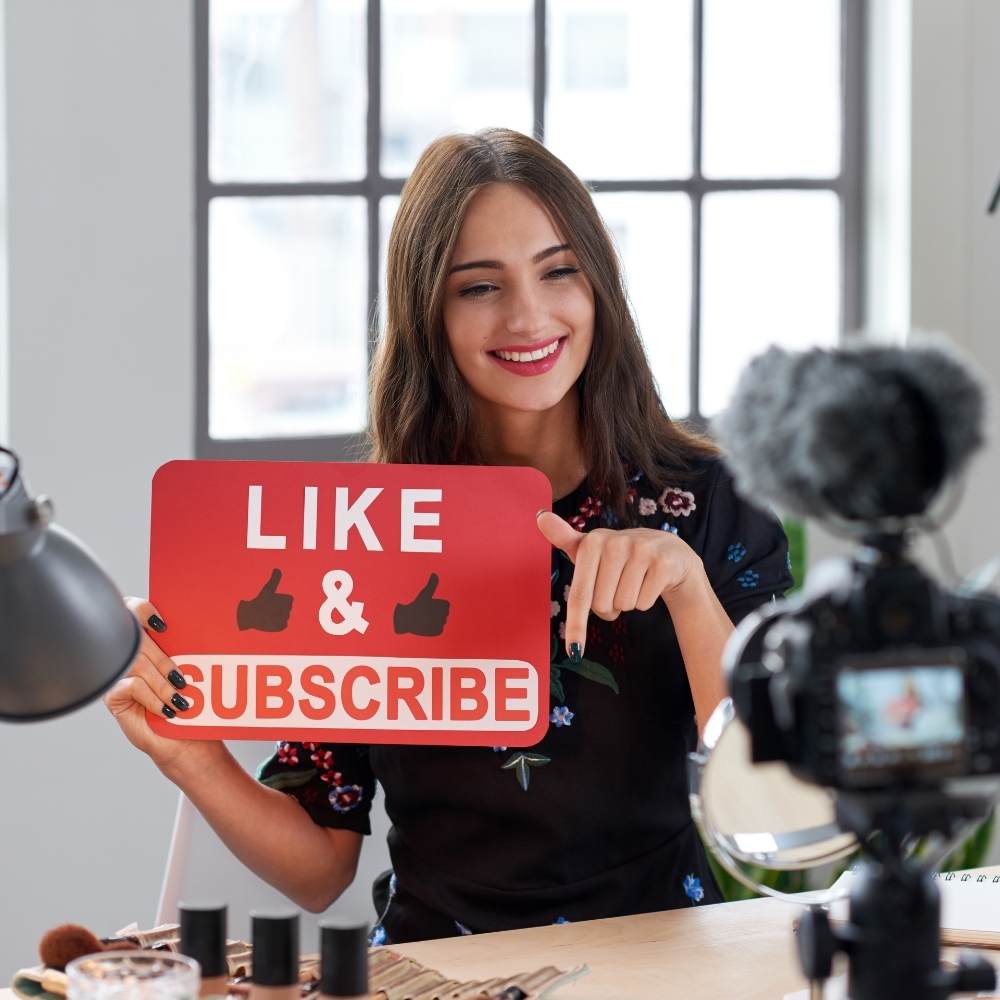 Similar to blogging, Youtube is in not an immediate source of money but can be very profitable.
Youtube channels make money through ad revenue, affiliate marketing, and sponsorships. 
14. Launch a course
Do you have any expertise that you can share? If yes, you can pack it into a course and make money while pregnant.
With the rise of online learning, there has never been a better time to start your own course. You can create a course on anything from cooking to web development to parenting.
Just look at Udemy, Skillshare, Coursera, etc., creators are making passive money teaching skills that you might have.
15. Sell print on demand products
Have you ever heard of print on demand? It's a service that allows you to sell custom products without having to worry about inventory or shipping.
You can create your own designs or buy them with a commercial license and put them on a variety of products like t-shirts, mugs, phone cases, and more.
You can sell your print-on-demand products on Etsy, Redbubble, Zazzle, or your Shopify store. Like these custom socks below!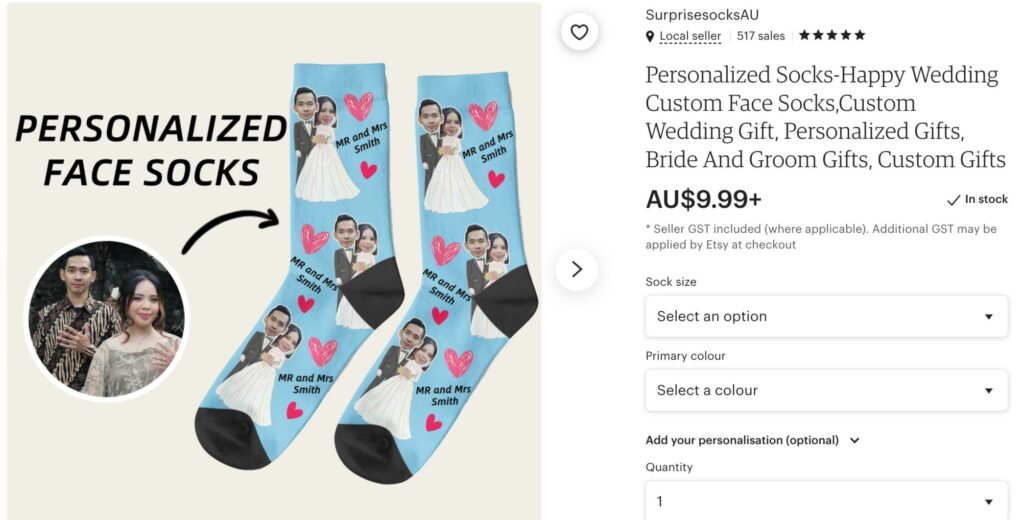 16. Reservation agent
Do you have experience in the hospitality industry? If yes, you could work as a reservation agent from home.
As a reservation agent, you would be responsible for handling customer inquiries and booking reservations for hotels, airlines, rental cars, and more.
It is a perfect remote job for pregnant women as it can be done from the comfort of your home.
17. Data entry jobs
If you're looking for a simple job you can do during pregnancy that doesn't require much experience or skills, data entry might be the right fit for you.
As a data entry worker, your job would be to input data into a computer system. Look for data entry jobs on job boards or freelancing websites.
18. Online moderator
If you spend a lot of time on social media or forums, you could get paid to do it. Online moderators are responsible for moderating online content and managing user behavior.
As an online moderator, your job is to review and approve content, moderate comments, and remove anything that violates the guidelines.
According to a recent article, working full-time as an online moderator or community manager may bring in anywhere from $31k to $70k each year.
19. Search engine evaluator
If you're good at research and have experience using search engines, you could work as a search engine evaluator.
Search engine evaluators are responsible for improving the accuracy and relevancy of search results.
As a search engine evaluator, your job would be to provide feedback on whether the results returned by the search engine are relevant and accurate.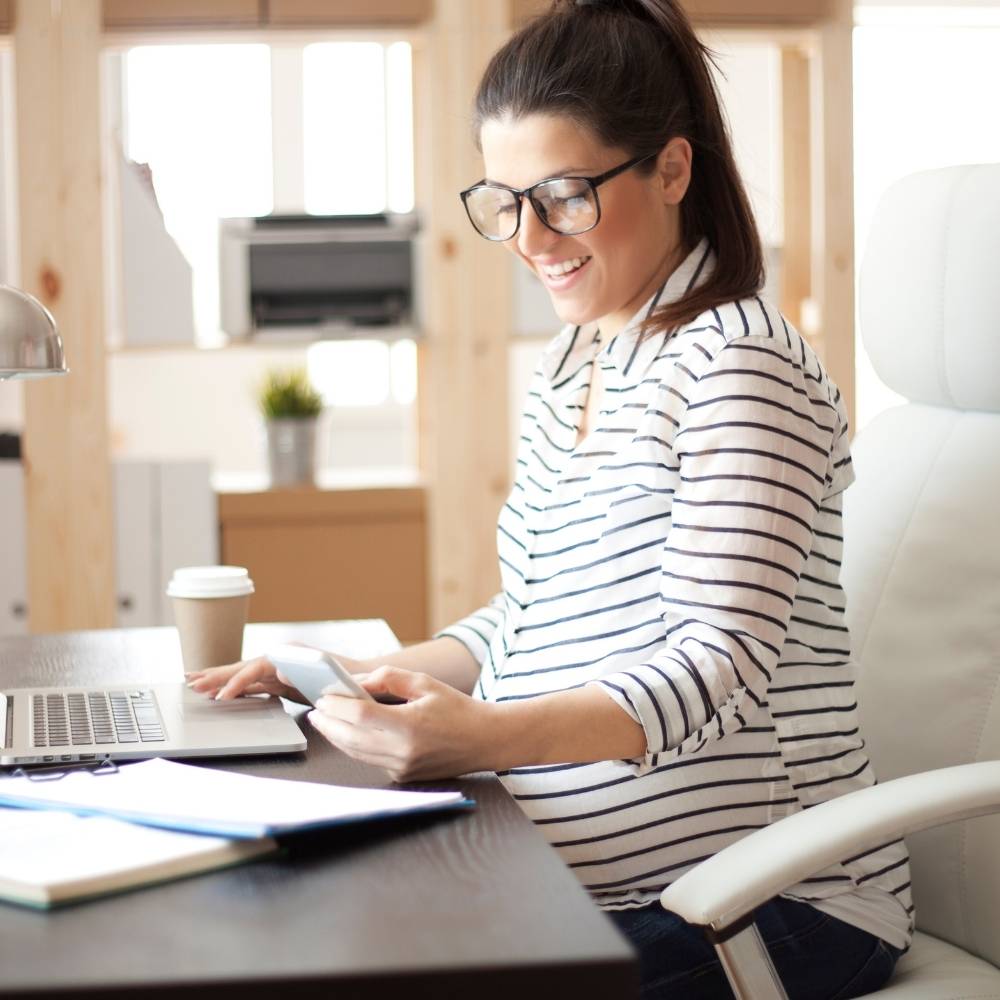 20. Online sales representative/customer service
There are many companies that need people to work from home answering online inquiries or taking customer phone calls. You could work as an online sales representative or customer service agent for them.
As an online sales representative or customer service agent, your job would be to help customers with their inquiries and resolve any issues they may have.
You'll require a computer that is secure and reliable, as well as an internet connection. You are free to schedule your own hours. That's why being a customer service representative is one of the easiest online jobs for expectant moms.
21. Freelance Translator
If you are bilingual or multilingual, you can put your language skills to use and make money as a freelance translator.
One of the easiest jobs for pregnant moms is where you can work from home and translate documents, videos, presentations, or conversations.
There are many websites and agencies where you can sign up as a translator.
You can sign up with companies like Gengo or One Hour Translation or find clients on your own through online job boards or by networking with other businesses in your industry that may need translation services.
22. Do micro gigs on Fiverr
Fiverr is a great one of best apps for side jobs for anyone to earn from home. 
There are different sorts of jobs or "gigs" you create on Fiverr. From social media jobs to graphic design, writing, and voice over, you can sell your expertise and freelance on Fiverr.
My cousin made an extra $500/month while studying just by doing micro jobs on Fiverr like maintaining excels.
Ideas to make extra money while pregnant
If you are looking to make a little extra money while pregnant, there are many easy ways to do so. The ideas below can help you make some extra cash without having to put in too much effort.
23. Take part in paid surveys and online focus groups
Paid surveys are an easy way to make extra money while pregnant. I know there are many survey sites that pay peanuts, but I have found a few that actually pay quite well.
One of the best online study groups is User interviews. I have been a part of many focus groups and studies where I made more than $100/hr, just for my opinion!
You can check User interviews here. You will be surprised to find some studies that pay up to $300/hr.
I also love Survey Junkie and Swagbucks to earn free gift cards from home by watching video, doing surveys or playing games. Both of them have special bonus
25. Rent Your Free Space
Do you have an extra room in your house or apartment that you can rent out? If so, this is another way to make some extra money while pregnant!
You can list your space on apps like Neighbor or Airbnb and start earning money right away. You could hire a cleaner to help you out if you don't have the time or energy to do post-guest cleaning yourself.
Neighbor is a fantastic app to rent your space for storage or parking. As a Neighbor host, you can make up to $500 per month and it doesn't need much effort on your part.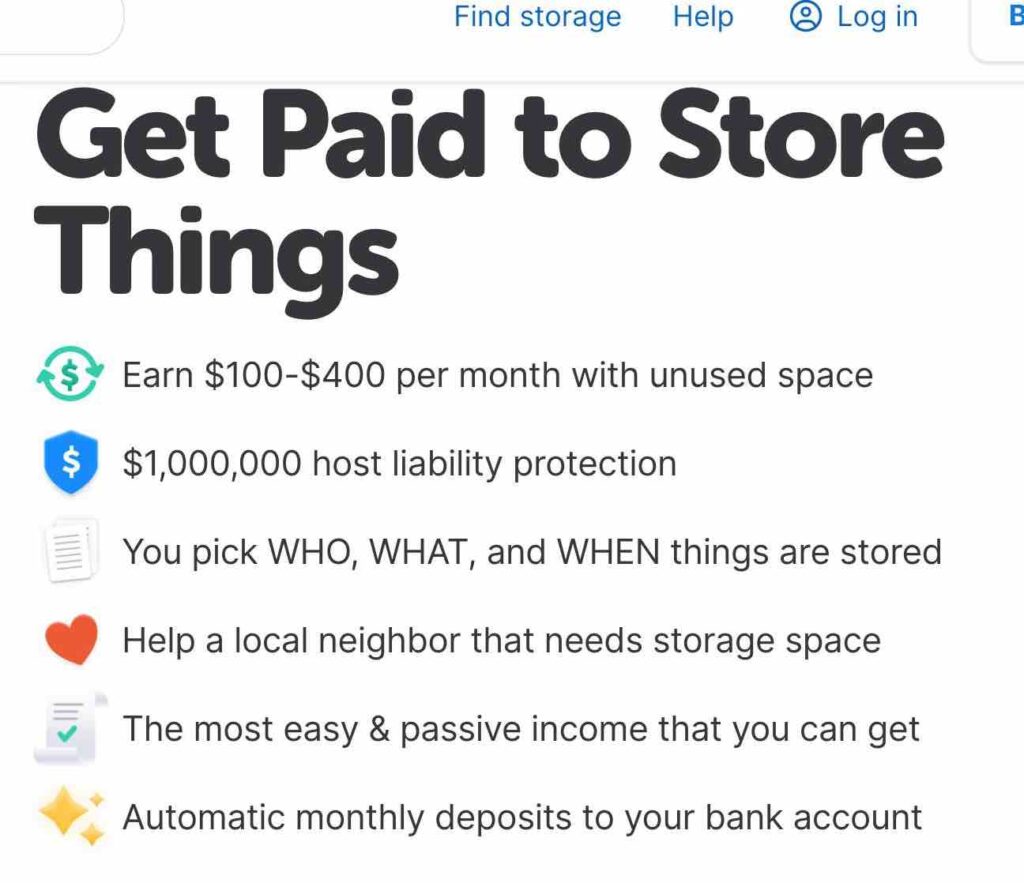 26. Sell stuff for cash
What to do when you are pregnant and need money asap?
Having a baby is expensive. There's no way around it. Between the cost of diapers, clothes, formula, and everything else, you'll be spending a lot of money in the first few years. So, why not make some of that money back by selling the stuff you no longer need for cash?
You can have a garage sale, sell things online on the Facebook marketplace, or even use selling apps and websites.
Some of the few things that can make you quick cash are:
Offline jobs for pregnant Moms
Most of the jobs for pregnant women that I have mentioned so far are online, but there are many offline part-time jobs for pregnant women as well. The best part is these are super-flexible jobs, and you can do them whenever you want or have some free time.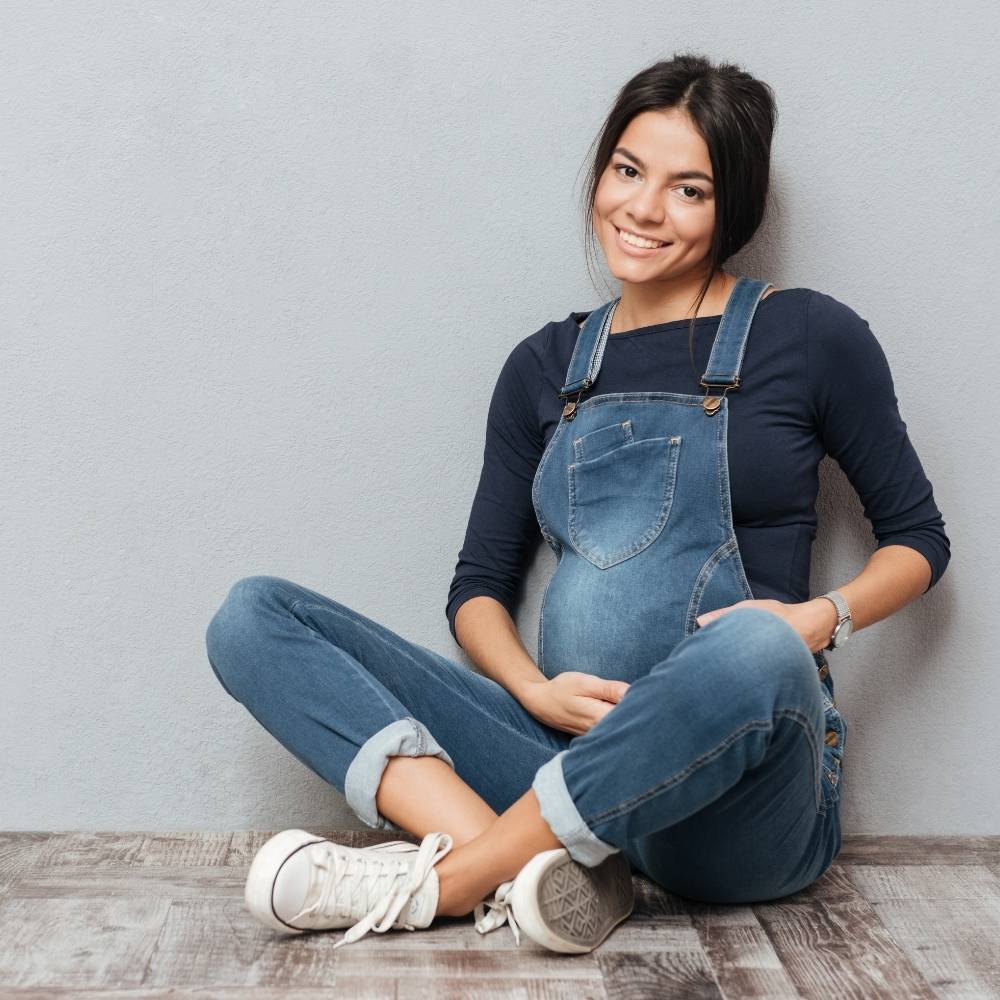 26. Deliver food
Another great way to make money while pregnant is to deliver food. You can sign up with a gig apps like DoorDash or Uber Eats, or work for a local restaurant.
This is an easy job pregnant women can do, as you can usually just use your own car, and there's no heavy lifting involved.
27. Pet sitting/walking
Another easy job for pregnant women is pet sitting (or dog walking). It can be a good option to make extra money if you love animals and feel comfortable taking care of them.
There are many legit websites where you can sign up to be a pet sitter or dog walker.
28. Freelancer photographer
Do you know you can get paid to take pictures? If you have good photography skills and a good camera, you can start your own freelance photography business.
Product photography and food photography are one of the most lucrative photography niches.
I am a blogger, and I know food bloggers are ready to pay more than $500 for a good recipe picture!
You can also sell your photos on stock photography websites like Shutterstock, iStock, or Getty Images.
29. Deliver groceries
There are a few companies, like Instacart, where you can sign up to be a grocery delivery driver. It is a great way to make money while pregnant, as you can set your own hours and work as little or as much as you want.
Plus, it's a great way to get some exercise!
30. House sitting
Yes, this job is exactly what it sounds like! If you're looking for a more relaxed way to make money while pregnant, you could offer to house sit for people in your area.
You would be responsible for taking care of the person's home (and possibly pets) while they are away.
This job usually involves tasks like collecting the mail, watering plants, and making sure everything is in order.
31. Bake
If you love to bake, you could start your own home-based baking business. You could make and sell baked goods like cookies, custom cakes, or cupcakes, or you cater events.
I have seen mommies make a killing just by doing this from home. They post on Instagram and local Facebook groups to market their goodies.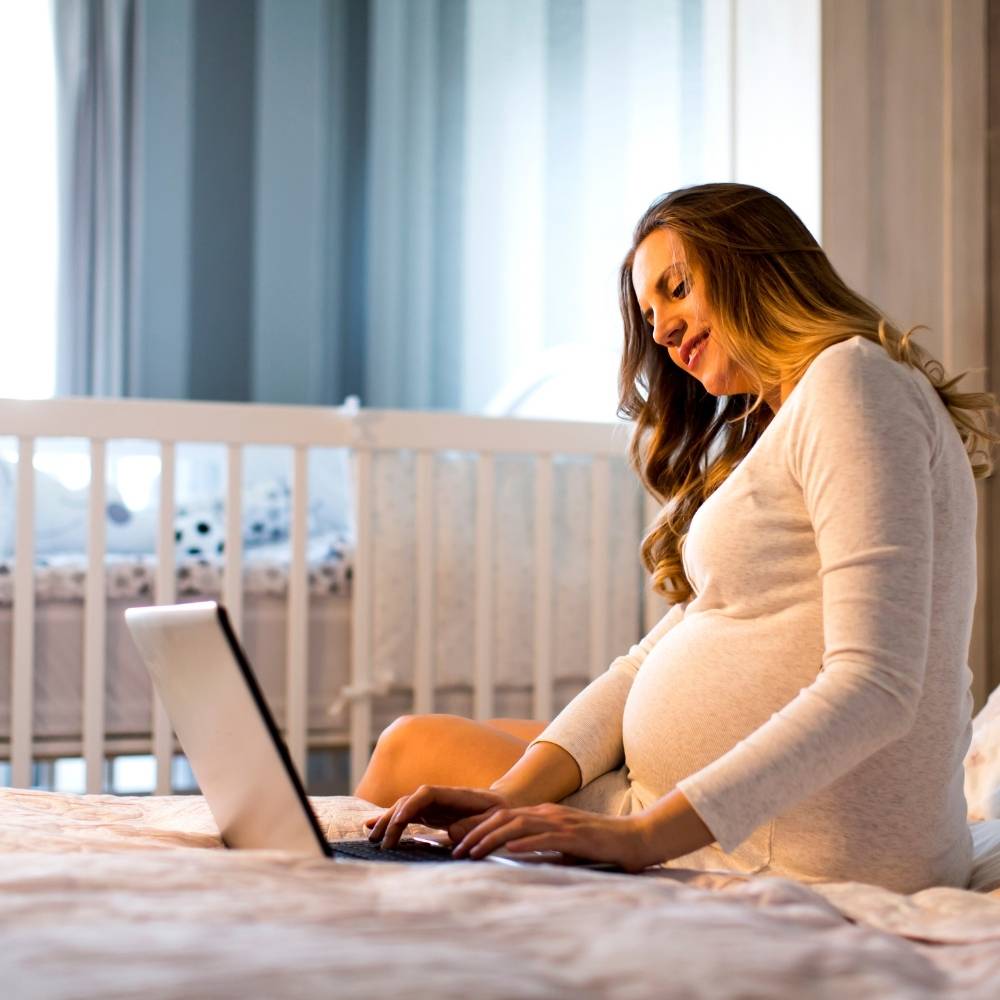 fAQs on jobs pregnant women can do
Can I do these jobs for pregnant women if I'm on bed rest?
Yes, most of these are stress-free jobs and do-not need heavy weight lifting. Since every pregnancy is different, always consult your doctor and try to keep yourself stress-free and relaxed.
Can I continue these jobs after having a baby?
Depending on the job, you might be able to continue your work on maternity leave or after that. The online jobs mentioned in this blog are some of the most flexible jobs moms actually do (like me!).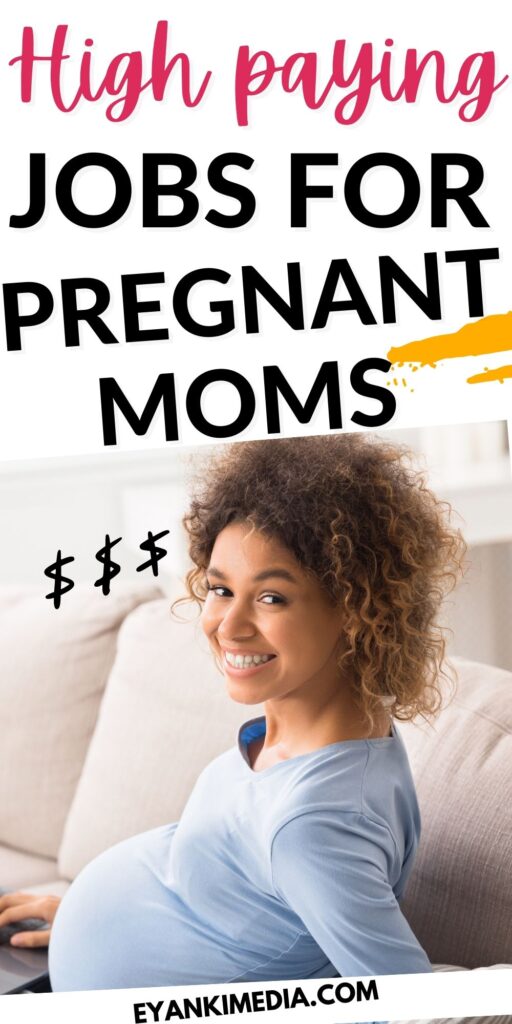 Whether you're just learning you're expecting or getting close to your due date, figuring out how to make money while pregnant can be stressful. But it doesn't have to be! 
The good news is that there are lots of opportunities for expecting moms to make some extra cash. From online surveys to freelance writing, there are many opportunities for moms to earn money while being pregnant.
So, if you're looking for some ideas on how to bring in some extra income, this list of jobs for pregnant women is a great place to start!
Do you have any other ideas for jobs for pregnant women? Share them in the comments below!
Before you go here are more money making ideas
Easy craft business ideas to start from home
Crafting hobbies that make money