Here are some of the amazingly cute graduation money gift ideas that you can make your money gift stand out and show your graduate how proud you are of their accomplishment!
Graduation is an exciting milestone that deserves to be celebrated, and one of the most common ways to show your appreciation is by giving a gift.
While cash is always a great gift option, it can sometimes feel a bit impersonal or even boring. However, that doesn't mean you have to settle for a generic gift card or plain envelope.
With some thoughtful planning and creativity, you can turn your cash gift into something clever and cute that your graduate will treasure for years to come.
So, let's explore some clever and cute money gift ideas for graduation to make your cash gift extra special.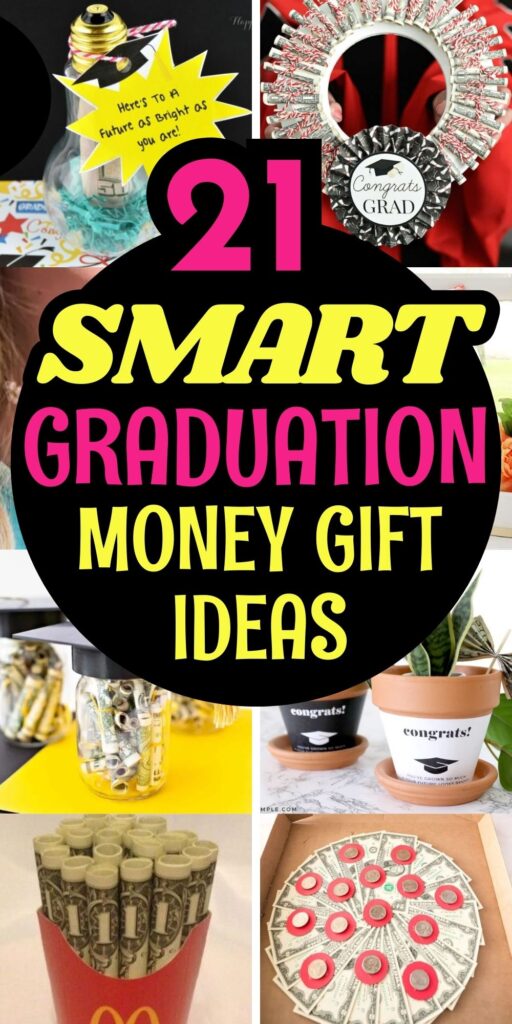 Graduation Money Gift Ideas for 2023
LIGHT BULB CASH HOLDER
If you're looking for a unique and memorable way to give money to a new graduate, a light bulb cash holder is a fantastic option. Not only is it super fun, but it's also easy to make with just a few simple materials.
Don't worry we don't use real light bulb here! It's just a craft bulb which can be easily opened. You can find them at craft stores or online.
This fun and easy project is suitable for high school, college, or trade school graduates.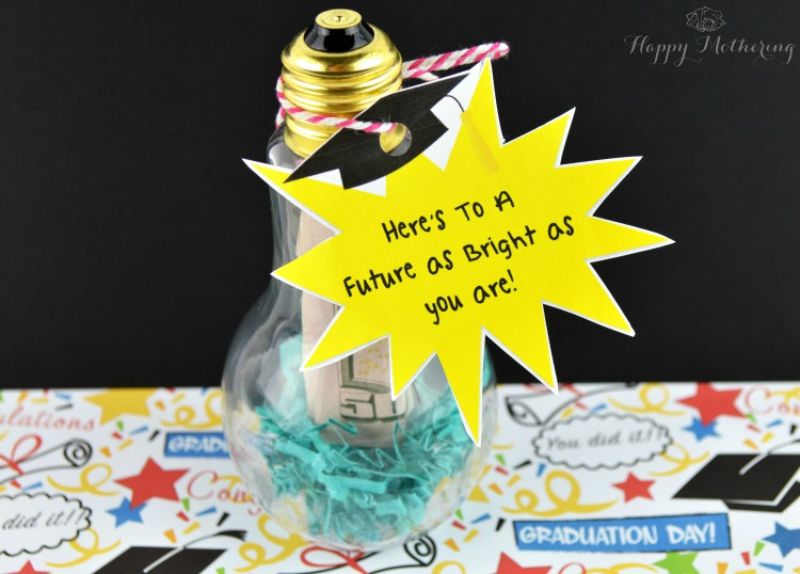 MONEY WREATH
Here's another cool idea for a graduation money gift: roll up dollar bills and package them to look like diplomas! This clever idea is easy to execute, and it's a fun way to give money while still adding a personal touch.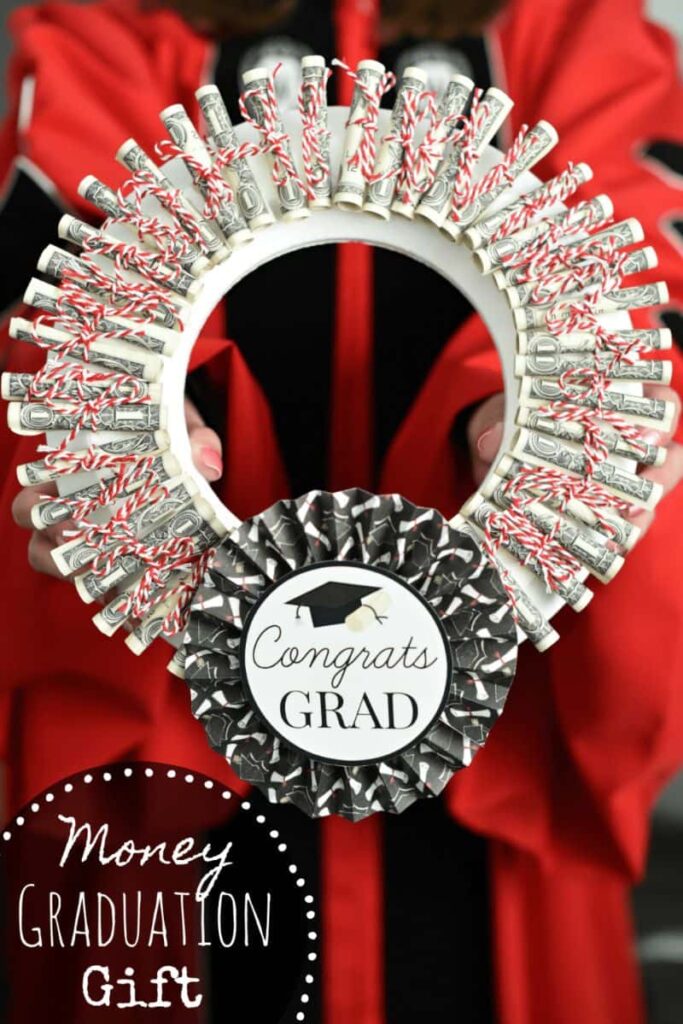 MONEY CHAIN
Accessories are always a great way to add a personal touch to any outfit, and what better accessory than a money chain for your graduate?
To make a money chain, use one dollar bills and create a rosette out of a larger denomination, like $20 or $50, to put behind the "Congratulations Grad!" wording.
This adds an extra touch of sophistication and makes the gift even more special.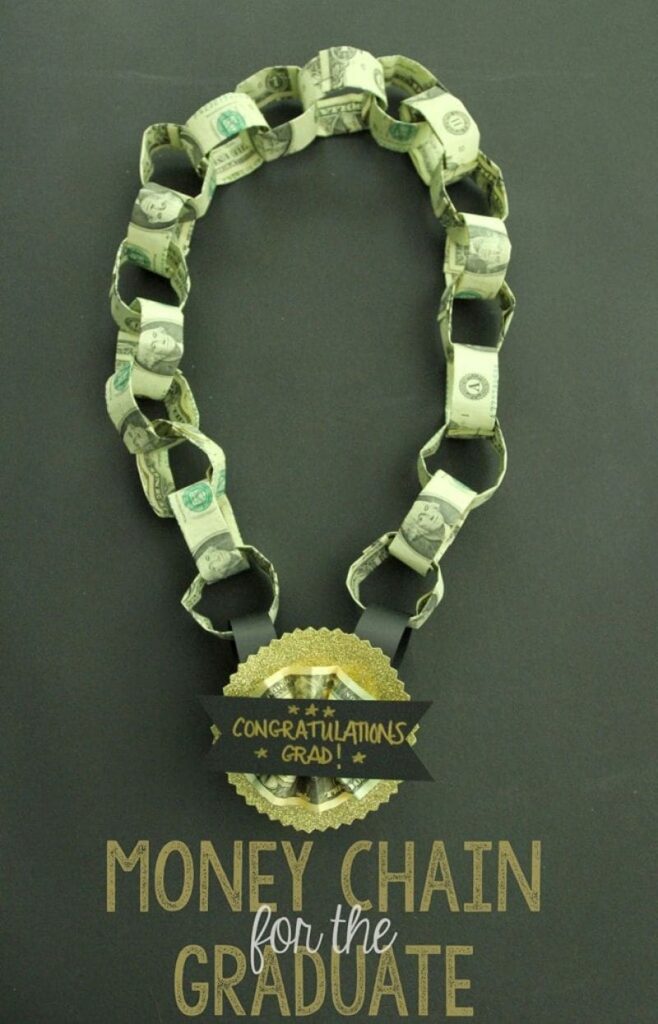 MONEY PIZZA
Does your graduate love pizza? Why not surprise them with a unique and fun graduation gift – a money pizza!
This money pizza gift includes fake pizza crust made of money. To add an extra touch of realism, you can also use red paper circles with quarters on top to look like pepperoni slices.
BREAK GLASS GRAD GIFT
This "Break Glass" grad gift is perfect for any graduate, whether they're heading off to college, starting a new job, or just embarking on a new chapter in their life.
To make this gift, you'll need a shadowbox frame, cash, and a vinyl cutting tool like a Cricut.
Fill the shadowbox frame with cash, and then use your vinyl cutting tool to add the "In Case of Emergency" wording.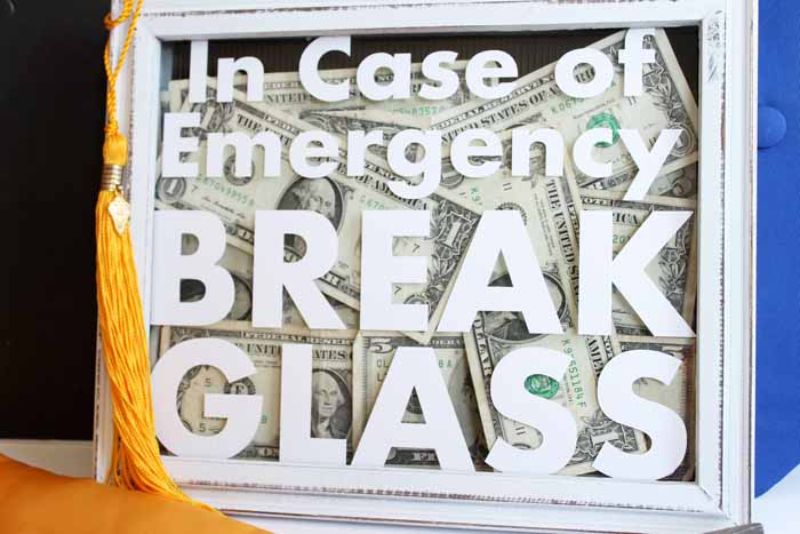 MONEY CONFETTI POPPERS
These money confetti poppers are a graduation gift that's sure to bring a smile to any new grad's face.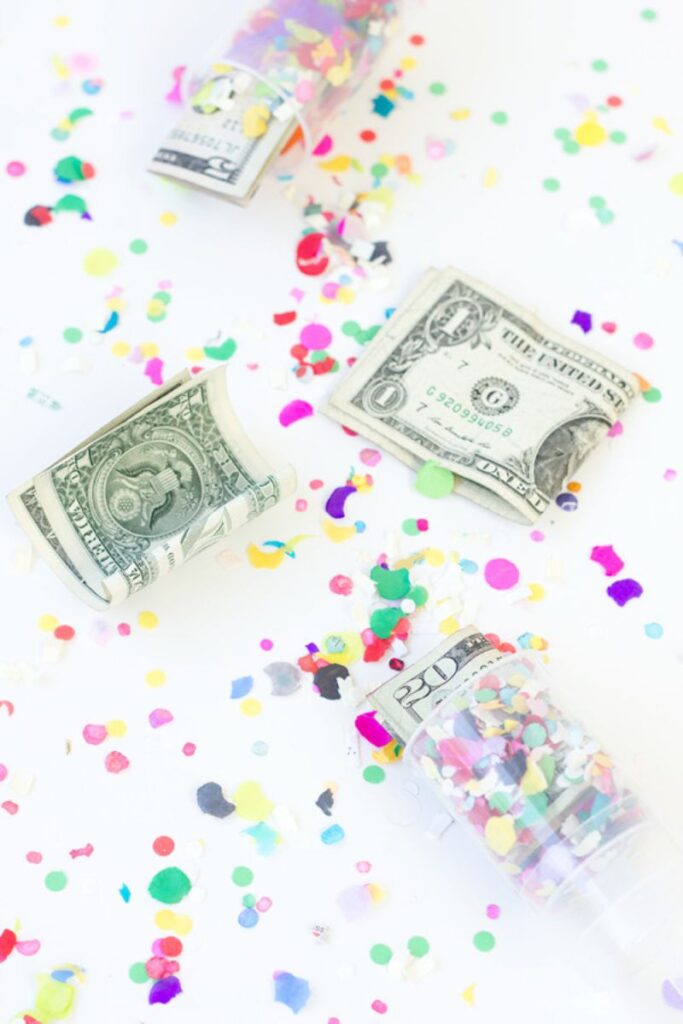 GRADUATION MONEY CAKE
This gift is sure to impress and delight your graduate.
To make a money cake, start by stacking and securing rolled-up bills of various denominations into a cake shape. Then, decorate the "cake" with colorful ribbons, bows, and other fun embellishments.
I love how the addition of Reese's peanut butter cups around the top layer not only enhances the visual appeal of the money cake but also gives it a delicious and sweet touch.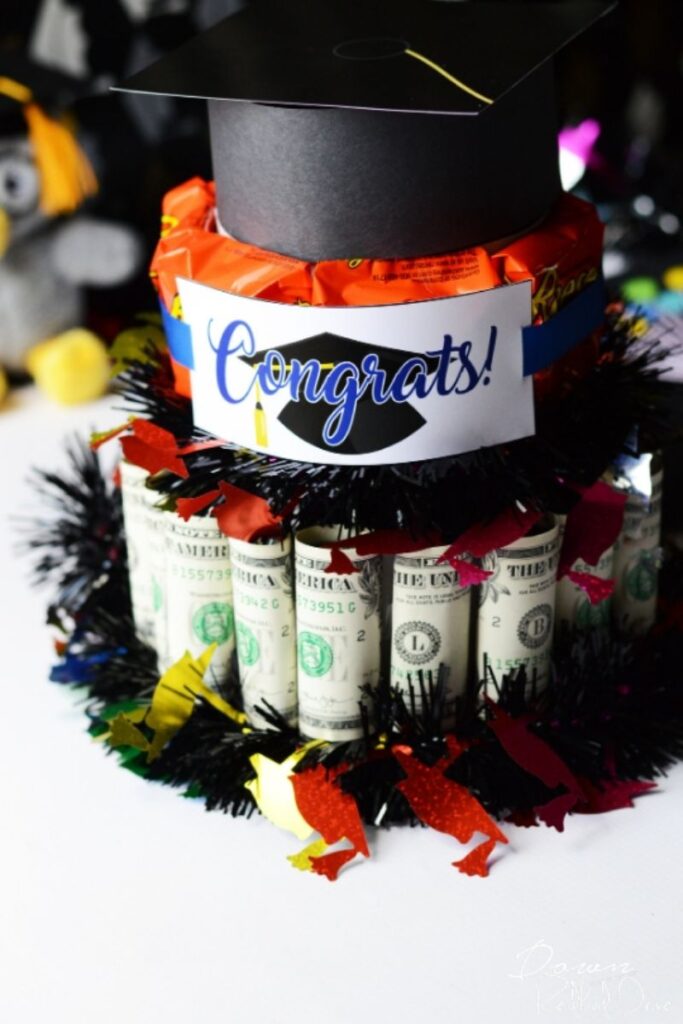 CASH IN A CAN
This graduation money gift idea is not only simple and easy to put together, but it's also a clever way to give a practical gift in a unique and unexpected way. All you need is an empty can, some print outs paper, and of course, cash.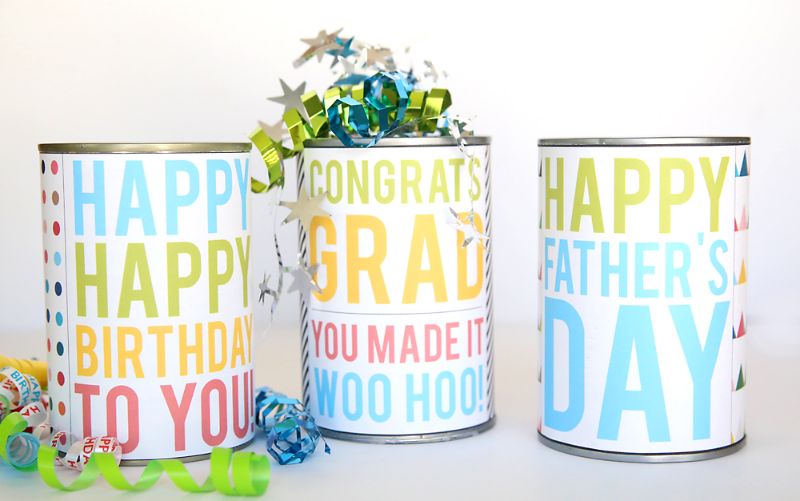 GRADUATION MONEY JAR
Let's make your graduate's day even more fun with a graduation money jar! Not only is it a great gift, but it also doubles as a decorative piece for the graduation party.
To give it a personal touch, you can roll each dollar bill into a mini diploma shape and tie it with string before adding it to the jar.
And don't forget to top it off with a graduation cap and tassel for the perfect finishing touch!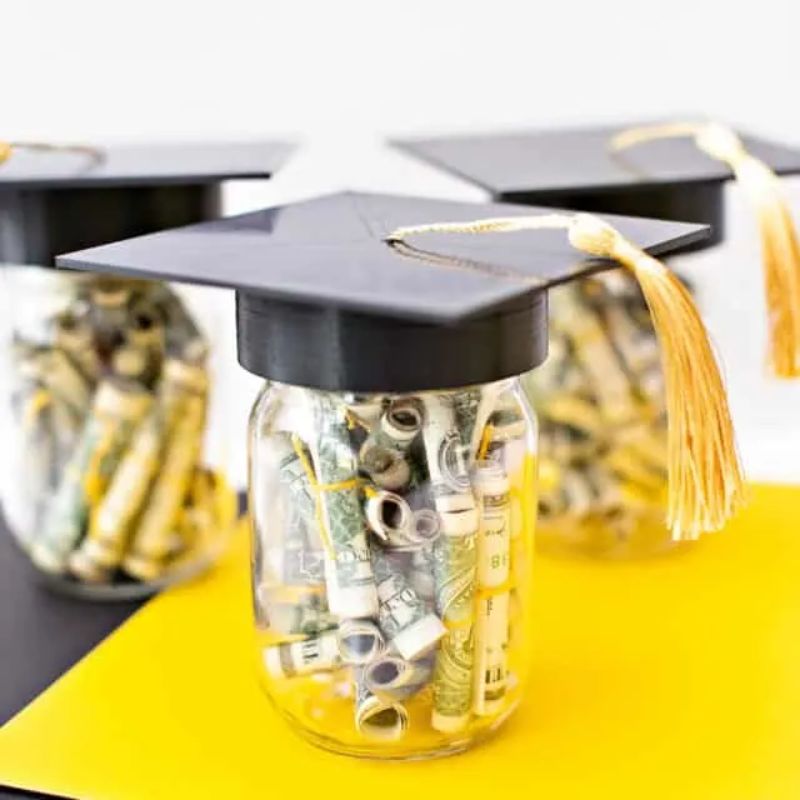 MONEY PLANT
Let's make a wish come true by pairing money folded into butterfly shapes with a lovely plant for the graduate's dorm or apartment.
This unique money plant gift is perfect for those who have an interest in botany or have recently graduated from a botany program.
It's a creative way to add a cute and meaningful touch to the celebration.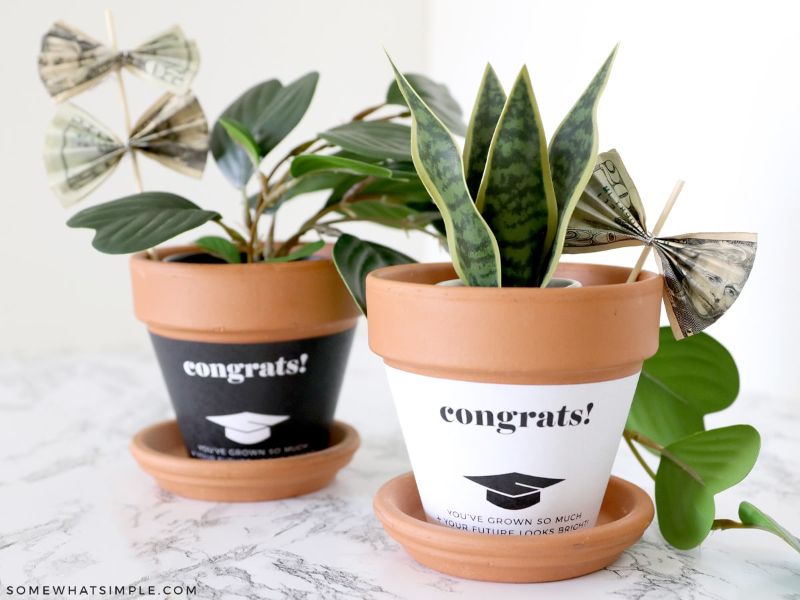 Origami Money Graduation Caps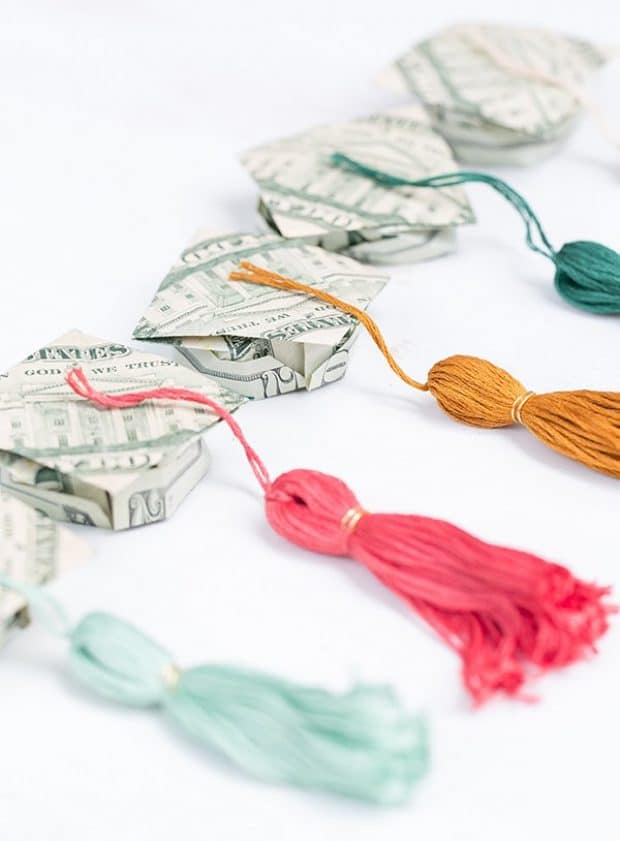 MONEY TOPIARY GIFT IDEA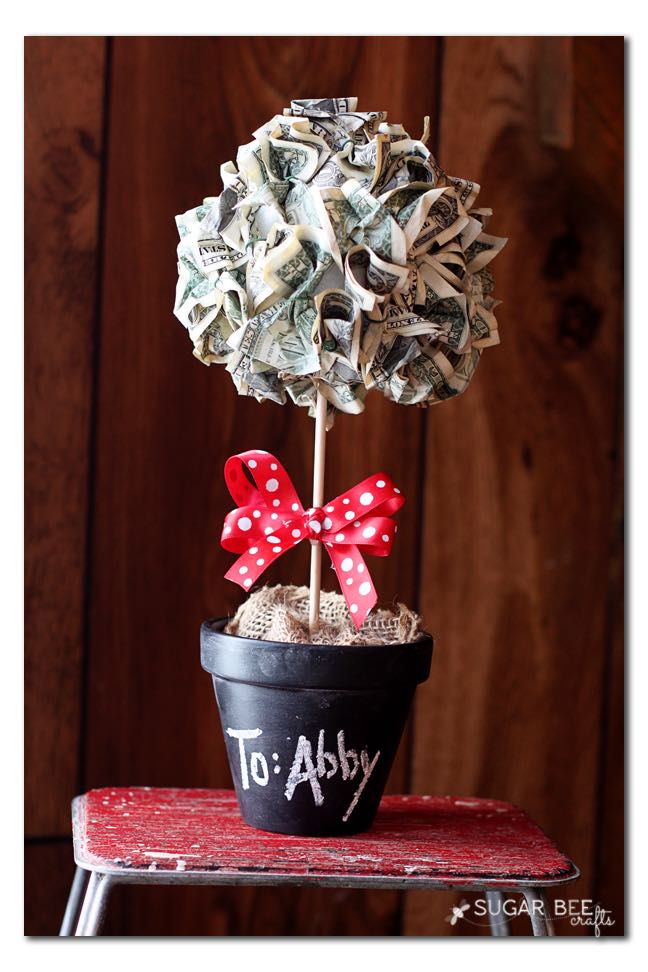 Money Balloons from Sugar and Charm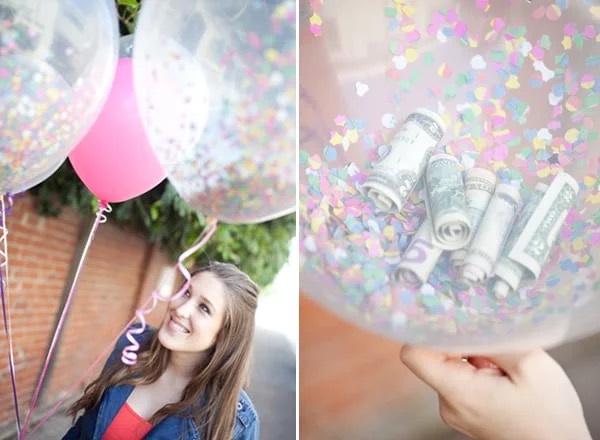 GRADUATION MONEY CROWN
Let's turn the graduate into a true king or queen with this fun and creative graduation money crown gift idea. I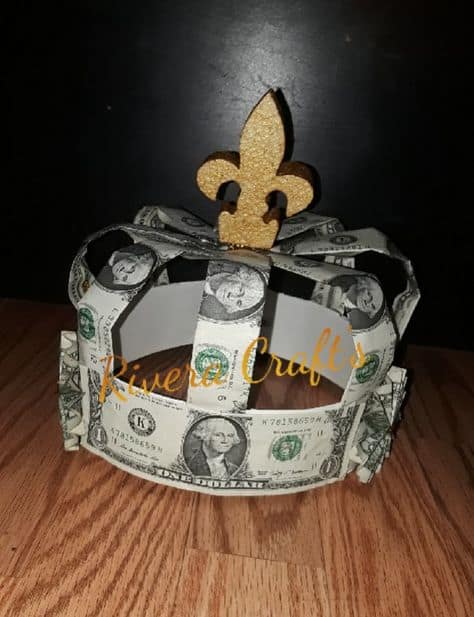 CASH FRIES MONEY GIFT 
How about serving up some cash fries as a fun and tasty graduation gift? It's a simple yet unique idea that allows you to customize the amount of cash you give.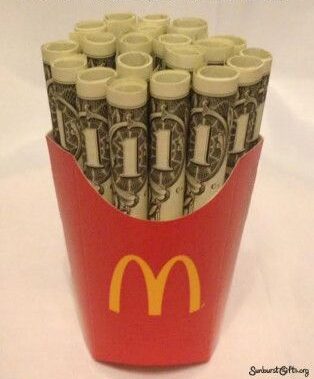 CASH BUCKET OF SAND GIFT 
Still looking for a unique way to give a graduation gift? How about a cash bucket of sand? Fill a bucket with sand and mix in dollar bills, rolled up to look like seashells or beach treasures. It's a fun way to surprise the grad with some extra cash while also bringing a touch of summer to their special da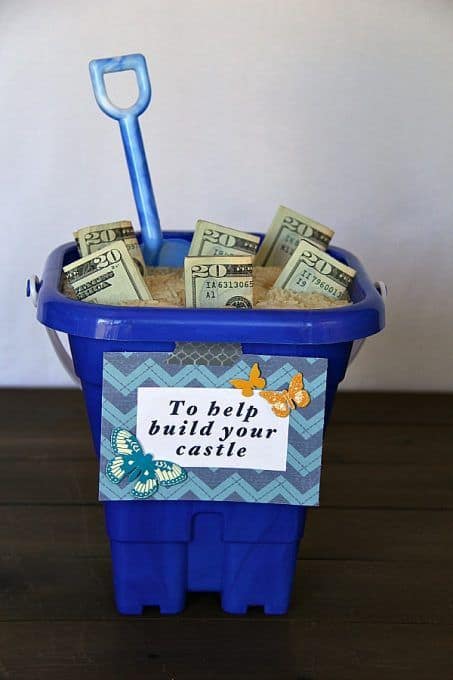 Personalized Tiered Graduation Money Cake
If you're looking for a one-of-a-kind graduation gift, check out this customizable option on Etsy.
With a heartfelt message that reads "Behind you, all your memories. Before you, all your dreams. Around you, all who love you. Within you, all you need," it's sure to be a meaningful and memorable present for any new graduate.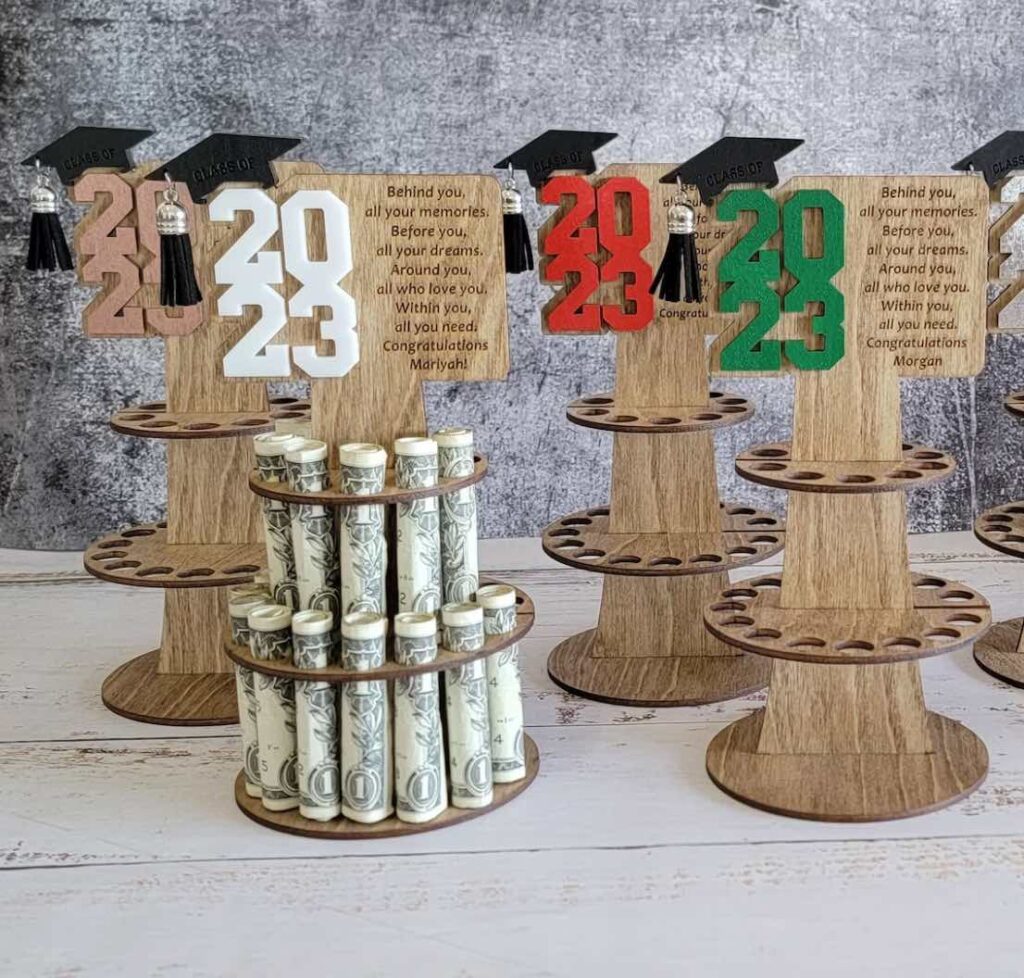 Cheese Money Holder
No time for DIY? Here is last minute grad money idea. Print this file from Etsy and you are all set!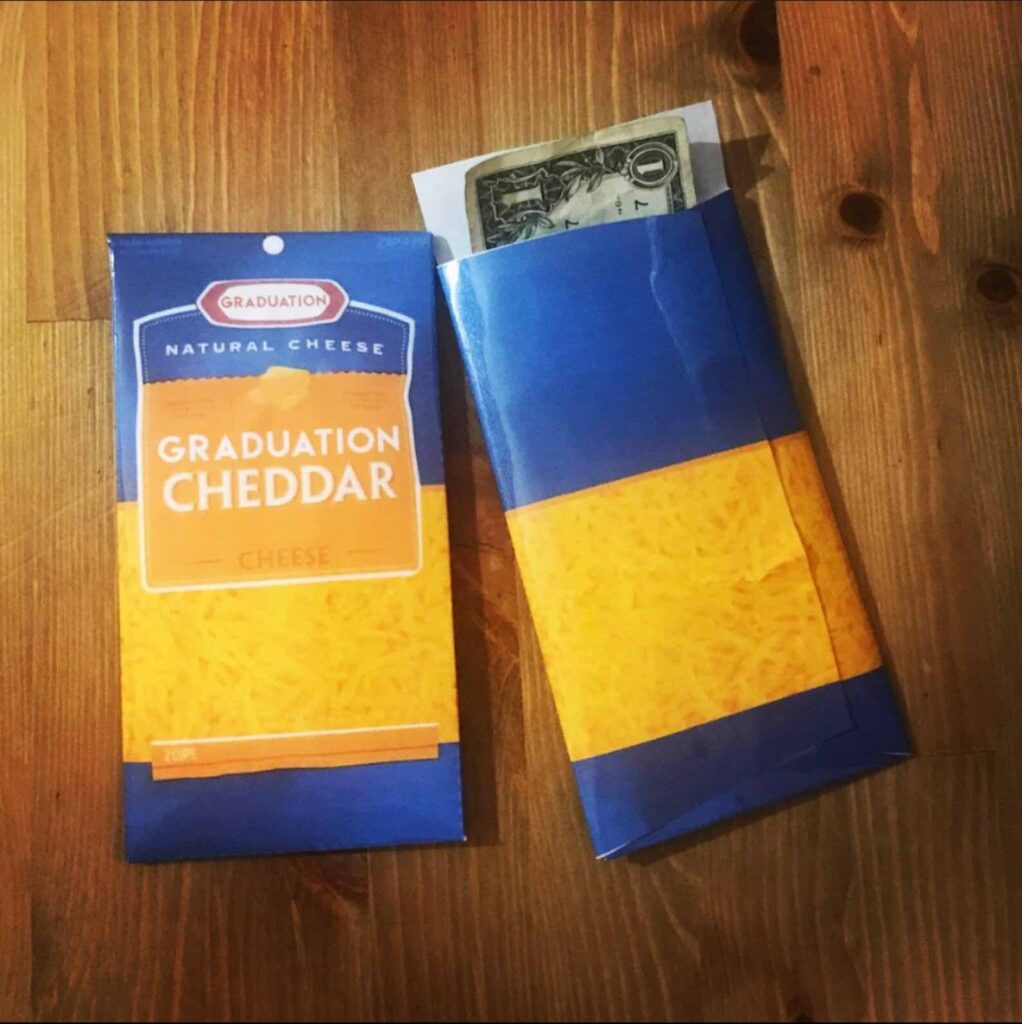 Printable Graduation Money Box
Check out this customizable printable that can transform a regular tissue box into a money box, perfect for rolling up bills instead of tissues.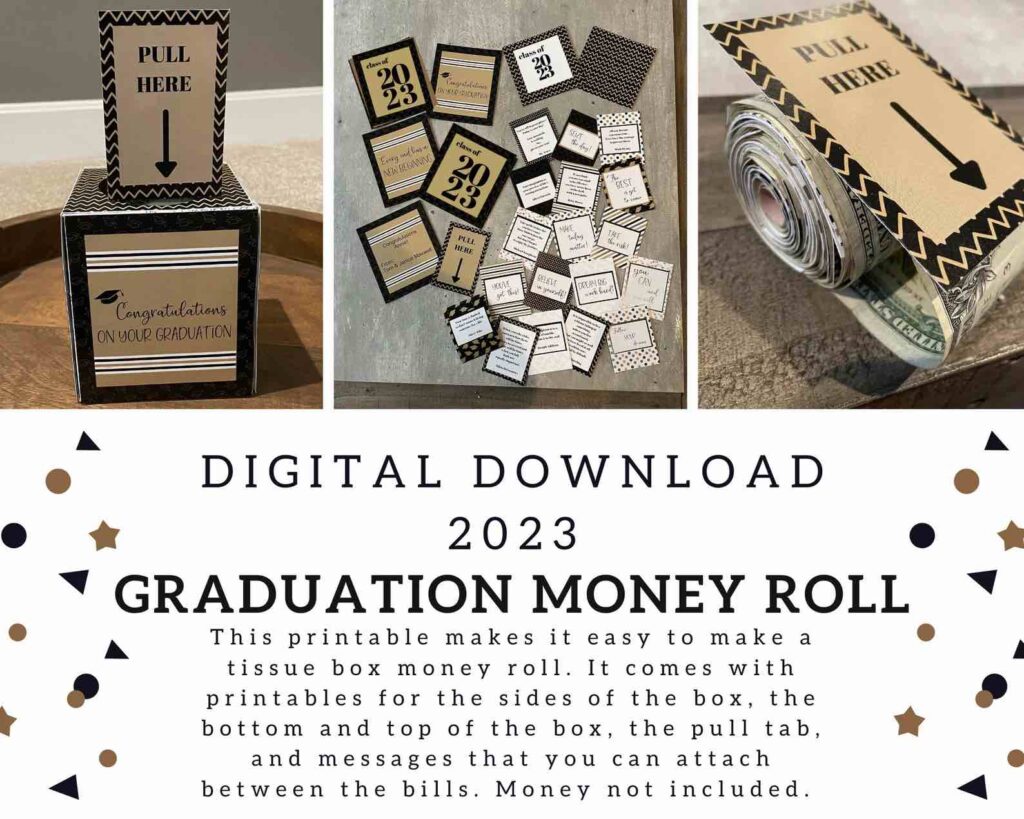 3D Graduation Money Box
Let's make gifting money more fun with this cute money box!
Use small bills and tape them together to create a long chain of cash that keeps on coming when pulled out of the box. Perfect for any graduate who loves a good surprise!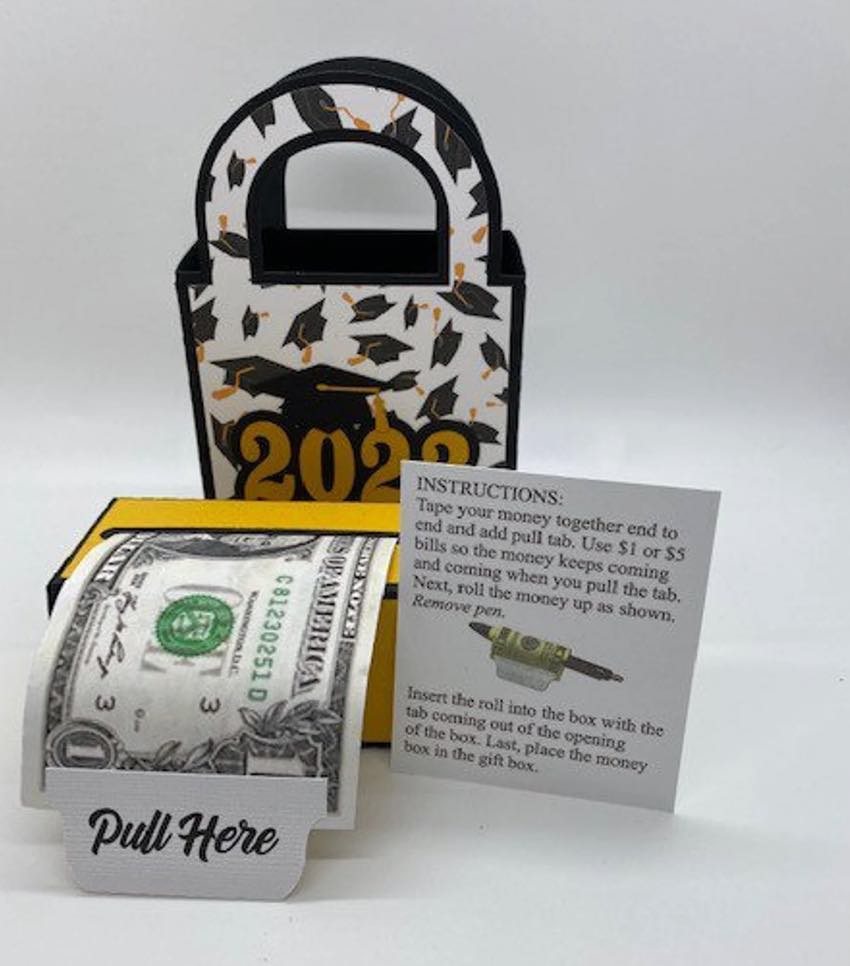 Wrapping Up Graduation Money Gift Ideas
These were some great graduation money gift ideas that can help you make the graduation day even more special and memorable for your loved ones.
Whether you want to give cash in a creative way with a money tree or money cake, or add a personal touch with a DIY graduation money jar or a customized money roll, there are plenty of options to choose from.
What matters the most is the love and support you show for the graduate on their big day. So get inspired, get creative, and give the gift of cash in a fun and thoughtful way. Congratulations to all the graduates out there!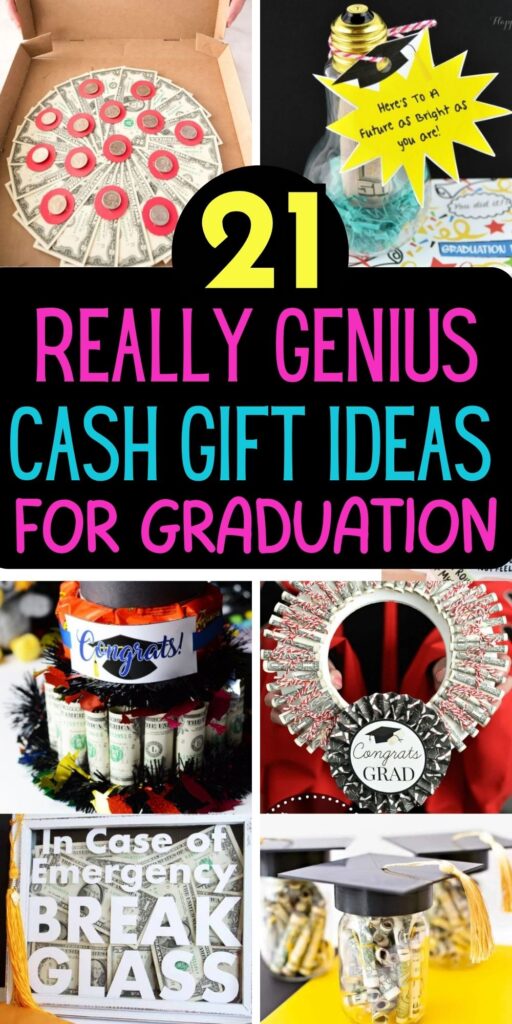 More ideas you might like